Want to build your company's brand value? The research points to corporate citizenship
"It takes many good deeds to build a good reputation, and only one bad one to lose it." -Benjamin Franklin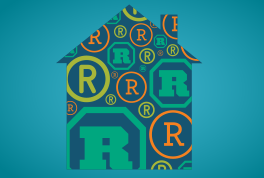 A company's brand and reputation are important assets. They can influence consumer perception, increasing loyalty and purchase intent. They are important forces in attracting and retaining top talent. Perhaps most importantly, they are major components of intangible value, which can account for more than 80 percent of market value.
We may call the value "intangible", but the results of positive brands and reputations can and have been evaluated—and valued in cold hard cash. According to a 2010 study, brand and reputation have the potential to raise the market value of a company over and above the book value—and by more than just a little.[i] Companies with a good brand and reputation have the opportunity to improve their market value an average of seven times above their current book value.[ii] A separate study finds that companies able to favorably maintain or improve reputation among multiple stakeholder audiences are more attractive to investors and better able to maintain or increase value during crises such as a major downturn in the economy.[iii]
The ramifications of a poor reputation are also outlined in existing research. A 2008 study finds that companies struggling to maintain a positive reputation face an increased threat from boycotts and may feel greater pressure to make concessions, taking them off strategy and diverting important resources.[iv]
A 2014 study finds that consumers and the general public will hold companies to account sometimes for decades after negative events have happened—regardless of where the event occurs in the firm's supply chain, and especially if they perceive that the negative event could have been prevented.[v]
So, who is responsible for undertaking those many good deeds—and for working to protect against the single damaging one? Everyone in the company has a part to play, but none more so than corporate citizenship professionals. The contributions of thoughtful environmental, social, and governance (ESG) investments that connect logically to your brand strategy can't be overstated. A 2010 study finds that socially responsible firms are more capable of building a positive reputation.[vi] Meanwhile, a 2015 study finds that long-term corporate citizenship efforts may even provide insurance against that single bad deed—at least the first time it happens.[vii]
Our research finds that the majority of executives are already aware of the relationship between corporate citizenship and reputation. In our 2014 State of Corporate Citizenship study, more than 90 percent of executive respondents reported success in enhancing reputation when corporate citizenship was integrated into efforts, compared to only about 60 percent who reported success when it was not. Chances are, your C-Suite is primed to support corporate citizenship efforts that bolster brand and reputation, but it's important to keep in mind that in working toward this goal, not all corporate citizenship initiatives are created equal. If deployed incorrectly, CSR efforts can actually hurt a company's reputation.
The development of environmentally friendly products, for example, can improve consumer attitude toward your brand, but these gains are diminished if you over-communicate the product's benefits.[viii] Cause-related marketing can be a terrific tactic to communicate your support for issues that are important to stakeholders while advancing both your philanthropic and strategic marketing goals, but—as a 2006 study finds—if your selected cause doesn't align with your business, you may actually diminish positive consumer perceptions.[ix] The pitfalls of a weak link between corporate citizenship and the larger brand are further outlined in a 2012 study, which finds that consumers view a company less favorably when they don't see an obvious connection between its CSR efforts and its business strategy.[x]
Here at the Boston College Center for Corporate Citizenship, we'll do our best to help you navigate this dynamic connection with data and decades of expertise, available here on our website, in our many research reports, and through our classes. It is, after all, through your investment in corporate citizenship that you will unlock what Socrates called the key to a good reputation: "To be what you desire to appear."
---
[i] Coffee, D., Lirely, R., Little, B., & Little, P. (2010). Explaining variation in market to book ratios: Do corporate reputation ratings and explanatory power over and above brand values? Journal of Finance and Accountancy.
[ii] Coffee, et al. (2010).
[iii] Raithel, S., Schloderer, M. P., Schwaiger, M., & Wilczynski, P. (2010). The value-relevance of corporate reputation during the financial crisis. Journal of Product and Brand Management, 19 (6), 389-400.
[iv] King, B. G. (2008). A political mediation model of corporate response to social movement activism. Administrative Science Quarterly, 53, (3), 395-421.
[v] Hartmann, J, & Moeller, S. (2014). Chain liability in multitier supply chains? Responsibility attributions for unsustainable supplier behavior." Journal of Operations Management, 32 (5), 281–294.
[vi] Surroca, J., Tribo, J. A., & Waddock, S. (2010). Corporate responsibility and financial performance: The role of intangible resources. Strategic Management Journal, 31, (5) 463-490.
[vii] Yang, S. & Shiu, Y. (2015) Does engagement in corporate social responsibility provide strategic insurance-like effects? Strategic Management Journal. Retrieved from http://onlinelibrary.wiley.com/doi/10.1002/smj.2494/abstract
[viii] Olsen, M.C., Slotegraaf, R.J., & Chandukala, S.R. (2014). Green Claims and Message Frames: How Green New Products Change Brand Attitude. Journal of Marketing, 34, 956-964.
[ix] Becker-Olsen, K. L., Cudmore, B. A., & Hill, R. P. (2006). The impact of perceived corporate social responsibility on consumer behavior. Journal of Business Research, 59, 46– 53.
[x] Kaikati, A. M., Monga, A. B., Torelli, C. J. (2012). Doing poorly by doing good: Corporate social responsibility and brand concepts. Journal of Consumer Research, 38 (5), 948-963.