Who Should Attend the 2023 International Corporate Citizenship Conference?

So Far, These Companies Are All Coming to #BCConf23:
General Motors, Lowe's, The Walt Disney Company, Land O'Lakes Inc, Nationwide Mutual Insurance, Valero Energy, Campbell Soup Company, Fedex, QVC Inc, Blue Cross Blue Shield Association, LendingTree, TIAA, Goodwin Proctor, Toyota, TD Bank, AIG, Honeywell, DPR Construction, Columbia Bank, TELUS, Allstate Insurance, Texas Instruments, State Street, Wawa Inc, Ryan LLC, USAA, Wells Fargo, Pitney Bowes, Accenture, Liberty Mutual Insurance, AAA - The Auto Club Group, NIPSCO, MUFG Bank, Illinois Tool Works, UnitedHealth Group, Dutch Bros. Coffee, Teradata, AAON, SOLV Energy, and more...
This conference is intended for a wide range of executives working in corporate social responsibility (CSR) roles. Notably, the International Corporate Citizenship Conference is NOT open to vendors or nonprofit organizations, as our goal is to focus solely on corporate citizenship—with all its unique challenges, emerging best practices, and opportunities. If you are employed by a for-profit company, and tasked with projects related to community involvement; social impact; sustainability; diversity, equity, and inclusion (DEI); health equity; corporate giving; or other facets of CSR, this event is for you.
2023 Conference Registration Is Now Open!
Grab a spot for you and your team at this year's event...
Register Here
The Conference is different from other conferences in corporate citizenship because of its robust content, core focus, and world-class participants. This conference gathers global business leaders and CSR practitioners--the people who are collectively defining and redefining what it means to be a socially responsible business. If that sounds daunting, it's important to know this conference also creates a safe, collaborative, and supportive environment for attendees to share ideas and brainstorm solutions to challenges. You won't just listen to presentations. You will return to your organization with detail-rich case studies, practical know-how, and specific implementation tips to accelerate your corporate citizenship goals.
What do participants say about the Conference?
In surveying past attendees, we've gathered hundreds of positive reactions. Here are just a few of their takeaways: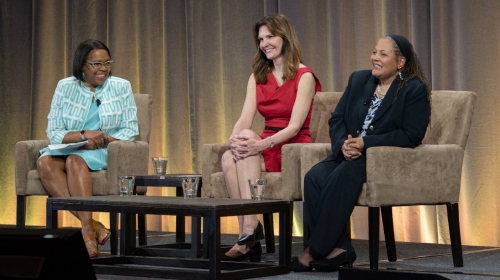 If You're Serious about Corporate Citizenship...
"[The Conference] helped me strategically. It helped me with messaging. It helped me in terms of my network, who I can reach out to in my industry and other industries. It helped me by exposing me to best practices... If you're really serious about corporate citizenship, this conference is the place to be."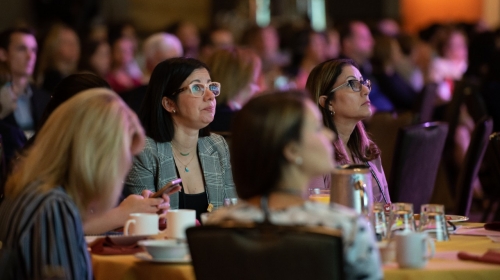 Different Ways to Engage
"I really enjoyed how easy the (virtual) platform was to use and the various different ways to engage with the content. I like the discussion board, the breakout sessions with Zoom groups broken out even further in some cases, the small group discussions and the plenary sessions too!"
Looking to see how you fit in with this crowd? Here's a sampling of past conference attendees, listed by company and job title:

Accenture
US Corporate Citizenship Lead
Allstate Insurance Company
Director, Corporate Responsibility & Sustainability
AMD
Director, Corporate Responsibility
Aramark
Vice President, Community Relations
Arrow Electronics Inc.
Director Corporate Social Responsibility
Arthur J. Gallagher & Co.
Corporate Vice President Ethics and Sustainability
AstraZeneca Canada Inc.
Senior Manager, Corporate Responsibility
AT&T
Director, Citizenship & Sustainability
Avon Products, Inc.
Director Sustainability
BBVA Compass
SVP, Director - Sustainability & Reputation
Campbell Soup Co.
Vice President, Public Affairs and Corporate Responsibility
Citizens Bank
SVP, Head of Sponsorships & Corporate Giving
Comcast Corporation
Director, Community Investment, VP Comcast Foundation
Deckers Outdoor Corporation
Director CSR
Dell Inc.
SVP & Chief Marketing Officer
Discovery Education
VP, Education Partnerships & Social Responsibility
Edelman
Managing Director, Global Engagement & Corporate Responsibility
Electronic Arts Inc.
Manager, EA Outreach & Corporate Giving, US
EY
Community Engagement Leader
FedEx Corporation
Director, Citizenship and Reputation Management
Google Inc.
Social Responsibility Strategist
Hershey Entertainment & Resort Co.
Director, Corporate Social Responsibility
Hilton Worldwide
Senior Manager, Global Corporate Responsibility
Hitachi America Ltd.
Manager, Corporate Social Responsibility
Honeywell
Director, Communications
Houghton Mifflin Harcourt Company
Director, Corporate Social Responsibility
Humana Inc.
Director, Corporate Affairs
IKEA North America Services LLC
Sustainability Manager
Intel Corporation
Director, Office of Corporate Responsibility
JLL
EVP and Global General Counsel
KPMG LLP
Director, Corporate Responsibility
McDonald's Corporation
Director, Outreach & Brand Management
MGM Resorts International
VP Diversity & Inclusion
Microsoft Corporation
Program Manager
NASDAQ
Director of Corporate Responsibility
Nielsen Company
VP, Corporate Social Responsibility
Nike Inc.
Manager, Global Community Impact
Pandora
Giving Back Program Manager
PepsiCo Inc.
Sr. Manager Global Citizenship
Quest Diagnostics Incorporated
Director, Global Inclusion & Corp Social Responsibility
State Street Corporation
Global Employee Volunteer Program Manager
Target Corporation
Vice President Global Affairs
Texas Instruments
Executive Director, TI Foundation; Director, Corporate Philanthropy
The Coca-Cola Company
North America Employee Community Engagement & Volunteerism
The Travelers Companies
VP, Community Relations
The Walt Disney Company
Vice President, Corporate Citizenship
TIAA-CREF
Director of Social Responsibility
Verizon Communications Inc.
Executive Director Public Policy & Corporate Responsibility
2023 Conference Registration Is Now Open!
Grab a spot for you and your team at this year's event...
Register Here