Speaker Volunteer Opportunities
SHARE YOUR KNOWLEDGE. SHOWCASE YOUR WORK. STEP UP YOUR VISIBILITY IN THE FIELD.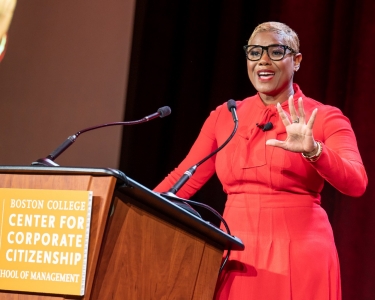 As a member-based organization, we recognize our greatest value proposition is the collective knowledge and experience of CSR practitioners like you. Each year, BCCCC helps corporate citizenship professionals know more, do more, and achieve more, thanks in part to the strategic insights our Center members identify—and continually redefine—in response to an ever-changing world.
In other words: we all learn from each other. This is your invitation to share something.
In our 2022-2023 calendar, we now have speaking opportunities available for online webinars, meetups, and at the 2023 International Corporate Citizenship Conference. We're looking for knowledgeable presenters willing to share their thoughts and experiences on topics such as:
Community Involvement (Employee Volunteering & Corporate Giving)
Diversity, Equity, Inclusion & Belongingness
Environmental Sustainability
Employee Engagement
ESG Reporting
CSR Leadership & Strategy
Communication & Advocacy
Supply Chain & Human Rights
And More!
If you have helpful examples and stories to share, and you'd like to grow your visibility in the CSR community, we'd love to hear from you! Simply fill out the form below, and our team will be in touch.