How big companies can help diverse small businesses thrive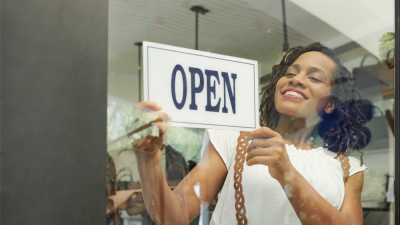 While the recent economic downturn following the COVID-19 pandemic impacted virtually all small businesses, evidence suggests that those owned by women and people of color have been disproportionately affected. Now, corporate community involvement programs are stepping in with critical resources to help level the playing field.
Small businesses account for nearly half of all private sector employment in the U.S., and those companies are increasingly being run by women and people of color. Unfortunately, small businesses are also the most at risk for failure—20% fail in the first year and 50% in the first five years. Researchers estimate that in the months following the start of the pandemic, active business ownership by Black Americans declined 41%, Latinx business owners fell by 32%, Asian business owners fell by 26%, women-owned businesses declined by 25%, compared to an average failure rate of 22%.
Many companies have adapted their community involvement programs to help support small business owners and the outsized barriers they might face. Here, we look at how Nielsen and Fiserv work to sustain small businesses in underserved communities, in order to offer diverse entrepreneurs the resources they need to thrive.
To hear both of these companies dive deep on their small business support initiatives, join us for the webinar Supporting Diverse Small Business on December 8, 2021 at 12pm ET.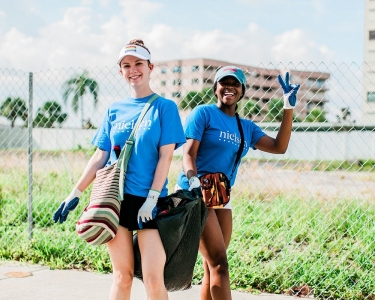 Financial support for small business and beyond
Nielsen has a longstanding commitment to corporate citizenship, with a focus on diversity, equity, and inclusion (DE&I) for its employees and the communities it serves. The company's mission—creating a better media future for all people—starts with creating a diverse and inclusive company culture and internal values of inclusion, growth, and courage that radiate out through employee volunteering and outreach programs. Additionally, Nielsen is committed to encouraging diverse voices across the company, from recruiting efforts to day-to-day operations, business diversity, and diverse spending. Nielsen firmly believes that supporting diverse voices—including the small business leaders with which it engages—leads to the success of employees, clients, and communities.
"Diversity, equity, and inclusion are essential to everything we do at Nielsen. When we operate in a culture that is diverse, equitable, and inclusive, innovation flourishes, our clients win, and employees are engaged and collaborate to bring the best that Nielsen can offer to the communities we measure," says David Kenny, chief executive officer of Nielsen. "At the end of the day, fostering diversity, equity, and inclusion isn't just a good thing to do—it's crucial to the success of our business and all business."
In recognition of the acute challenges faced by small businesses as a result of the COVID-19 pandemic and social unrest during 2020, the Nielsen Foundation (a private foundation originally funded by Nielsen) also committed $1 million to support Black-owned small businesses over the course of three years. This commitment supports the Local Initiatives Support Corporation, which distributes grant funds to business owners and their economic ecosystems in historically disinvested neighborhoods around the country. This grant money has been used to help support Black-owned businesses throughout their process to reopen and ideally come back stronger than before. The grant to LISC continues the Foundation's focus on fostering and growing diverse entrepreneurship, including the TechDiversity Accelerator at Tampa Bay Wave for early-stage tech companies.
"Small businesses are the backbone of our local communities and the U.S. economy," says Andrea Bertels, president and executive director of grantmaking at the Nielsen Foundation. "By directing our largest multi-year grant yet to support Black-owned small businesses, we hope to invest in neighborhoods that have been most impacted by COVID-19 and systemic racism, as well as open new opportunities for Black businesses to grow and thrive."
As a data and analytics company focused on the media industry, Nielsen has insights and services that can help minority-owned small businesses thrive. In response to the traditional lack of access to business resources for minority business owners, Nielsen has created a website replete with information and materials to aid these individuals—such as consumer habits and engagement in diverse communities in California, Georgia, and Florida
Nielsen also actively supports diverse small businesses with its Business Diversity program, which the company considers to be critical to a healthy economy. Last year, the company accelerated its Business Diversity efforts in the U.S. in response to the COVID-19 pandemic and its economic fallout, which had a disproportionate impact on diverse businesses. Nielsen works with diverse businesses across its operations, from office supplies to research panels and data centers, soliciting diversity and sustainability information from the beginning during the request for proposal process. In 2020, the company spent $118 million with tier 1 and tier 2 diverse suppliers, representing 10% of its annual U.S. spend, and increased the business diversity spend goal to 15% by the end of 2022. Through the Next Level Suppliers program, Nielsen employee volunteers supported seven diverse suppliers to provide pro bono consulting on strategic needs like marketing and sales strategies.
Across all of its programs and initiatives, Nielsen strives to keep underserved communities front and center in its giving efforts and business operations. At a time when these small business owners are struggling, Nielsen has helped to get them back on their feet, and to support and grow their surrounding communities as well.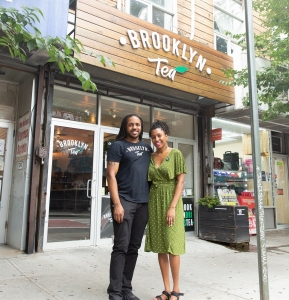 Getting Back2Business: supporting minority-owned businesses
A global provider of payments and financial services technology solutions, Fiserv is committed to furthering diversity and inclusion within the company and the communities it touches. In 2020 the company launched Back2Business, a multi-pronged initiative to strengthen small businesses in targeted communities, with a specific focus on supporting minority-owned businesses and investing in the ecosystem of community organizations serving diverse entrepreneurs.
"Back2Business reflects our broader commitment to be a force for good in the communities where we live and work," said Neil Wilcox, head of corporate social responsibility at Fiserv. "Increasing our investment to support small businesses will help to strengthen these communities by providing needed resources, technology, and solutions to our clients, and contributing to an ecosystem in which small business owners can thrive."
Through Back2Business, Fiserv has committed to investing $50 million to support Black- and minority-owned small businesses. That investment includes not only financial support in the form of grants, but also access to business expertise and mentoring, technology, and community engagement. Grantees can use funds in ways that are most impactful to their business, such as for premise redesign to maintain employee and customer safety, layoff aversion, technology investments, operational costs, and marketing efforts. Fiserv offers complimentary business expertise and mentoring to grantees, leveraging its employee resource groups to offer business coaching to aid grantees in their growth and recovery
Back2Business program participants can also receive the Clover® point-of-sale platform from Fiserv, which enables businesses to accept payments, including contactless payments, and better manage their businesses with tools such as industry-specific apps. This can be a huge help to businesses that may not have been able to afford upgrading their payment technologies to adapt to COVID-19 restrictions and safety concerns.
Yet another key component of the Back2Business initiative is a focus on creating community connections. The initiative seeks to connect grant recipients and other small businesses to community organizations supporting businesses owned by people of color. This collaborative approach drives much of the program's momentum, as Fiserv has partnered with historically Black colleges and universities (HBCUs), incubators, advocacy organizations, chambers of commerce, and community nonprofits to introduce minority-owned businesses to resources on the ground.
Since its inception in 2020, Back2Business can boast great success, with more than 1,000 Black- and minority-owned small businesses across the U.S. and U.K. receiving grants and support to keep serving their communities. However, Fiserv understands the timeline of systemic issues such as uplifting diverse entrepreneurs requires the long view.
"We are well into our initial $10 million commitment to the Back2Business program, and have been humbled by the tremendous stories of resiliency among the small business owners and entrepreneurs who have been part of the program," said Frank Bisignano, president and chief executive officer of Fiserv. "We're also keenly aware that the work is not done, and the need remains great, so we are meaningfully increasing our investment in Back2Business. We are proud to continue providing much needed support to small businesses across the country."