2021 Conference Recap: Philanthropy Through a Social Justice Lens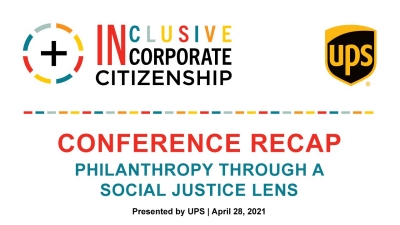 Attendees started the final day of the International Corporate Citizenship Conference with a morning networking break, and eagerly awaited the first general session on how foundations must reconsider what it means to advance equity in the face of systemic injustice.
---
Many corporate citizenship professionals are pushing traditional program boundaries to prioritize justice and advocacy in their corporate giving initiatives. Yesterday, conference attendees explored practical, actionable ways to incorporate equity in several breakout sessions, including "Diversity, equity, and inclusion for grantmaking and philanthropy," part of the event workshop series sponsored by TJX. In this session, Boston College Center for Corporate Citizenship's Executive Education Director Elizabeth Rogers walked attendees through several methods intended to reduce unconscious and implicit bias and increase the equity of philanthropic efforts—a critical piece of the puzzle in enterprise DEI efforts, and one that many CSR professionals have the power to control.
These themes were expanded upon in today's lively fireside chat sponsored by UPS, in which conference attendees heard from three leaders working at the intersection of philanthropy and social justice: Moderator Janet M. Stovall, senior client strategist at the NeuroLeadership Institute, who engaged in conversation with Nicole Clifton, president of social impact and the UPS Foundation, and Valeria Lassiter, founder and CEO of Lassiter & Associates.
To start, Clifton remarked on why social justice has come to the fore for philanthropy, especially for corporate givers. "We're in a moment that we've never seen before: The public expectations are high, but also the need is so great. We know that folks who are traditionally disadvantaged are even more disadvantaged as a result of the COVID-19 crisis," said Clifton. "UPS employees are embedded in our communities. By listening to them and engaging our stakeholders in a holistic way, we can start to unravel what those greatest needs are, and how our scope, scale, and reach as a company can best address them."
A crucial part of breaking down systemic barriers, the panel agreed, is strategic and iterative planning that ensures all stakeholders are on-board. "Strategic planning is a living process," said Lassiter. "Corporate social justice and social change are not task-oriented, and cannot be reduced to checking things off on a box. These goals are in it for the long horizon."

Stovall stressed that communication needs to be embedded throughout the strategic planning process for social justice philanthropy, not just at the end. "Do we want a marketing moment, or do we want to move the needle on something?" Stovall asked. "The communicator's job is to find dots and connect them. They should be a key part of building the solutions and figuring out what your strategy is and metrics are."
The panel also touched on the common misconception that a senior leaders' approval of social justice initiatives translates to true buy-in. Lassiter stressed that getting buy-in on these initiatives should result in a willingness to advance and engage in them—not merely signing off. "Relationships determine results," Clifton agreed. "Real buy-in is when people see themselves and their interests in the work that you're trying to do. So they start to see themselves as integral to your work, not ancillary."
A good way to generate buy-in is to ensure that your philanthropic efforts align with the company's core competencies. Clifton explained that UPS has been doing the important work of delivering on the Sustainable Development Goals and other environmental, social, and governance targets for years, especially in the health and humanitarian relief space. With the onset of COVID-19 and eventually vaccine delivery, that work was funneled into equitable distribution of vaccines to underserved communities. With planes, drones, and other technology, UPS was able to use its best capabilities as a company to support those communities.
Of course, in a conversation of equity, racial inequities and bias in philanthropy needed to be recognized. Lassiter reminded the audience that just 8-9% of philanthropic dollars go to organizations led by people of color who serve communities of color. "It's not just about serving the most harmed communities, it's also about making sure that there are people of color making funding decisions," said Lassiter. "A lack of diversity leads to a lack of understanding."
Clifton agreed that this starts with building diverse teams on the corporate giving side, and UPS as a company has launched an Equity Justice Initiative to ensure that its "house is in order" in an intentional way. She suggested that companies should tap into a diverse employee base and business resource groups to better understand the communities it serves. "We have to worry less about landing perfectly, and focus on landing authentically," said Clifton of listening, evaluating, and taking action on racial equity.
With this rousing start to the day, attendees left the virtual auditorium to enjoy some time to connect with their peers in the virtual networking lounge. Participants then had a final round of breakout sessions to look forward to, which expanded on topics from the morning's conversation: identifying stakeholders, building internal partnerships, and environmental justice. Ready to roll up their sleeves, attendees charged full steam ahead into a final day of learning and connecting on inclusive corporate citizenship.
---
We're blogging throughout the 2021 International Corporate Citizenship Conference to give you daily recaps and deep dives into the event's unique content.
Participate in the conversation using #BCConf21.
Visit the Corporate Citizenship Perspectives Blog to read all the recaps and subscribe to receive blog updates.