2019 Corporate Citizenship Conference Recap Day 1: Lessons learned and how to share them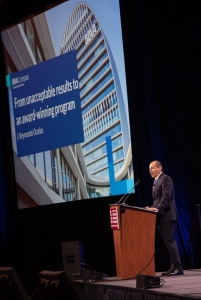 Tonight, 600 corporate citizenship professionals from all over the world gathered in Dallas to kick off the International Corporate Citizenship Conference, an annual event that focuses on the strategy, practice, and leadership behind corporate social responsibility (CSR), sustainability, and other corporate programs that promote both a better business and a better world. As the Conference began, attendees at the Hyatt Regency Dallas became acquainted with each other in a series of networking and social events as they eagerly anticipated the opening session and annual Film Festival awards ceremony.
Making connections, old and new
In the late afternoon, newcomers to the Conference were able to break the ice and forge new connections at the Newcomer Networking Session. Then, all attendees convened in the Landmark Ballroom Foyer for a Conference-wide opening reception hosted by Altria for the tenth year in a row.
When it was time for the event to officially begin, participants filed into the Landmark Ballroom to share dinner and hear welcome remarks from Boston College Center for Corporate Citizenship's Executive Director Katherine V. Smith, who thanked convening sponsor, Mary Kay:
"For decades, Mary Kay has empowered millions of independent beauty consultants around the world, enriching women's lives with meaningful work," said Smith. "Mary Kay truly embodies this year's Conference theme of People + Purpose = Progress."
Dr. Lucy Gildea, Senior Vice President and Chief Scientific Officer at Mary Kay, next took the stage to give her welcome to the 2019 Conference attendees. Looking forward to her more extensive comments to come the following day, Gildea brought words of encouragement to Conference attendees:
"As corporate social responsibility professionals, you combine grit, passion, and the know-how to achieve your goals. The real game changers of our work happen when it's done right—and done together," said Gildea. "Over the next few days, I hope you'll be able to recharge and connect."
As a longtime participant and prior winner of the annual Film Festival, Mary Kay's remarks made for a smooth transition to the event's first panel and following award ceremony.
From zero to award-winning
The opening panel, "From unacceptable results to an award-winning program," featured BBVA Compass, which as a global bank understands the importance of building and maintaining comprehensive relationships within the communities in which it operates—especially for financial betterment. However, as Executive Vice President and Director of Communications and Responsible Business J. Reymundo Ocañas explained in this opening session, the path to corporate citizenship excellence was not always easy.
"Back in 2014, we learned we failed the Community Reinvestment Act (CRA) Exam, which was a reputation-damaging result and one that displeased our global leaders. As a global bank, we knew we had the responsibility to put our capital to work, not just for Wall Street but for Main Street," said Ocañas. "We are living in an era of responsibility, so as companies this applies to all of us. We have a duty of conscience, which we were not meeting at that time."
In reaction to this news, BBVA's responded by engaging in an internal paradigm shift to incorporate purpose into their banking strategy. The bank announced lending programs and investments in low- to moderate-income neighborhood—on which they delivered within four years. They also created a community advisory board to investigate ways to reach those goals, made up of many stakeholders including perspectives from the community. The bank also reinvigorated their corporate responsibility program to use their internal capacity as a bank to educate the community financially. They have done so with strong volunteering efforts, the capacity-building Opportunity Fellows program, and social enterprise accelerator BBVA Momentum.
In December 2018, BBVA received the news that they earned the top score that any bank could get on the CRA Exam: Outstanding. Building even further on that positive momentum, BBVA made a recent pledge to mobilize €100 billion by 2025 to fight climate change and drive sustainable development. Ocañas noted that the bank has separately made strides in diversity, to move from a low score to high placement on multiple ratings such as Human Rights Campaign's Best Places to Work.
Next, joining Ocañas onstage was Evan Matzen, Senior Vice President, Director of Corporate Citizenship Communications and Responsible Business at BBVA Compass, who moderated a panel conversation with Janie Barrera, Founding President and CEO, LiftFund—one of BBVA's community advisory board partners. She was able to provide the partner perspective on BBVA's growth journey.
"You need good people to build something, and Rey and BBVA have been amazing partners for us," said Barrera, who used the BBVA Compass Lending and Learning Center in San Antonio, TX, as an example of a program that achieved mutual benefits. "This building is an oasis, erected in the poorest zip code in the city. To start, we collaborated with BBVA to learn how we could align and this solution was something that worked for everyone."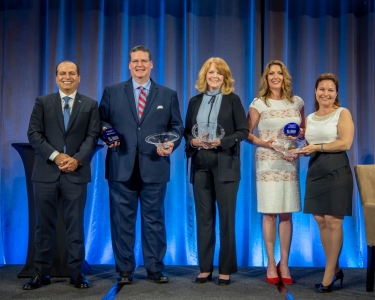 Following their informative panel, the program transitioned to the highly anticipated announcement of the 11th annual Film Festival winners, which celebrates the work and impact of corporate citizenship programs—as well as the inspiring methods companies use to communicate their efforts. This year's Festival received more than 60 submissions from companies across the world. The awards were presented by Smith and Ocañas.
The 2019 Film Festival offered a series of prize categories to recognize the wide range of initiatives that were submitted:
Fan Favorite (largest number of public votes)
Best in Show
Company size

Small Company (employee size 1- 5,000)
Medium Company (employee size 5,000 - 30,000)
Large Company (employee size 30,000 +)
The award for Fan Favorite went to Mary Kay for their video: Mary Kay's Commitment to Ending Domestic Violence.
In a Film Festival first, the Small Company category was a tie between Mary Kay and Delta Dental of Michigan, Ohio, and Indiana, for their video: Building Brighter Futures.
The Medium Company award went to UL for Do Your Part, Share Safety Smart!
UPS's Transitional Learning Center (TLC) won the Large Company category and took home the top prize for Best in Show. The program provides people with disabilities with a pre-employment training program. "Inclusion makes a huge difference," said Joe Ruiz, Director of Humanitarian Relief & Resilience, Environmental Sustainability and Communications, The UPS Foundation, who accepted the award. "It drives our success and innovation."
Congratulations to the winners, finalists, and all who participated!