2019 International Corporate Citizenship Conference begins today in Dallas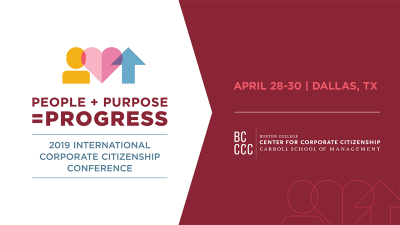 Today kicks off the annual International Corporate Citizenship Conference here in Dallas, TX. The Boston College Center for Corporate Citizenship will welcome hundreds of professionals for two-and-a-half packed days of learning and networking. This year the Conference is hosted by Mary Kay, a company that embodies this year's theme of People + Purpose = Progress. By striving to both end domestic violence and eliminate cancers affecting women, Mary Kay has deeply embedded in its culture the importance of connecting people to a larger purpose to achieve progress.
At this year's event, we are looking forward to hearing from global corporate citizenship leaders about how they channel the collective purpose of their employees, customers, and other stakeholders to create progress on ambitious corporate citizenship objectives, such as aligning with the Sustainable Development Goals.
Here is just a sampling of what's to come this week in Dallas:
Insights to inspire
Over the course of seven eye-opening sessions, top business leaders and thinkers will take the stage to share their lessons learned on crucial topics for CSR professionals. These mainstage speakers include:
Lucy Gildea, Senior Vice President and Chief Scientific Officer, Mary Kay
J. Reymundo Ocañas, Executive Vice President, Director of Communications and Responsible Business, BBVA Compass
Evan Matzen, Senior Vice President, Director of Corporate Citizenship Communications and Responsible Business, BBVA Compass
Janie Barrera, Founding President and CEO, LiftFund
Peter Balyta, President, Education Technology; Vice President, Corporate Citizenship and Academic Engagement, Texas Instruments Incorporated
Jennifer Bartkowski, Chief Executive Officer, Girl Scouts of Northeast Texas
Steven Smith, Electrical Engineer, Texas Instruments Incorporated; robotics competition mentor for Conrad High School in Dallas
Quynh-Anh Dang, Biochemistry sophomore, Southern Methodist University; Girl Scouts Gold Award recipient
Stuart Parker, Chief Executive Officer, USAA
Harriet Dominique, Senior Vice President, Corporate Responsibility and Community Affairs, USAA
Melissa M. Macdonnell, President, Liberty Mutual Foundation and Vice President, Liberty Mutual Insurance
Klare Shaw, National Director of Programs, Corporate Giving, Liberty Mutual Insurance
Donna Latson Gittens, CEO & Founder, MORE Advertising
Joe Ruiz, Director, Humanitarian Relief and Resilience, Environmental Sustainability and Communications, The UPS Foundation
Robert G. Ottenhoff, President and CEO, Center for Disaster Philanthropy
Zack Rosenburg, Co-Founder and CEO, SBP (NGO)
Renee Wizig-Barrios, Senior Vice President, Chief Philanthropy Officer, Greater Houston Community Foundation
Daniel H. Pink, Best-Selling Author, When: The Scientific Secrets of Perfect Timing, To Sell Is Human: The Surprising Truth About Moving Others, Driveand A Whole New Mind
Dynamic and unique networking experiences
Even the most successful corporate citizen­ship professionals didn't achieve their goals alone. The Conference provides a networking environment that supports collaboration between CSR practitioners, and attendees are almost exclusively from companies. From summits and moderated breakfasts to receptions and coffee breaks, attendees can look forward to connecting and learning from one another.
Opportunities to give back
This year, attendees will have the chance to participate in a Conference-wide volunteer project which will take place during the Monday and Tuesday networking breaks. Join Travelers and nonprofit organization SBP to assemble 600 emergency preparedness kits to be donated to families affected by disasters.
Corporate "Fitizens"
The Conference also provides attendees with the chance to wake up refreshed with an optional fitness activity on Monday and Tuesday morning. On Monday, participants can partake in a local activity, Texas Boogie Bounce, a fun fitness movement class; and then stretch out on Tuesday morning with Sunrise Yoga. Attendees, these events fill up fast so make sure to register.
Choose sessions that work for you—and your key issues
Year after year, breakout sessions are consistently a favorite among Conference attendees—because they provide participants a chance to learn best practices from other leaders in the field, both on the stage and sitting right in the audience.
As always, we have broken our sessions into topic tracks so that participants can choose the panels which best suit their needs: Strategy and Organizational Change, Community Investment and Social Impact, Communications and Reporting, and Sustainability. They can also choose between three panel types: traditional panels, company case studies, and hands-on workshops. And this year for the first time, attendees can also choose breakout sessions based on relevant Sustainable Development Goals. Attendees are also encouraged to network using SDG pins as conversation starters for key issue areas.
Here are just a few sessions we're especially excited about:
Leveraging corporate citizenship to attract and retain employees
The role of corporations in addressing climate change
Lean mean CSR machines: How to punch above your weight
Preparing for a new normal with disaster prevention, recovery, and relief
Detangling disclosure: Simple steps to start sustainability reporting
Looking forward to the future of community involvement
We'll be blogging throughout the 2019 International Corporate Citizenship Conference to give you daily recaps and deep dives into the event's unique content. Subscribe to the Corporate Citizenship Perspectives blog to follow along and recap the event.