2019 Corporate Citizenship Conference Evening Recap Day 2: Making progress on pressing issues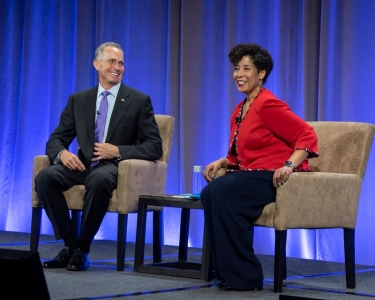 As attendees entered the second half of the first day here at the 2019 International Corporate Citizenship Conference, they were eager to build on the inspiring insights they gleaned and strong connections they'd made during the morning's packed agenda. The remainder of the day delivered lessons learned from companies engaged in corporate citizenship efforts that have strong ties to a sustainable business purpose.
Finding purpose in service
Attendees started their afternoon with a second round of breakout sessions, which featured topics ranging from environmental sustainability to reporting to cross-sector collaborations. In an immersive case study session, Vanguard also shared their company's evolution toward aligning more strategically with local communities.
The next mainstage session of the day featured USAA in a discussion of "Serving Those Who Serve," featuring remarks from USAA's CEO, Stuart Parker, as well as Senior Vice President of Corporate Responsibility and Community Affairs at USAA, Harriet Dominique. As a financial company that supports military members and their families exclusively, USAA's corporate citizenship efforts support military advocacy. Under Parker's leadership, the company has increased its charitable commitment to one percent of pre-tax income—with 60 percent going to military causes—and USAA employees now enjoy paid time off to volunteer.
"Not only is it the right thing to do, it's a great thing to do from a business perspective," said Parker. "When you engage in corporate responsibility, your employees become more engaged, your customers become more loyal, and you help your leaders get more connected in the process."
Even with USAA's support, philanthropic efforts for military causes are not keeping pace with the need. To demonstrate the lack of support for military issues—and the immense unmet need—the panel opened with a knowledge-testing poll among attendees to reveal that 2 million Americans are currently serving and 21 million veterans now live in the United States, but fewer than 5 percent of companies support the military among their top five philanthropic priorities.
Parker explained a number of initiatives that USAA undertakes to help alleviate that need. In a recent example, the company provided $15 million in loans and resources to help Coast Guard families during the 2019 government shutdown. USAA also provides internal support for military spouses in a directed effort to hire and provide flexible work opportunities. And to help military children feel more included, they're partnering with Sesame Street to create a character who is the child of military parents.
Dominique joined Parker onstage for a fireside chat, in which they actively shared best practices and lessons learned from serving the large military and veteran population in the United States—and specifically the journey to giving back one percent of pre-tax income. Parker discussed the business reason behind that decision:
"American society is going to demand it. We as consumers do expect companies to step up and take care of their communities. Because it is the right thing to do—and as a consumer and an employer you want to do business with a company that does the right thing," said Parker. "We're also seeing our employee engagement is getting higher. In a time when unemployment is very low, we're seeing our retention is stronger. As long as we had a strategy around it, the money was well-spent."
Parker and Dominique also stressed that they wanted to share USAA's experience—and most of all, how they overcame challenges—with all the companies in the room, so that they also can give back to the millions of former and current military members that make up the American workforce.
"As we were making the transition, we had a lot of legacy programs that our workforce loved – but they didn't drive measurable impact. We had to have some of those tough conversations with those employees. It wasn't easy, but it was necessary, and it did position us to get the resources we needed," said Dominique. She added, "One of the key things that has helped our success is the tone from the top. Our CEO is the reason we are where we are today. We are in agreement that it's the right thing to do, but it's also incredibly good for business."
Collaboration for a better world
After an energizing mid-afternoon session, attendees filed out of the Landmark Ballroom for a well-deserved break. In the foyer, they enjoyed refreshments and great conversation brought to them by State Street. A short while later they reconvened in the ballroom for dinner and the final general session of the day, "Every house needs a solid foundation," hosted by Liberty Mutual Insurance, featuring Melissa M. MacDonnell, president of the Liberty Mutual Foundation and vice president, Liberty Mutual Insurance; Klare Shaw, national director of programs, corporate giving at Liberty Mutual Insurance; and Donna Latson Gittens, CEO and founder of MORE Advertising.
The Liberty Mutual Foundation has become one of the largest corporate donors in Boston since its inception in 2003, with one of its key focus areas being financial security for homeless individuals. MacDonnell shared that just five years ago, Liberty Mutual's philanthropy team started uncovering the hidden and misunderstood issue of young people experiencing homelessness. In fact, research conducted by Liberty Mutual revealed that a staggering one in 10 young people aged 17-24, and one in 30 aged 14-17, experienced homelessness in the course of a year. To best address this pressing issue, the Foundation intentionally did the hard work of being actively involved with the community.
"After listening to our schools, shelters, and community partners, we began building a portfolio of support for youth and young adults experiencing homelessness," MacDonnell said. "For us, this meant grounding ourselves in data, getting to the table, proactively engaging with public officials, and most importantly working alongside individuals with lived experience. For the first time in our philanthropic history, we were becoming part of a movement."
In Boston, Liberty works closely with agencies such as Bridge Over Troubled Waters, which not only helps homeless youth find housing, but also helps them with life skills such as budgeting, communicating, and saving. In partnership with Bridge, the company funded the Liberty House, a residence that provides opportunities for independent housing with minimal supervision. In a video, Liberty CEO David Long said he hoped the new shelter would "give young people the freedom to finish school and the freedom to follow their dreams."
MacDonnell's discussion of Liberty's collective impact approach made for a smooth transition into a panel discussion with Shaw and moderated by Gittens, in which they engaged in a frank discussion of how to approach such a unique initiative involving so many stakeholders. Gittens opened by asking how the Foundation prepared for tackling the issue of youth homelessness.
"We funded the research because we needed a baseline. We spoke to the school systems, health and human services, and other organizations—all of that was pointing in a direction for us to work with both federal and local frameworks," Shaw said of the collaborative approach. "Some of the downside was the pace—we couldn't move as quickly as we were used to. We were multitasking on several fronts and getting information from peers around the country, so we could benchmark against national trends."
Tapping into a common theme of the day, Gittens asked about how the Foundation team achieved executive buy-in. MacDonnell responded, "Our team did a lot of up-front work, and the reception from senior leaders was very favorable. There was alignment between this issue and who we are as a company. Part of our identity is that 'progress happens when people feel secure.' And what could be better for propping up youth and young adults than helping them to feel secure?" The company also has engaged employees in the issue, including a successful companywide employee fundraiser for A Way Home America, which resulted in thousands of donations.
With this enriching discussion, the day concluded. Attendees left the Landmark Ballroom with plenty of insights, ideas, and best practices upon which to reflect and apply to their everyday corporate citizenship work—and looked forward to the final day ahead.