2019 Corporate Citizenship Conference Morning Recap Day 2: The life-changing impact of effective programs
Today marks the first full day of the 2019 International Corporate Citizenship Conference. This morning, attendees looked forward to building on the momentum of last evening's exhilarating opening session, which revealed the winners of the 11th annual Film Festival, presented by BBVA Compass. Today, participants dove head-first into a packed day filled with eye-opening general sessions, ample opportunities to network, and practical panels, workshops, and case study sessions from which to learn.
People + purpose = progress
First thing this morning, attendees were already actively engaged in an Idea Exchange Breakfast, hosted by Mary Kay, in which they were invited to participate in table topics on pressing issues—such as making impact as a small vs. large company, corporate citizenship reporting, and effective communication—facilitated by corporate leaders in the field.
Boston College for Center for Corporate Citizenship Executive Director Katherine V. Smith officially welcomed a full crowd in her remarks, thanking the event sponsors who make this event possible. She shared how the Conference strives to be zero-impact; with generous investments from carbon-offset sponsor The Allstate Foundation and zero-waste sponsor Subaru of America, the Center has more than offset travel and stay, materials, and water for this event. The Center is also donating all untouched food to DallasLife homeless recovery program.
Smith also revealed findings from the 2019 Community Involvement Study, which was made available to Conference attendees just ahead of its launch on the Center website. The study supports the business case for community involvement, which most often takes the shape of attracting and retaining more engaged and productive employees. This objective is more necessary than ever in an increasingly tight labor market, where retention and recruiting are crucial to productivity and business success.
"Employees are an important audience for community involvement programs, and we've seen this trend growing over the last several years," said Smith. "What we're seeing is that out of the 63 percent of companies that measure the connection between community involvement and employee engagement, 95 percent see improved engagement among employees that participate in community involvement programs."
The study also demonstrates the increased sophistication of strategy and execution of community involvement efforts, which was supported by the subsequent talk by Dr. Lucy Gildea, senior vice president and chief scientific officer at Mary Kay. Gildea led a discussion of the Mary Kay Foundation's longest-running program—which has invested in cancer research with top universities across the United States for more than two decades—and described its evolution and expansion to maximize impact. Her remarks supported that from the beginning, Mary Kay has been a purpose-driven company. Mary Kay Ash herself felt that she had founded a company based on the premise of helping others, a purpose which has endured today.
"Never lose sight of the personal touch—that's what made our founder, Mary Kay Ash, so successful and inspiring," said Gildea. "That personal commitment extends to all areas of our business: Fighting cancer is personal to us and giving back is in the DNA of our company."
Mary Kay Ash herself was personally affected by cancer—and recognized that one in three women are affected by cancer in their lives. So she actively encouraged her sales force to give in support of the cause. Out of this the Mary Kay Foundation was born, and with it the cancer grants program. Since then, the program has evolved significantly—from an internal coordination effort among employees, to one of collaboration with senior leaders and community partners in top universities.
"This effort transformed from a functional grassroots effort to an inspiring companywide program. Moving from merely coordinated to a collaborative effort had a huge impact on our sales force, our employees, and really took our corporate citizenship to a whole new level," continued Gildea, which at Mary Kay applies to inspiring employees from field beauty consultants to the upper ranks. "You need to make a bold conviction with your purpose. Ask yourself: Who takes a personal interest? Are our leaders inspired? Give leaders and employees something to work for that's greater than themselves."
When it comes to specific programming, Gildea stressed the importance of alignment with strategic goals—and choosing partners carefully. "It's important to select partners that align with your larger mission, and make sure they have in their heart what you are looking to achieve," she went on to say. "At Mary Kay, we've benefitted tremendously from our partnerships. We're a cosmetics company; we're surely not fighting for cancer on our own. We're enriching women's lives every day, but we need partners to help elevate our CSR program and achieve our bold convictions."
Gildea concluded that inspiration must extend to measurement and communication of corporate citizenship successes. Mary Kay focuses on not just dollars donated but actual outcomes from programs, as well as creating a compelling story around those results, in addition to hard numbers. "One of the best ways you can deliver your impact is through storytelling with data—stories are the best way to make a connection, because they evoke emotion to connect in a different and relatable way" said Gildea. "Use and define metrics that inspire others and focus on outcomes. Time and resources are precious, so we have to make sure the effort that you and others give is meaningful."
After the session closed, participants enjoyed opportunities to network with a break hosted by Gallagher. Many attendees also chose to give back in an on-site volunteer project, in which they helped Travelers build 500 disaster preparedness kits in support of SPB.
Then at 10:30, participants rolled up their sleeves and engaged in the first round of breakout sessions, which included in-depth panel discussions of collaborating with corporate citizenship networks, optimizing lean resources, and preparing for the new normal of disaster relief. They also dove into a case study, hosted by Alliance Data, to learn how to maximize impact in nonprofit partnerships using the power of data-driven decision making.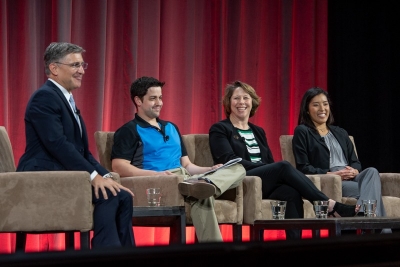 Developing the talent of tomorrow
For lunch, attendees kicked off the afternoon with a panel from Texas Instruments called "Engineering the future: The case for investing in STEM education," in which attendees learned about how TI collaborates with community partners to give youth the self-assurance and skills they need to succeed in science, technology, engineering, and math (STEM).
The panel was moderated by Peter Balyta, president of education technology and vice president of corporate citizenship and academic engagement at Texas Instruments. He welcomed to the stage Jennifer Bartkowski, chief executive officer of Girl Scouts of Northeast Texas; Steven Smith, electrical engineer and robotics competition mentor at Texas Instruments; and Quynh-Anh Dang, a biochemistry sophomore at Southern Methodist University and Girl Scouts Gold Award recipient.
Balyta opened by giving an overview of TI's corporate citizenship work, which focuses on education and improving the STEM pipeline. Student interest in STEM has remained stagnant over the last five years, he said, such that companies such as TI are experiencing a shortage in talent to fill these roles. Therefore, TI uses comprehensive corporate citizenship programming to help inspire students with a positive experience with STEM.
"Our giving strategy is about working with organizations that can make our communities stronger. Strong companies and strong communities go hand and hand, and our CSR efforts reflect that at all levels of our company," said Balyta. "We believe that technology can solve some of the world's biggest problems. We're combining our expertise (engineering) with our passion (education) to build a STEM-capable workforce. TI's engineers are coming up with solutions to how the world consumes energy, uses water, and provides access to healthcare. It really reinforces the way that we're tying our business and citizenship strategies together."
To help in improve the STEM talent pipeline for their company and others, TI is investing in technology, giving and employee volunteerism, and robotics competitions. Balyta turned to Smith to hear more about the Texas Instruments' robotics programs with school-age youth. Attendees learned that this forward-thinking initiative goes beyond building STEM skills to other transferable skills in the modern workplace. Smith described his work mentoring students at the Conrad High School in Dallas, and its growth since its start five years ago—adding a machine shop, computer lab, 3-D printers, and more tools to inspire youth to learn and get excited about STEM.
"We are able to bring the students not only our engineering skills but also our general workplace skillset as professionals, such as problem solving, team motivation, and conflict management. Not to mention mentoring goes both ways, and I get a lot out of it myself," said Smith. "It also gave me a chance to work with TI leaders—and we are a very large company—to shape where we invest our philanthropy dollars."
The skills gap in STEM is especially emphasized among young girls. In a video shown during the session, attendees learned that 57 percent of all girls don't consider a career in STEM. "We're finding that girls are opting out of hard science, technology, engineering, and math classes," said Bartkowski. "That gap in confidence is what Girl Scouts is poised to correct." Companies such as Texas Instruments agree with the need to diversify their engineering talent pipeline. In a recent initiative, the company supported the creation in 2018 of the Girl Scouts' STEM Center of Excellence at Camp Whispering Cedars just outside Dallas, TX—the first of its kind in the country. The center has inspired a larger movement supported by the national Girl Scouts, which has pledged to add 2.5 million girls to the STEM pipeline by 2025.
"In the area of STEM and engineering, we need more women," said Balyta in the video. "The Girl Scouts of Northeastern Texas serve thousands of women every year. It makes perfect sense for us to partner with them and light that spark of imagination in young kids—to help them develop that passion to pursue a STEM career."
Providing firsthand experience, Dang was grateful for the wide variety of experiences and exposure to STEM she received in the Girl Scouts. "I love science because I feel like I am part of a larger effort to finding solutions to our world's problems, whether that's medical, industrial, or engineering," she said. "This wasn't by chance. It was the result of intentional forces—the people on stage here with me—who have spent their time and resources to help students like me. Those community initiatives are so important, because they provide opportunities for students to explore STEM fields. That's how passion gets started."
With the conclusion of this inspiring panel, attendees were on to afternoon activities and plenty more learning and networking at the Conference.