Nonprofit Board Service: Getting Your Team Ready to Serve | ONLINE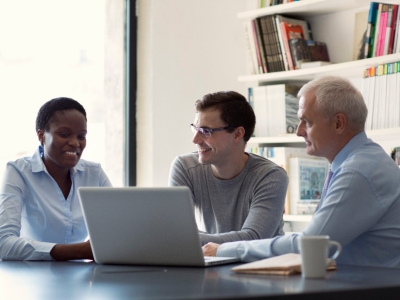 Use skills-based volunteering to prepare senior leaders for community involvement.
Is your company considering nonprofit board service in its philanthropy or leadership development programs? While many C-Suite and emerging leaders are eager to take action and volunteer their time, they may want to be better-prepared to address the legal, fiduciary, and fundraising responsibilities that come with nonprofit board leadership. This program provides you with the training to support a robust nonprofit board service program as part of your overall corporate citizenship commitment.
In this course, you will learn:
The business case for skills-based volunteerism and nonprofit board service.
The fundamentals of nonprofit board leadership, including an overview of legal, fiduciary, and fundraising responsibilities for board members.
Strategies and tips for nonprofit board members communication with stakeholders.
Tools for evaluating nonprofit organizations and existing programs.
How to review and assess a nonprofit's 990 tax form.

COURSE STRUCTURE
Start and finish on your schedule: Courses take 15-17 hours, including video content and exercises.
Module 1: Introduction and Nonprofit Overview
Current research and context for managing nonprofit board programs
Activity: Contribute to a discussion on nonprofit trends
Module 2: The Value of Board Service
Understand the business case and how nonprofits, businesses, and individuals can benefit from board service
Activity: Describe the value of board service
Module 3: Governance, Ethics, and Common Challenges
Overview of the expectations of governance principles and common challenges faced by boards
Activity: Overcoming board challenges
Module 4: Roles and Expectations
Learn about the elements of effective messages and how you can make yours more compelling
Activity: Roles and responsibilities quiz
Module 5: A Fundraising Primer
Tips and tricks to become a better fundraiser
Activity: The soft ask
Module 6: Selection and Assessment
Choosing the right nonprofit for your board members and ensuring a good fit
Activity: Nonprofit selection and assessment scorecard
Module 7: Communication – Persuasion and Negotiation
Learn two communication strategies that will help board members and board trainers alike – persuasion and negotiation
Activity: Apply the principles of persuasion and prepare for a negotiation
Module 8: Board Training Program
The key components of a board training program and how to set one up
Activity: Skills assessment activity

This course is for:
This program is recommended for professionals who are aiming for higher participation in community involvement programs and those seeking higher employee engagement numbers. Corporate citizenship professionals responsible for employee volunteer programs, Green Teams, and/or communicating with employees. Corporate citizenship professionals developing or refreshing their company's CSR strategy. Other professionals engaging with employees in the design, development, and evaluation of corporate citizenship programs.
Professional credentials earned:
Tuition
Member: $2130.00
Non-Member: $2900.00

This pricing model excludes our Brand and Reputation, CDP Reporting, Integrated Reporting, and Supply Chain courses. If you would like to take these courses as part of the multi-course option, please contact us at ccc@bc.edu.
OUR EXECUTIVE EDUCATION GOAL
All executive education courses with the Boston College Center for Corporate Citizenship are taught by CSR experts from a variety of backgrounds, informed by over 30 years of constantly updated research, trends, and insights. Now, with online courses, you can gain the same corporate citizenship knowledge and tools on your own, without leaving your office.
As in all of our executive education programs, our goal is to help you know more so that you can use the assets of your business to do more and achieve more with your corporate citizenship programs—accelerating the business value you create for your company and the social value you create for us all.