Corporate Citizenship Impact Measurement and Evaluation | ONLINE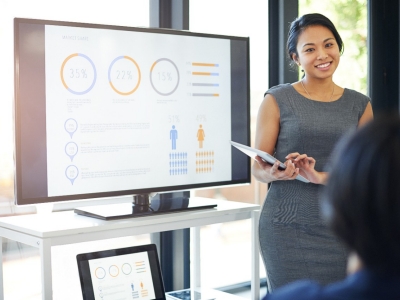 Determine the right metrics for maximum impact.
Corporate citizenship teams that identify, collect, and analyze program metrics are in a better position to demonstrate how they are creating change in their business and community. Do you know what type of impact your CSR and sustainability are having? This interactive course provides the skills, knowledge, and tools to build an effective measurement program that can help you increase the effectiveness of your programs and quantify the value that corporate citizenship programs bring to the community and to your business.
In this course, you will learn:
How to determine goals, objectives, and outcomes.
How to select appropriate metrics and indicators.
How to develop a plan to analyze measurement data, communicate results, and set a process for continual program improvement.
How to decide among various tools and techniques for conducting evaluations, for both qualitative and quantitative measures.
Ways to apply frameworks to illustrate the social, environmental, and business benefits of your corporate citizenship programs.

COURSE STRUCTURE
Start and finish on your schedule: Courses take 15-17 hours, including video content and exercises.
Module 1: Measurement Context
What does measurement mean from a corporate citizenship perspective
Activity: Understand your measurement context
Module 2: A Framework for Measurement: Logic Model
Introduce a tool for setting a vision and measuring results of corporate citizenship efforts
Activity: A framework for measurement
Module 3: Goals and Objectives
Understand the importance of setting goals and clarifying the purpose of your measurement
Activity: Set specific goals and objectives
Module 4: Impact, Outcomes, and Outputs
Learn the differences between the ultimate impact and the outcomes and outputs of your efforts
Activity: Determine impact, outcomes, and outputs
Module 5: Indicators, Methods, and Tools
Learn about the corporate citizenship measurement tools, methods, and indicators at your disposal
Activity: Selecting the right indicators, methods, and tools
Module 6: Resources and Activities
Further explore the logic model by assessing available resources and activities
Activity: Determine the right activities and resources to put into the process
Module 7: Evaluating Programs
Take a program-specific look at evaluation methods
Activity: Evaluating your existing programs
Module 8: Creating Business and Social Value: Employees and Suppliers
Explore value-creation pathways for employees and suppliers
Activity: Draft value creation paths for your company
Module 9: Creating Business and Social Value: Customers, Investors, and Government
Introduce three additional value creation pathways and how to use measurement methods to understand reputational risks
Activity: Apply the learning to your own company
Module 10: Calculating ROI
Learn how to calculate a return on investment for corporate citizenship programs
Activity: Proving ROI for your programs

This course is for:
This program is recommended for corporate citizenship professionals who are in the process of designing or revamping a corporate citizenship program or those responsible for managing a program. This course is also helpful for those responsible for communicating or reporting on their company's corporate citizenship efforts.
Professional credentials earned:
Tuition
Member: $2130.00
Non-Member: $2900.00

This pricing model excludes our Brand and Reputation, CDP Reporting, Integrated Reporting, and Supply Chain courses. If you would like to take these courses as part of the multi-course option, please contact us at ccc@bc.edu.
OUR EXECUTIVE EDUCATION GOAL
All executive education courses with the Boston College Center for Corporate Citizenship are taught by CSR experts from a variety of backgrounds, informed by over 30 years of constantly updated research, trends, and insights. Now, with online courses, you can gain the same corporate citizenship knowledge and tools on your own, without leaving your office.
As in all of our executive education programs, our goal is to help you know more so that you can use the assets of your business to do more and achieve more with your corporate citizenship programs—accelerating the business value you create for your company and the social value you create for us all.