Fundamentals of Employee Volunteer Programs | ONLINE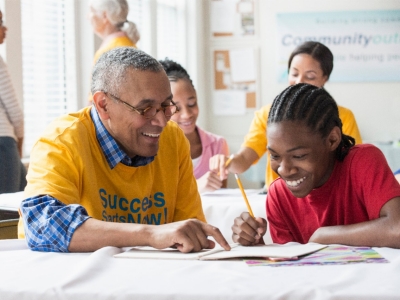 Set up your community involvement strategy for success.
Today's employee volunteer programs—whether they are traditional, skills-based, or pro bono—provide opportunities to develop skills, network with other employees, and reinforce personal and company values. Does your program maximize value on all three of these dimensions? This course will give you the tools to create or continuously improve volunteer programs that are highly recognizable, valued programs that help build better partnerships, deepen engagement among employees, and contribute to the company's visibility and reputation.
In this course, you will learn:
To develop a program that provides value to your employees, your community, and your business.
To make the most of your corporate citizenship budget dollars by leveraging volunteers and establishing ambassador networks.
To understand the factors motivating others to support and participate in your programs in greater numbers.
To design communications reinforcing reputation, employee retention, and other business relationship goals.
How to set and achieve participation goals.
How to measure progress and performance.

COURSE STRUCTURE
Start and finish on your schedule: Courses take 15-17 hours, including video content and exercises.
Module 1: Introduction and Volunteering Overview
Outline of the course and introduction of relevant statistics and research related to volunteering
Activity: Analyze your company's employee volunteer portfolio
Module 2: The Vision for your Volunteer Program
Introduction and overview of having a vision for your employee volunteer program
Activity: Assess your company's performance and culture around employee volunteering
Module 3: Strategy
Developing an effective employee volunteer program strategy
Activity: Evaluate a healthcare company in regards to its competition
Module 4: Structure
Importance of ensuring that there are the proper structures in place to support an employee volunteer program
Activity: Discussion of your company's leadership and conducting a gap analysis
Module 5: People
How to properly utilize, motivate and recruit the right people for the right employee volunteer opportunities
Activity: Design strategies to address roadblocks
Module 6: Rewards
How to utilize an effective reward system as a means to motivate employee volunteerism
Activity: Create a benefits and values map for your program and motivate and reward participation
Module 7: Processes and Systems
How to use processes and systems to identify company competencies and issues to address
Activity: Conduct a SWOT analysis of your own company and apply competencies and issues to a case study
Module 8: Evaluate Success
How to evaluate the success of a volunteer program
Activity: Capturing reporting metrics
Module 9: Communication
The importance of and how to have effective internal and external communication in an employee volunteer program
Activity: Crafting effective communication regarding your employee volunteer program
Module 10: Communicate Success
Tying it all together to provide a cohesive internal and external communications message
Activity: Case study using the Star Model
This course is for:
This program is recommended for corporate citizenship professionals responsible for the design, development, and execution of employee volunteer programs as well as corporate citizenship professionals seeking to rejuvenate an existing employee volunteer program.
Professional credentials earned:
Tuition
Member: $2130.00
Non-Member: $2900.00

This pricing model excludes our Brand and Reputation, CDP Reporting, Integrated Reporting, and Supply Chain courses. If you would like to take these courses as part of the multi-course option, please contact us at ccc@bc.edu.
OUR EXECUTIVE EDUCATION GOAL
All executive education courses with the Boston College Center for Corporate Citizenship are taught by CSR experts from a variety of backgrounds, informed by over 30 years of constantly updated research, trends, and insights. Now, with online courses, you can gain the same corporate citizenship knowledge and tools on your own, without leaving your office.
As in all of our executive education programs, our goal is to help you know more so that you can use the assets of your business to do more and achieve more with your corporate citizenship programs—accelerating the business value you create for your company and the social value you create for us all.