Taking Risks and Changing Mindsets: Wrapping Up Day Two of #BCConf23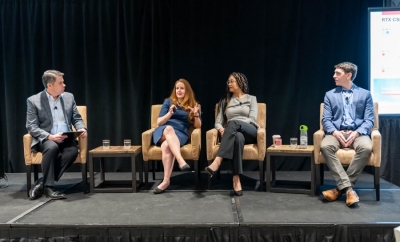 As the day progressed, attendees energized by the morning's sessions looked forward to building on learnings and insights gained.
After the session hosted by Ally Financial adjourned, participants took advantage of a wellbeing workshop and more breakout sessions, including a case study hosted by Raytheon Technologies. The case study leveraged Raytheon's own experience of combining and reconfiguring the CSR strategies of two existing leading companies during its recent historic merger.
Other breakout sessions included adapting corporate volunteer programs for a hybrid world; boosting employee engagement in volunteer-based CSR initiatives; learning how to advance health equity inside their organizations and beyond; and what to expect as global ESG regulations evolve.
Once breakout sessions wrapped up, participants again gathered in the ballroom for a general session hosted by Lowe's. BCCCC's Director of Membership and Member Services, Colleen Olphert took to the stage to thank TD Bank for their contribution that enabled the Conference's Workshop Series and Vertex, whose investment made the Conference Conversation Lounge a reality.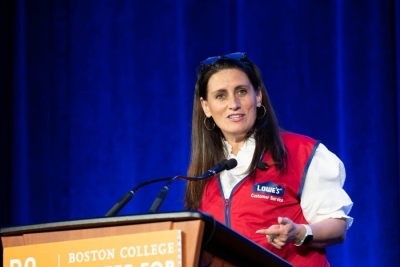 Then, Olphert opened the Lowe's session by introducing the company's Senior Director of Community Relations, Julie Yenichek. Yenichek oversees the Lowe's Hometowns program, which facilitates 1,700 community impact projects a year across a five-year period. She was joined onstage by Gary McCoy, a Lowe's store manager and Lowe's Hometowns project captain, as well as nonprofit project partners Katie Stearns, Chief Global Corporate Solutions Officer of Points of Light, and William McNeely, Jr., Founder and CEO of Do Greater Charlotte.
"As a home improvement retailer, we really center our investments on safe, affordable housing; skilled trades education and workforce development; disaster response; and community improvements," said Yenichek.
The panel highlighted the features of the Lowe's Hometowns community impact initiatives, along with the partners across various organizations that make them possible.

Points of Light acts as an activation partner for the Lowe's Hometowns program by making communities in need of support aware of the resources Lowe's Hometowns offers.
"The partnership with Lowe's is an opportunity for us to call on our strengths, but also to create and customize something that has never been done at this scale," said Stearns. "We had the opportunity to use our network of nonprofit organizations and individuals to help promote the opportunity to tens of thousands of communities to submit applications."
Do Greater Charlotte is a nonprofit focused on fostering creativity for local youth through design entrepreneurship and creative technologies. As a small nonprofit, Do Greater Charlotte needed support from partners who could be entrusted to uphold the organization's mission. By partnering with a team at a local Lowe's store, Do Greater Charlotte was assured their partners would understand the context in which the organization operates.
"That trust is there. They're on the ground and understanding the needs of communities and specifically what we offer," said McNeely.
In addition to the impact on the communities that benefit from the efforts of Lowe's Hometowns, these projects are a point of pride for the expansive Lowe's teams.
"When you talk about impact and being impactful, projects like these are incredibly meaningful not only to the communities, but to my [store] communities as well," said McCoy. "When it comes from the company, my associates love being involved with volunteerism, they love being able to talk about the projects they've been part of."
After the session, attendees were dismissed to prepare for the Networking Cocktail Reception, hosted by Altria. There, they enjoyed refreshments and reflected together on the insights shared throughout the day.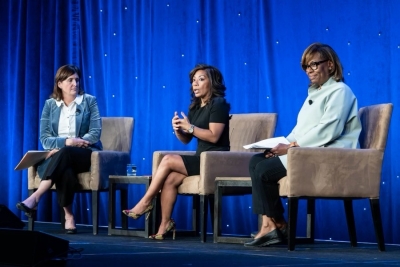 Shortly thereafter, participants reconvened in the ballroom for dinner and the final session of the evening, hosted by The Allstate Corporation. Karen Jarmoc, The Allstate Corporation's Chief Sustainability Director was joined in conversation by Cheryl Harris, Senior Vice President of Sourcing and Procurement Solutions and Eloiza Domingo, Vice President of Human Resources and Chief Inclusive Diversity and Equity Officer. The dynamic leaders discussed strategies for creating an enduring culture of inclusivity in the workplace and all the communities served by the organization, even—and especially—when times are hard.
Jarmoc opened the conversation by touching upon one of the emerging themes of this year's Conference: companies using their purpose and values to inform their strategies.
"For Allstate, our shared purpose is about providing simple, affordable, connected protections to our customers," said Jarmoc. "Our shared purpose is believing in the idea that we want great economic opportunity for our employees."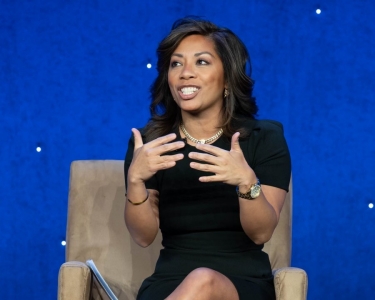 Allstate's Inclusive Diversity & Equity (IDE) program has existed for more than 20 years, but the panelists noted that the program must be responsive to changing times. Recently, Allstate has begun constructing a framework – the ACT (accountability, clarity, transparency) framework – that allows for clarity and consistency in decision-making.

"What I have to be able to do is create a process, an approach so that people feel like [Allstate] cares about [them]. We can honor and understand what motivates different parts of the company, synthesize what that means, and then optimize coming together under that ACT framework," said Domingo. "The other thing the ACT Framework does is create sustainability for the company, and it builds stamina."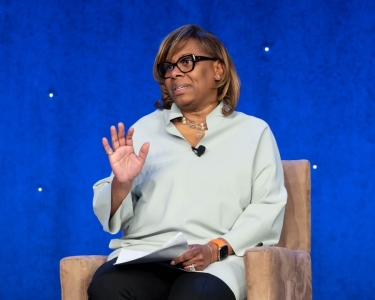 Allstate's IDE strategy includes a more recent push to add more diverse suppliers to its pipeline in an effort to address overarching economic disparity. Candidly, the panelists noted that a key part of Allstate's culture around IDE is allowing for iteration and evolution in its strategies.

"Part of this is feeling comfortable enough to try new things," said Harris. "I know that the research shows that what we've been trying to do around business inclusion and diversity and adding diverse suppliers – it hasn't worked. It goes through peaks and valleys, so we have to change the way we do things. We're excited to say we're trying it, and we're going to measure our progress as we go along. That's what resiliency and agility looks like."
With that illuminating discussion, the day concluded. Attendees left the Minneapolis Grand Ballroom chattering about insights, new ideas, and best practices to bring back to their own corporate citizenship work.
Stay tuned as we cover more highlights from the 2023 International Corporate Citizenship Conference!