Celebrating Resilience and Innovation at #BCConf23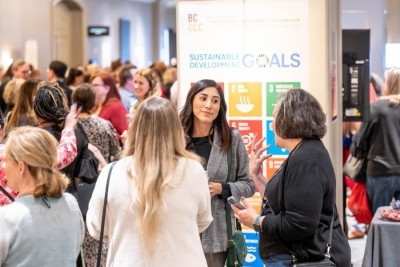 The 2023 International Corporate Citizenship Conference has officially begun! With convening sponsor Target, the Boston College Center for Corporate Citizenship is proud to host corporate citizenship professionals from a wide variety of industries and backgrounds as we unite around a common goal: to make the world in which we live and do business a better place.
Tonight, more than 500 corporate citizenship professionals from across the country and around the globe gathered in Minneapolis to kick off the annual Conference. Attendees were invited to partake in several welcome activities, including a wellbeing workshop and a newcomer networking session geared toward helping first-time participants make new connections and learn more about their corporate citizenship colleagues.
After a lively opening reception hosted by TJX and a welcome dinner, Boston College Center for Corporate Citizenship Executive Director Katherine V. Smith officially kicked off the conference with opening remarks and a thank you to this year's convening sponsor, Target:

"Based here in Minneapolis, Target is one of the country's most prominent and beloved retailers," said Smith. "Through their Target Forward sustainability strategy, Target works to design and elevate sustainable brands, eliminate waste through innovation, and accelerate opportunity and equity for team members and the global community."
Amanda Nusz, President of the Target Foundation and Senior Vice President of Corporate Responsibility at Target, took the stage to welcome the Conference attendees and share more about Target Forward:
"We have a mission to co-create an equitable and regenerative future with our guests, our partners, and communities," said Nusz. "We have three bold ambitions to design and elevate sustainable brands, to innovate to eliminate waste and to create opportunity and equity. And what we've learned in pursuit of these really bold goals is the value of reimagining the roles and the partnerships between donors, nonprofits, and communities."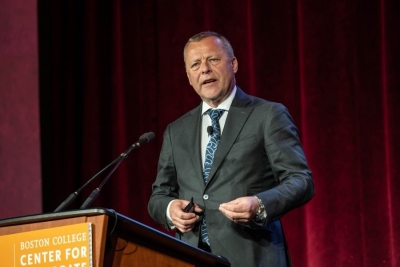 CEO of the Global Reporting Initiative, Eelco van der Enden, then took the stage to deliver remarks on the future of ESG reporting as we move toward consolidated reporting standards.
"We see from capital markets, and also by the rating agencies, that your entry into capital markets is cheaper if you have integrated your sustainability strategy within your business strategy," said van der Enden. "You are being ranked as lower risk, which reduces the cost of capital. Second, what we see – what we know – is that staff, and younger staff, are very much committed to these topics that we deal with when it comes to human rights, child labor, indigenous people, equal pay, diversity, and biodiversity. And so, younger generations like to work with companies with a purpose that goes beyond the short-term yields only."
With that, the second annual Corporate Citizenship Innovation Awards ceremony began. Companies from across the globe, including South Korea, Indonesia, Canada, Colombia, France, Ireland, the UK, and the United States, submitted more than 50 bold, innovative solutions to common CSR challenges within their organizations and communities.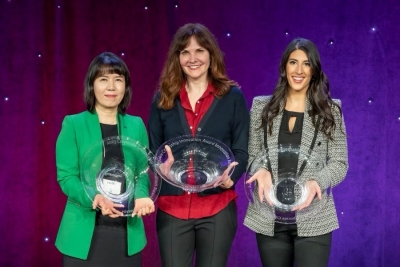 To present the awards, Smith was joined onstage by Nusz, van der Enden, and Ron Brown, Vice President of Community Impact at Target.
During the ceremony, runners up and winners from each of the four award categories were recognized.
Social-Impact Changemaker, Runner up: Accenture; Winner: UPS
Recognizes companies that have developed unique and differentiated approaches employing multiple company assets to create positive social, environmental, and/or economic impact.
Accenture's development of a human + machine approach to digitizing the Arolsen Archives' millions of documents identifying and tracing the victims of Nazi persecution struck the judges with its timeliness and historical impact on past, present, and future generations.
The winning submission came from UPS. As a leader in global logistics, UPS was equipped to deliver 50 million doses of vaccinations to vulnerable communities across the globe to address the COVID-19 pandemic and a widespread re-emergence of preventable childhood illnesses. Judges found these investments in cold storage supply chain management, vaccine tracing, and logistic training to be a multifaceted coordinated approach to advancing health equity.
Transformative Partnership, Runner Up: The Travelers Companies; Winner: Thermo Fisher Scientific
Recognizes dynamic partnerships with nonprofit and community organizations, going above and beyond to develop problem-solving and operational capacity.
By partnering with Habitat for Humanity, Team Rubicon, and SBP, Travelers supported the construction of homes in low-income communities that have been severely affected by natural disasters—a collaborative and repeatable solutions that impressed the judges.
Winning corporation Thermo Fisher Scientific partnered with the Boys & Girls Clubs of America to provide an opportunity for local youth to engage in demonstrations and hands-on activities intended to inspire the next generation of STEM leaders. The judges were delighted by the future-focused nature of this inspiring partnership and the clear alignment with Thermo Fisher's business impact.
Eco-Innovator, Runner Up: CEMEX; Winner: POSCO
Recognizes a company that has marshaled the financial and human resources at its disposal to address an environmental issue affecting or relating to that company's core competencies.
Through a process that judges viewed as efficient, low-cost, and scalable, CEMEX and Synhelion produced the world's first solar clinker, achieving a breakthrough in cement production with solar energy, using solar technology instead of fossil fuels. This is a step towards solar-driven cement plants.
Steelmaker POSCO's winning submission boldly addressed the severe sea desertification and destruction of the marine ecosystem in South Korea by using steel slag, a steel byproduct, to create an artificial reef to repopulate the sea forests. The judges were inspired by this example of circular economy and its contribution towards POSCO's 2050 carbon-neutral goal.
Innovation Amplifier, Runner Up: Barings; Winner: Liberty Mutual Insurance
Recognizes a company that has elevated a social and/or environmental program or issue to ensure greater understanding by way of advocacy, communication, and other efforts.
To address the digital literacy gap, Barings worked within affordable housing complexes financed by the company to distribute laptops and digital literacy training to residents. The judges loved this multifaceted and multi-sector approach to connecting those in need with mainstay technological resources.
The winning submission came from Liberty Mutual Insurance. Their co-development of a program aimed at addressing the growing youth homelessness epidemic in Boston through collaboration with nonprofit organizations, allocation of government funds, and creation of awareness campaigns impressed judges with its collaborative, multi-sector nature.
The celebration of these companies' efforts was an exciting and inspiring end to the first day of the 2023 International Corporate Citizenship Conference.
Stay tuned as we cover more highlights from the 2023 International Corporate Citizenship Conference!