Pause and Celebrate Your Achievements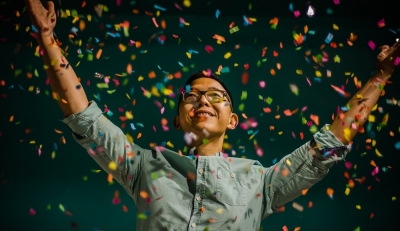 Featured this week: Saskia Epstein, PNC Bank; Erica Opstad, Reba Dominski, and Brett Rumble, U.S. Bancorp; MUFG Union Bank; Colleen Denzler, Loomis Sayles; Celeste Warren, Merck; CBRE; Crowe; Eerie Insurance; Kyndryl; Prudential; RGA Reinsurance Company; Tanger Outlets; USAA; FedEx; Moody's; NewRelic.org; Philip Morris International; State Street; United Illuminating Company; Banfield Pet Hospital; Salt River Project
The member community convened by the Boston College Center for Corporate Citizenship is one of a kind. The 500+ companies we serve each year around the globe are leaders in environmental, social, and governance action, and the thousands of individuals who make up this network are some of the best in the field!
Members: Would you like your company to be featured in future posts? Fill out this Member News Form.
Here is how our members have been working to build better business and a better world:
Spotlight on You
Saskia Epstein, vice president, client and community relations, PNC Bank, is being honored by YW Boston in along with four other 2022 Academy of Women Achievers. The honors have been awarded since 1995 by YW Boston as part of its mission to promote and celebrate the achievements of women. YW Boston is recognizing Epstein for her more than twenty years of experience in nonprofit leadership, philanthropy, and corporate social responsibility.
Erica Opstad, senior vice president at U.S. Bancorp, took a moment to celebrate her company's announcement of a $100 billion Community Benefits Plan developed in coordination with the National Community Reinvestment Coalition and the California Reinvestment Coalition, as part of the planned acquisition of MUFG Union Bank. The plan continues and expands the important work underway by both organizations to build and support equitable access to capital for the communities they serve. "This plan was informed by our communities, our talented and dedicated bankers and very dear colleagues past and present," said Opstad, who also thanked U.S. Bancorp colleagues Reba Dominski and Brett Rumble. "Putting a plan like this into action alongside our community partners is what me and our U.S. Bank team are built to do."
Colleen Denzler was named vice president and head of ESG at Loomis Sayles & Co. Denzler most recently led ESG integration efforts at Smith Capital Investors, and now will report to David Waldman, chief investment officer. Ms. Denzler replaces Kathleen M. Bochman, who left the firm in September and joined Fidelity Investments as managing director of ESG research.
Celeste Warren, vice president of global diversity and inclusion, celebrated 25 years with Merck. "It has been a professional journey that has allowed me to grow personally as well as a leader, person and DE&I champion," said Warren on LinkedIn. "I am extremely grateful for the opportunities this journey has given me."
Member Job Postings
Crowe
Various Locations
ESG Internal Audit Manager
Erie Insurance
Erie, PA
Director, Diversity, Equity & Inclusion
Kyndryl (JUST ADDED!)
New York, NY
ESG Business Development Project Manager
onsemi (JUST ADDED!)
Phoenix, AZ or Remote
Energy & Sustainability, Senior Manager
Prudential
Various Locations
Communications Director
Tanger Outlets
Fully Remote or Hybrid
Director, Energy & Sustainability
USAA (JUST ADDED!)
San Antonio, TX (Hybrid)
Corporate Responsibility Director
Member Companies in the News
FedEx Corp. unveiled the winners of the tenth annual FedEx Small Business Grant Contest. Ten businesses were chosen this year in celebration of the contest's tenth anniversary. Grand prize winners, awarded $50,000, plus $4,000 in FedEx Office print and business services, were Kulture Khazana, Niche Snowboards, and Terra Beauty. First place winners received $20,000, plus $1,500 in FedEx Office print and business services: CareHalo, Chasin' Dreams Farm, Copper River Fish Market, Every Tiny Thing, Hikers Brew, Muvez, and True Garden. New this year, an extra $10,000 grant as well as a $500 FedEx Office credit was awarded among the ten winners in five categories: healthcare, minority-owned, sustainability focused, young entrepreneur, and veteran-owned.
Moody's launched its second annual stakeholder sustainability report earlier this month, which lays out how the company is supporting better business, better lives, and better solutions. DK Bartley, chief diversity officer, thanked Moody's employees for their help in making "game-changing work happen, and allowing [Moody's] to be steadfast" in achieving its sustainability and DE&I goals.
NewRelic.org is committed to creating more equitable access to technology. The company is excited to announce its new Impact Fund, providing financial grants to nonprofits to support their technological growth. NewRelic.org is giving away $100,000 to eligible U.S. nonprofits to support their projects for digital transformation. The fund will allow more nonprofits to have access to the resources they need to support their work and matriculate along a digital journey. Applications are open now through June 10th, invite nonprofits you know to apply today.
Philip Morris International Inc. (PMI) announced that it has reached its global company-wide target to improve gender balance, ensuring at least 40% female representation in managerial roles by 2022. "I am immensely proud of PMI's vision, commitment, and achievement in ensuring equal opportunities are given to all in the workplace, irrespective of gender," commented Jacek Olczak, chief executive officer at PMI. "Meeting this target demonstrates that our inclusion and diversity strategy is working. Diverse profiles, backgrounds, and perspectives allow us to make better and more considered decisions as well as contribute to better and more sustainable performance. I firmly believe that a culture of fairness, inclusion, and diversity are crucial to PMI's progress in achieving a smoke-free future and will continue to benefit the company as we become more reflective of our consumer base."
State Street Corporation has issued $500 million of senior unsecured debt with women owned broker-dealers R. Seelaus & Co., LLC and Siebert Williams Shank & Co., LLC acting as bookrunners, and MFR Securities, Inc., Stern Brothers & Co., and Tigress Financial Partners, LLC acting as co-managers. This offering marks the fourth such issuance in under a year where the syndication has been structured under State Street's inclusion, diversity and equity strategy, reflecting the firm's continuing efforts to amplify the impact of Environmental, Social and Governance initiatives. "We are committed to diversity and creating opportunities for women to demonstrate the significant value they add in our industry," said Joan Christel, senior vice president - head of corporate citizenship and global inclusion at State Street.
United Illuminating Company is partnering with Bidgely to help implement the first electric vehicle (EV) managed charging program in Connecticut. The program, established by the Connecticut Public Utilities Regulatory Authority (PURA), leverages both behavioral and managed charging strategies designed to shift customers' EV loads to off-peak periods. This effort is part of a larger collaboration between UI, the PURA, and other stakeholders to develop statewide EV charging infrastructure, which will support the state's goal of having 125,000 to 150,000 electric vehicles on roads by 2025.
Members on the Move
This month we're celebrating Banfield Pet Hospital's 10-year member anniversary! Learn more about joining them, along with more than 10,000 professionals in the Boston College Center for Corporate Citizenship member community: Member Benefits.
A CSR professional from Salt River Project just registered for the BCCCC Certificate Summit on October 17-21 in Boston. Want to join them for a deep dive into CSR best practices and meet with a wide variety of sustainability and corporate citizenship professionals? Learn more about the Summit.