Brighter, bolder, better corporate citizenship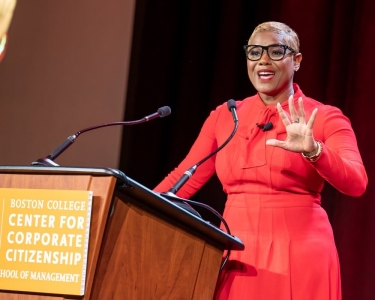 Featured this week: Melissa MacDonnell, Liberty Mutual; Barb Short, Sanofi; Hedieh Fakhriyazdi, Weil, Gotshal & Manges LLP; Sylvia Stevens-Edouard, Liberty Mutual; Ebony Thomas, Bank of America; Jennifer Hunter, Altria; J. Reymundo Ocañas and Sally McCrady, PNC Bank; Georgette "Gigi" Dixon, Wells Fargo; Ronald Brown, Target; Adobe; Black Hills Energy; Booz Allen Hamilton; CBRE; Crowe; DTE Energy; JP Morgan Chase; Kyndryl; Lam Research; Loomis Sayles; Nestlé USA; Onsemi; Palo Alto Networks; Paylocity; Prudential; RGA Reinsurance Company; Tanger Outlets; Travelers; KeyBank; TELUS; Nutrien; Dominion Energy
The member community convened by the Boston College Center for Corporate Citizenship is one of a kind. The 500+ companies we serve each year around the globe are leaders in environmental, social, and governance action, and the thousands of individuals who make up this network are some of the best in the field!
Members: Would you like your company to be featured in future posts? Fill out this Member News Form.
WAR IN UKRAINE: We are updating the blog post How Companies Are Responding to the War in Ukraine: A Roundup with the latest responses from our member companies.
Here is how our members have been working to build better business and a better world:
Spotlight on You
This week, BCCCC held its annual International Corporate Citizenship Conference in Boston. We were delighted to have our attendees join us in-person for the first time in three years. If you missed it, you can read the daily recaps on the Corporate Citizenship Perspectives Blog.
Here's a sampling of the great member insights overheard at the conference:
"We look forward to learning alongside you, connecting, and being inspired to be brighter, bolder, better." - Melissa MacDonnell, President, Liberty Mutual Foundation; Vice President, Liberty Mutual Insurance
"We're listening and learning from this next generation, and they give me hope for the future." - Barb Short, Director, Corporate Social Responsibility Engagement, Sanofi
"In this inaugural year of the Corporate Citizenship Innovation Awards, we developed four innovation categories… I'm so excited to announce the winners!" Hedieh Fakhriyazdi, Director, Social Responsibility and Weil Foundation, Weil, Gotshal & Manges LLP
"We've created a culture that says it's OK to rearrange your schedule so you can give back. That's what helps an employee stay in a job."- Sylvia Stevens-Edouard, Senior Director of Community Relations, Liberty Mutual
"This commitment is not performative—it's what we do, and it's who we are... We're very intentional about the work we're trying to achieve." – Ebony Thomas, Racial Equality and Economic Opportunity Initiative Program Executive, Bank of America
"We have the privilege of working with some of the top organizations that contribute to the healthy development of young people." – Jennifer Hunter, Senior Vice President of Corporate Citizenship, Altria
"Everything you do every day has so much meaning." – J. Reymundo Ocañas, Executive Vice President, Director of Community Development Banking, PNC Bank
"Each one of our markets knows the needs of our communities and local nonprofits best, so we trust them to make the decisions about where we support our funding." – Sally McCrady, Executive Vice President and Director of Community Affairs, PNC Bank
"This program is really about shoring up the capacity of nonprofit organizations to sustain themselves over time." - Georgette "Gigi" Dixon, Executive Vice President and Head o External Engagement Diverse Segments, Representation and Inclusion, Wells Fargo
"Target is delighted to have the opportunity to convene this spectacular network all over again next year in Minneapolis." - Ronald Brown, Vice President for Community Impact, Target
Member Job Postings
Adobe (JUST ADDED!)
Waltham, MA
Senior Program Manager, CSR
Black Hills Energy (JUST ADDED!)
Rapid City, SD
Manager, Corporate Planning & ESG
Booz Allen (JUST ADDED!)
Washington, DC
Community Impact Program Manager, Lead
CBRE
Remote
Corporate Responsibility Analyst
Crowe
Various Locations
ESG Internal Audit Manager
DTE Energy (JUST ADDED!)
Detroit, MI
Business & Planning Analyst - Public Affairs, CSR & Sustainability
Program Manager - Public Affairs, CSR & Sustainability
Kyndryl
Multiple Locations
Various CSR Roles
JPMorgan Chase (JUST ADDED!)
Various Locations
Corporate Responsibility, Grants Management, Senior Associate
Lam Research Corporation
Oregon / Remote
Senior Manager, ESG
Merck
North Wales, PA
Grants Operations, Senior Specialist
Onsemi
Phoenix, AZ / Remote
Senior Manager, Corporate Social Responsibility
Palo Alto Networks
Santa Clara, CA
Social Impact Program Manager
Paylocity
Schaumburg, IL
Corporate Citizenship and ESG Specialist
Prudential
Various Locations
Communications Director
Tanger Outlets
Fully Remote or Hybrid
Director, Energy & Sustainability
Member Companies in the News
COMPANIES TAKE ACTION ON UKRAINE: We are updating the blog post How Companies Are Responding to the War in Ukraine: A Roundup with the latest responses from our member companies. Here's more of the latest member news:
Travelers released its 2021 Community Report: Stories from Our Communities. The report highlights the company's giving and volunteering efforts in the neighborhoods where teams live and work. Focus areas include academic and career success, developing thriving neighborhoods, and creating culturally enriched communities--all within the context of equity and inclusion. In total, Travelers gave $24 million to its communities in 2021.
DTE Energy recently expanded its environmental commitment for Earth Day, providing $1.48 million in grants to organizations throughout Michigan. The grants will support seven partners in safeguarding the Great Lakes and rviers, trees, and wildlife habitats.
KeyBank announced a five-year pledge to finance or facilitate $38 billion to address climate change and support green initiatives by year-end 2026. Through this Invest in Our Planet commitment, Key will support the innovative companies that realize going green will help the entire planet. Key is also committing to achieve carbon neutrality across its Scope 1 direct and Scope 2 indirect greenhouse gas emissions by year-end 2030.
TELUS launched an Indigenous Advisory Council to support its Reconciliation efforts. The council is a direct result of extensive consultations TELUS held with Indigenous Peoples in 2021, and is a key commitment outlined in TELUS' 2021 Reconciliation and Indigenous Connectivity Report including delivering on TELUS' commitment to listen, learn and understand how TELUS can meet unique needs of Indigenous peoples and build meaningful relationships through cultural responsiveness and relationships pillar.
A new carbon dioxide (CO2) capture and conversion plant is set to be co-located at Nutrien's fertilizer operations plant in Kennewick, Washington, US, as a result of a new collaboration between AirCapture and OCOchem. The firms unveiled plans to design an integrated carbon capture and conversion plant that uses waste steam from the fertilizer facility to extract CO2 from the air and covert it, with water and electricity, to make formic acid. Once formed, the acid can then be stored, transported, and used directly in many industrial, consumer, transportation and agricultural industries, and used to transport green hydrogen safely in an energy-dense liquid carrier. As well as providing a variety of other benefits, the project partners hope the effort will also help Nutrien cut its carbon emissions by at least 30% by 2030.
Volunteers from Dominion Energy gathered to assemble food packages for families in need as part of Dominion's Weekend Food for Kids program. Roughly 1,600 bags of non-perishable food were packed for families facing food insecurity.
Members on the Move
Sally McCrady, chair and president of the PNC Foundation, continued the #PNCGrowUpGreat conversation heard this week at #BCConf22 with Vicki Cervino Henn, chief human resources officer at PNC Financial Service Group, and Dr. Dana Suskind, co-director of the TMW Center for Early Learning + Public Health and author of Parent Nation. The three hosted a virtual event, Powering Children's Potential: The Case for Helping Parents and Families, addressing the needs of real workers from real families and why what's good for employees can also be good for business.