How Companies Are Responding to the War in Ukraine: A Roundup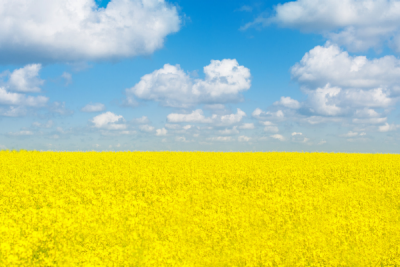 At this unprecedented moment, many companies and their employees are looking for direction. Keeping up "business as usual" seems difficult for many—especially for those with global teams and ties abroad. BCCCC is tapping our vast member community, gathering insights from companies launching matching gifts initiatives, addressing employee wellbeing, and more.

We hope one or more of the following examples may prove helpful to anyone preparing to address the war for internal or external stakeholders. A running list of NPOs to which many are donating is also included at the bottom of this post.
If your company is working on a CSR initiative related to the war in Ukraine, please take a moment to share it here. We will update this post as more examples of companies donating to Ukraine are submitted and curated from third-party sources.
Companies Responding to War in Ukraine
WELCOME.US CEO COUNCIL
35 CEOs joined Welcome.US to launch the Welcome.US CEO Council, a new body dedicated to accelerating and scaling private sector support for people seeking refuge and building a culture of welcoming. Chaired by Accenture Chair and CEO Julie Sweet and Alphabet CEO Sundar Pichai, Welcome.US CEO Council has pledged more than $75 million to support resettlement organizations and non-profits aiding those impacted by the growing refugee crises in Ukraine and Afghanistan. The group is also rallying resources from the private sector to offer access to essential goods and services, quality jobs, and mentorship opportunities. Continue reading the group's statement here.
ACCENTURE
Accenture announced it will donate $5 million to nonprofit relief organizations working to help people in Ukraine and those who are being displaced into Poland, Romania, Slovakia, Hungary and the Czech Republic. We are also matching 100% of the donations from our people. In addition, the company released this statement:
Accenture stands with the people of Ukraine and the governments, companies and individuals around the world calling for the immediate end to the unlawful and horrific attack on the people of Ukraine and their freedom. Therefore, Accenture is discontinuing our business in Russia. We thank our nearly 2,300 colleagues in Russia for their dedication and service to Accenture over the years. We will be providing support to our Russian colleagues. While Accenture does not have a business in Ukraine, we will continue our efforts to help our Ukrainian colleagues working around the globe at Accenture and their extended families; we are providing telehealth for those in Ukraine, and helping resettle family members who leave Ukraine.
ALLIANCE BERNSTEIN
AllianceBerstein compiled a list of NPOs on its employee giving platform that are focused on providing aid and relief to the people of Ukraine, reminding employees of its 1:1 match policy. AB President and CEO Seth Bernstein shared this message with colleagues:"The Russian invasion of Ukraine has created a devastating humanitarian crisis in the region. Over the past week, an estimated 1.4 million Ukrainian citizens have been forced to flee their homes and the civilian attacks have horrified the global community... [Continue reading]"
APPLE
Apple announced it is "supporting humanitarian efforts, providing aid for the unfolding refugee crisis, and doing all [it] can to support [its] teams in the region." The company has halted product sales in Russia, while services like Apple Pay and Apple Maps are now limited there.
ASTRAZENECA
AstraZeneca has donated $1 million across Project HOPE and International Medical Corps, and it's matching employee donations to UNICEF and British Red Cross appeals.
BAKER MCKENZIE
Baker McKenzie is reviewing and adjusting its Russia-related operations and client work to comply with sanctions. "This will mean in some cases exiting relationships completely," a spokesperson said.
BANCO POPULAR
Popular Bank tweeted, "Helping those around us in a time of need has always been a core value for Popular. Through the Red Cross of Puerto Rico, we have donated $50,000 to support the people of Ukraine. Our thoughts go out to the people affected by this crisis."
BANK OF AMERICA
Bank of America pledged to donate $1 million to the people of Ukraine via five groups: the Red Cross and Red Crescent network in Ukraine and the region, World Central Kitchen, Cooperative for Assistance and Relief Everywhere, International Medical Corps and Project Hope. The bank also said it would match employee donations to support the relief effort.
BELLA GROUP
The Bella Group and the Yonomequito Foundation sent a shipment of generators to Ukraine in partnership with the Global Empowerment Mission and BStrong. The foundation also made a cash donation aimed at providing humanitarian aid.
BERKSHIRE BANK
Berkshire Bank's Foundation will make a $50,000 contribution to the Ukrainian Federation of America, one of the oldest Ukrainian organizations in the U.S. who are working to deliver humanitarian and medical aid. In addition, Berkshire's donation will be leveraged in collaboration with Dorcas International Institute of Rhode Island on 401Gives Day, a statewide day of giving in Rhode Island on April 1. The Bank selected 401Gives Day because it is a time sensitive campaign that provides Berkshire the opportunity to make a greater impact by inviting the public and business community to match Berkshire's contribution ultimately increasing the amount of funds going to support Ukraine.
"As the situation in Ukraine continues to evolve, Berkshire Bank felt compelled to stand together and show our support as worldwide events impact all of us. Our Berkshire family has employees and customers with loved ones living in Ukraine. To strengthen our efforts, we are working to assist employees, customers, and the community by leveraging our resources and business operations to thoughtfully and strategically help individuals impacted by the invasion," said Sean Gray, President and Chief Operating Officer at Berkshire Bank.
CBRE
CBRE launched a global fundraising campaign, matching employee donations to UNHCR, the UN Refugee Agency, to support humanitarian relief efforts for the people of Ukraine. In addition, the company says it is focused on the safety and security of its colleagues in Ukraine who work for Expandia, a CBRE affiliate.
The company issued a statement denouncing Russia's invasion of Ukraine and outlining its active support of all Central and Eastern European colleagues, adding, "We find daily inspiration from the Ukrainian people's intrepid actions and will continue to support equitable humanitarian assistance that supports everyone who is suffering." Continue reading here.
CISCO
From its Executive Platform, Cisco shared a post on March 3, 2022 titled, "Cisco stands on guard with our customers in Ukraine." The post outlines measures the company is taking to protect customers and defend critical networks.
Cisco Systems Inc has also helped about a quarter of its employees in Ukraine leave the country and is working to support those who had decided to remain following the invasion by Russia, chief executive Chuck Robbins said in a statement. "We have a team of people that are working around the clock right now on employee issues, on anything associated with the conflict, including understanding the sanctions and what we need to do to actually implement those effectively," he said.
THE CLOROX COMPANY
Clorox will provide humanitarian relief to the people of Ukraine through its partnership with the Red Cross and will match employee contributions through its giving program. The company has suspended all business activity in Russia.
DELOITTE
Deloitte ceased all business activity and client work in Ukraine following the country's invasion. Deloitte also posted the following corporate statement on the war in Ukraine:
"Deloitte stands unequivocally with the people of Ukraine. Russia's invasion of this sovereign nation is an indefensible act of aggression that echoes the darkest days in European history. Our overriding concern at this time is the wellbeing of our colleagues in Ukraine and their families. We are taking every possible action to ensure their safety and that their essential needs are being met under fast changing circumstances. We are equally concerned about our colleagues in Russia and adjoining countries affected by this crisis. We are bringing to bear our global resources to address the humanitarian needs unfolding across Europe."
DASSAULT SYSTEMES
Dassault Systemes suspended new business in Russia and Belarus.
DOW
Dow Newsroom shared the tweet, "In response to the Russian government's invasion of Ukraine and the escalating refugee crisis, we are contributing $275,000 to help meet humanitarian needs for the people of #Ukraine. This funding will support the International Red Cross Movement through @CAFAmerica."
DUPONT
DuPont is donating $200,000 -- as well as matching employee donations -- to the International Red Cross to address humanitarian relief and refugee support.
ESET
ESET upped its original commitment of $500,000 EUR to $700,000 EUR, through a mixture of direct grant support and donations to NGOs (namely INTEGRA Foundation and UNICEF). ESET organized employee donations and encouraged its employees to actively volunteer in their communities by matching the time of its employees spent volunteering for humanitarian causes, and is also supporting Ukrainian partner staff members and their families with direct help and ongoing aid, including accommodation, cash, and in-kind donations. The company has stopped all sales in Russia.
EVERSHEDS SUTHERLAND
Eversheds Sutherland is providing "humanitarian support for the people of Ukraine through the provision of significant charitable donations by the firm and related pro bono legal advice." The law firm also announced it will close its Moscow and St. Petersburg offices.
EY
EY released the statement, "From the outset of this crisis, we have been primarily focused on the safety of EY people in Ukraine and colleagues outside of Ukraine who have family and friends in the midst of this ongoing military conflict. We have been determined to bring the full support an organization such as ours can bring – to help those who want to leave, as well as those who have had to, or have chosen to, stay. We have been deeply moved by the outpouring of support across our organization for those suffering as a result of this war. Our EY family is pulling together in ways both large and small to support those impacted. As a global organization, we are working with relevant governments to comply with the recently enacted country policies and applicable sanctions."
FEDEX
FedEx provided more more than $1.5 million (U.S.) in humanitarian aid, which included $1 million in in-kind shipping to organizations who are transporting supplies into the area and $550,000 in cash donations to non-government organizations in Europe. In a statement to employees, the company shared:
First and foremost, we are focused on the safety of our team members in Ukraine, and we know you share our concern for their well-being. We are providing them with direct financial assistance and several resources, including an emergency helpline where they can ask questions and request additional support. This is our top priority. Our team in Europe is staying in close contact with them on a daily basis, and we have temporarily suspended all services in Ukraine for their safety. And, as we support the people of Ukraine, we also have made the decision to suspend all FedEx services in Russia and Belarus.
FLEX
Flex published a statement, condemning the violence in Ukraine and noting a phenomenal response from employees to the Flex Foundation Initiative. The foundation is supporting the Red Cross, Save the Children, and Global Giving. The Company is also working closely with NGOs on the ground in Ukraine and bordering countries. Read the full statement here.
FRANKLIN TEMPLETON
Franklin Templeton shared on its website: "In light of the economic sanctions imposed by the US and many other countries on Russian corporate and banking entities as well as broader sanctions on Russia, closures to Russian securities markets and Russian government imposed capital controls, the value and liquidity of Russian securities and the Russian currency have experienced significant declines. As a result, the Franklin FTSE Russia ETF (NYSE Arca: FLRU) has suspended the creation of new shares until further notice."
GENESIS HEALTH SYSTEM
Genesis Health System shipped boxes of medical supplies to the AFYA Foundation, which is coordinating airlifts to Ukraine. The supplies will help medical facilities hit hard by Russian attacks and the many medical needs of injured civilians.
GOTO
GoTo Gives, GoTo's philanthropy and volunteering arm, is working to support the growing number of refugees that have fled Ukraine into neighboring countries. The company (formerly known as LogMeIn) has chosen five organizations (UNHCR, Direct Relief, UNICEF, Doctors Without Borders and Bike Maffia Egyesulet), all confirmed to be doing work to help Ukraine, to receive a special 2:1 employee match via WeSpire.  GoTo's Hungary team is hard at work identifying ways that employees (Hungary is GoTo's closest GoTo/ LastPass site to the Ukrainian border) can volunteer in support of refugees that have fled or are preparing to flee to the Hungarian border.  GoTo Gives has also made a first round of corporate donations to the local organizations nominated by its employees.
GENERAL MOTORS
General Motors will suspend all vehicle exports to Russia until further notice. The company released a statement:
"Our thoughts are with the people of Ukraine at this time... The loss of life is a tragedy, and our overriding concern is for the safety of people in the region."
HILTON
"Hilton joins those around the world in shock and disbelief at the tragic events unfolding in Ukraine. Our hotels have always been part of the fabric of our communities that we serve, and we take seriously our promise to positively impact the places where we live and work. In addition to the steps we have already taken to protect our Team Members and guests, we are taking the following further actions in response to the current crisis:"
The company is donating up to 1 million room nights to support Ukrainian refugees and humanitarian relief efforts across Europe, in partnership with American Express, #HospitalityHelps, and its community of owners.
The company has closed its corporate office in Moscow and will ensure continued work and pay for any impacted Team Members. Hilton is also suspending all new development activity in Russia. It will donate any profits from business operations in Russia to the humanitarian relief efforts for Ukraine.
Further, the Hilton Effect Foundation contributed $50,000 to World Central Kitchen and Project Hope to assist with humanitarian aid.
HONEYWELL
Honeywell suspended business in Russia and Belarus.
INTUIT
Intuit is pledging $1 million to the United Nations Refugee Agency (UNHCR) to help support the people of Ukraine. In addition, through Intuit's We Care & Give Back program, the company is offering a 2:1 match to double employee donations supporting relief efforts.
JPMORGAN CHASE & CO
JPMorgan Chase provided the following response to all employees:
"JPMorgan Chase continues to monitor the humanitarian crisis in Ukraine to consider how we can best deploy our resources to meet growing and changing needs in the region. The situation has continued to intensify, with more than 2 million refugees fleeing their homes and millions more predicted to be displaced as the conflict unfolds.
To support humanitarian relief efforts, we are increasing our commitment to a total of up to $5 million. This total commitment includes our initial $1 million announced last week, an additional $2 million, and matching our employee contributions. Our commitment will support a number of organizations working to provide emergency food, housing and medical services to those in need, including International Medical Corps, United States Fund for UNICEF and World Central Kitchen.
Our thoughts remain with the innocent civilians who are suffering, and those individuals and families in neighboring countries and around the world who have been impacted. We will continue to monitor the situation and stay connected with employees in affected areas."
Per CNBC, JPMorgan Chase is also stepping away from Russia.
KEYBANK
In a message to employees, Chris Gorman, KeyCorp Chairman and CEO, announced the following steps: KeyBank Foundation will give a $100,000 grant to the American Red Cross and a $50,000 grant to UNICEF for its work supporting children and families impacted by the war in Ukraine. KeyBank Foundation will also provide a dollar-for-dollar match for all employees up to $5,000, for several organizations supporting humanitarian efforts in Ukraine, including Americares, CARE, Project Hope, Save the Children, and World Central Kitchen.
KILPATRICK TOWNSEND & STOCKTON LLP
Kilpatrick Townsend attorneys and professional staff have collectively raised more than $100,000 for humanitarian needs in Ukraine and neighboring countries. The firm provided a match for donations to CARE and the Red Cross' Ukraine response funds, facilitated by its recently implemented Benevity platform.
KPMG
KPMG Chair and CEO, Paul Knopp, shared via Twitter, "At KPMG we stand with and support the people of Ukraine, condemning violent attacks by the Russian givernment. Today, KPMG is making an initial $250,000 donation to GlobalGiving's Ukraine Crisis Relief Fund and encouraging our partners and professionals to donate as well."
LYONDELLBASELL
LyondellBasell interim CEO Ken Lane announced the following in a message on the company website:
"Effective immediately, LyondellBasell will not enter into any new business transactions or relationships with Russian state-owned entities. We also intend to discontinue business relationships with Russian state-owned entities to the extent legally possible. We are in the process of assessing how this will affect our operations, including feedstocks, utilities, supply chain providers, and customers. Additionally, we are complying with all U.S. and international sanctions which have been put into place as a result of this crisis.
Though we don't have operations or employees in Ukraine, we have seen the rising number of refugees and dislocated families and are supporting the humanitarian crisis through our global corporate citizenship program, Advancing Good. LyondellBasell is donating a total of €200,000, with €100,000 going to the United Nations High Commissioner for Refugees to provide shelter, emergency relief items, cash assistance and mental support. The other €100,000 is going to the International Medical Corps to support their mobile medical units programs. We will be matching employee contributions to these organizations two to one."
MANPOWERGROUP
At ManpowerGroup , Ruth Harper, SVP Chief Communications and Sustainability officer posted on LinkedIn, "...to show our love and support we are announcing a $500,000 donation to aid humanitarian relief efforts through local and global organizations including UNHCR, the UN Refugee Agency. And we will continue to partner with others including the Tent Partnership for Refugees and our clients to provide immediate and longer term solutions so people can feel safe and find meaningful employment. " Harper's statement continued...
To our teams, thank you for your courageous, tireless generosity and your leadership: volunteering, collecting emergency supplies, clothing and food, financial assistance, job support, transporting women and children to safety and opening your own homes to provide shelter.
MARSH MCLENNAN
Marsh McLennan President and CEO Dan Glaser said, "We condemn the unprovoked attack by the Russian government against the people of Ukraine. Having watched with horror the tragic human toll in Ukraine, we feel compelled to take this action. We intend to transfer ownership of our Russian businesses to local management who will operate independently in the Russian market. This is not a decision that we have taken lightly, and we join all those calling for a swift and peaceful resolution to this deadly conflict."
MASTERCARD
Mastercard announced a $2 million contribution to the Red Cross, Save the Children, and its employee assistance fund for humanitarian relief. Mastercard says it will actively pursue additional opportunities to assist aid organizations to play its part in supporting the global relief effort. The company further stated that cards issued by Russian banks will no longer be supported by the Mastercard network regardless of where they're used - inside or outside of Russia. And, any Mastercard issued outside of the country will not work at Russian merchants or ATMs. Continue reading full statement...
MICROSOFT
Microsoft suspended new sales of all Microsoft products in Russia. The company issued a statement saying its single most impactful area of work is the protection of Ukraine's cybersecurity. It will continue working with Ukraine to counter cyberattacks. The company also said it is taking steps to protect its employees, support humanitarian aid, stop the spread of state-sponsored disinformation, and safeguard customers from cyberattacks.
"We are also continuing to mobilize our resources to help the people in Ukraine. Our Microsoft Philanthropies and UN Affairs teams are working closely with the International Committee of the Red Cross (ICRC) and multiple UN agencies to help refugees by providing technology and financial support for key NGOs and, where needed, we are defending these groups from ongoing cyberattacks." [Continue reading.]
MOODY'S
Moody's will suspend commercial operations in Russia. Moody's Investors Service (MIS) intends to withdraw its credit ratings on Russian entities.
NASDAQ
Nasdaq along with the New York Stock Exchange temporarily suspended trading for Russia-based companies listed on their exchanges.
The company has additionally taken the following steps:
$250k Nasdaq corporate philanthropic donation
$250k Nasdaq Foundation donation
Double-matching employee donation campaign, benefiting eight selected charities:

GlobalGiving (Ukraine Crisis Relief Fund)
International Committee of the Red Cross
International Rescue Committee
Mercy Corps
Razom for Ukraine
Revived Soldiers Ukraine
UNICEF USA
United Help Ukraine
Nasdaq's employee matching campaign has already generated 500+ donations and $230k in charitable impact.
NAUTILUS, INC
"We were honored to support Medical Teams International's ongoing effort to provide life-saving medical care to Ukrainian refugees. In partnership with the Ukrainian American Cultural Association (UACA), over 23 tons of medical supplies were recently airlifted into nearby Poland to meet the critical needs of many of the 3.8 million refugees impacted by this continued crisis.... Guided by our vision to build a healthier world one person at a time, Nautilus is passionate about supporting organizations in our own backyard that are making a global impact."
NEW BALANCE
New Balance is suspending product shipments to Russia. "As a values-led company that cares deeply about the global communities in which we operate, New Balance is driven to act and has pledged $1 million to Ukraine humanitarian relief," the company said in a statement. "To fund the most urgent aid, New Balance will immediately donate $100,000 to The International Committee of the Red Cross (ICRC), which is providing first aid training, evacuation support, food, water, and shelter to the Ukrainian people. In the coming months, we will distribute the remaining $900,000 to charitable, needs-based nonprofit organizations that can supply the most vulnerable people with food, clean water, clothing, and shelter."
NORTHROP GRUMMAN
The Northrop Grumman Foundation has committed $1,000,000 to help the people of Ukraine, of which $500,000 will go directly to organizations providing food, water, shelter, medicine and medical care. A match of the first $500,000 of employees' personal donations will go to select charitable organizations providing relief.
NOVA CHEMICALS
Nova Chemicals Corporation tweeted "NOVA Chemicals announced today that it has made a monetary donation to the @redcrosscanada #Ukraine Humanitarian Crisis Appeal to provide immediate humanitarian aid to Ukrainians. The company will also match employee donations up to an additional $25,000."
NOVO NORDISK
To support people living with chronic diseases in Ukraine, Novo Nordisk will donate up to two months' supply of life-saving diabetes and haemophilia medicines to the Ministry of Health from its current stock in the country. The Novo Nordisk Foundation has donated around 7.4 million euros (about $8.2 million) to the support effort, including about 700,000 euros to UNHCR—the U.N.'s refugee agency.
NIKE
Nike is halting online orders and all operations in Russia. "We will be temporarily closing our owned and operated Nike stores," the company said in a statement.
OPENTEXT
To date, OpenText has donated $100,000USD to the United Nations Refugee Agency (UNHCR) and shared a fundraising link with its employees and customers that has generated an additional $45,000USD so far.

OpenText has halted all business in Russia, and this will continue until the war ends and sanctions are lifted.
As part of its ongoing response to the war in Ukraine, OpenText is partnering with 5 schools in Poznan, Poland, that between them have welcomed more than 600 new Ukrainian students. Each school is receiving 10,000 euros to fund laptops, translation technology, Ukrainian textbooks, facility upgrades, and more. Additionally, OpenText is expanding its Employee Relief Policy to provide a stipend for employees who open their homes to hosting refugees.
PHILIP MORRIS
Philip Morris temporarily suspended its operations in Ukraine and is suspending its planned investments in Russia, including all new product launches and commercial, innovation, and manufacturing investments. The company has activated plans to scale down its manufacturing operations in Russia. The company said it will continue to pay its employees in Russia as well as its 1,300 employees in Ukraine.
PwC
PwC has parted from its Russian firm, and the company also said it is matching employee donations up to $1,000 to organizations and crowdfunding accounts. In a statement, the company wrote:
"The US firm is making a $125,000 donation to the Ukraine Crisis Fund through CARE to provide frontline humanitarian aid and support. The PwC Charitable Foundation will award $300,000 in grants to Save the Children and Project Hope, both of which have a long history of working in Ukraine in collaboration with local organizations. Between the firm and the Foundation, we have donated $425,000 to date to provide frontline humanitarian aid and support.
The People Who Care Fund, a PwC Charitable Foundation program, will be providing resources for PwC LLP employees and their immediate families who are experiencing emergency financial hardships as a result of the attack on Ukraine.
As this is implemented, we are also committed to focus on the well-being and safety of our 3,700 colleagues in PwC Russia."

SANOFI
Sanofi donated 5 million euros ($5.5 million) to the Red Cross for Ukraine and neighboring countries, plus the U.N.'s refugee agency. The company is also hastening donations of essential medicines and vaccines to patients in Ukraine and Ukrainian refugees in nearby countries.
TELUS
Further to TELUS and the TELUS Friendly Future Foundation's previous announcement of $2M to support the efforts of Canadian charities that are working to provide assistance to families and those displace by the conflict, the support is now over $3.5M and includes grants from the TELUS Friendly Future Foundation and TELUS International, team member contributions and fundraising, customer contributions, text-to-donate, in-kind support through waived long-distance and roaming and the TELUS MyCare app.
TEXAS INSTRUMENTS
The Texas Instruments Foundation has made a grant of $25,000 to American Red Cross for humanitarian relief in Ukraine and will double donations by U.S.-based TI employees through its matching gifts program. For TI employees outside of the U.S. the TI Foundation will match donations to the International Federation Red Cross and Red Crescent Societies Ukraine relief fund, up to a total of $25,000. The IFRC and other Red Cross groups in nearby European countries have been working with the Ukrainian Red Cross to provide humanitarian aid to civilians and to essential workers who are on the front lines of the conflict.
TJX COMPANIES
TJX has committed to divesting its equity ownership in Familia (a Luxembourg-based company that bills itself as "the first and only chain of off-price stores in Russia") in support of the people of Ukraine.
TOYOTA
Toyota halted all production in Russia.
UPS
UPS has halted all shipments to Russia and Ukraine. The company also announced the suspension of both inbound and outbound package deliveries in Ukraine, citing a need to prioritize the safety of employees there.
The UPS Foundation announced it is providing $1 million in initial emergency funding and in-kind support to the Cooperative for Assistance and Relief Everywhere (CARE), the International Federation of Red Cross and Red Crescent Societies (IFRC), the Salvation Army, United Nations Children's Fund (UNICEF), United Nations High Commissioner for Refugees (UNHCR) and the World Food Programme (WFP) – organizations that are on the ground assessing how and where to deploy resources and deliver core relief supplies to Ukraine refugees.
U.S. BANK
U.S. Bank is donating $100,000 to the Red Cross, and will activate ATMs across its network for Red Cross donations supporting Ukraine humanitarian relief. U.S. Bank will also provide 2:1 matching gifts for U.S.-based employee contributions to organizations supporting Ukraine humanitarian relief efforts.
USCELLULAR
To help customers needing to connect with family, friends and loved ones, UScellular is offering free calls to Ukraine from the United States. From Feb. 25 through March 31, customers can make outbound calls to Ukraine with no international dialing rates applied.
VERIZON
Through March 10, Verizon is waiving international calling, texting and in-country data charges for consumer and business wireless customers to and from Hungary, Moldova, Poland, Romania, Slovakia and Ukraine. Residential landline customers will see waived international charges to those countries as well. Customers do not have to take any action to take advantage of these offers. Verizon wireless customers can also help provide relief to those affected in Ukraine through a text to donate campaign with the following organizations: UNICEF, the Salvation Army, and the International Rescue Committee.
THE WALT DISNEY COMPANY & WARNER
Disney and Warner are halting the release of new films in Russia. The Walt Disney Company also published this statement:
"Given the unprovoked invasion of Ukraine and the tragic humanitarian crisis, we are pausing the release of theatrical films in Russia... We will make future business decisions based on the evolving situation. In the meantime, given the scale of the emerging refugee crisis, we are working with our NGO partners to provide urgent aid and other humanitarian assistance to refugees."
WARNER MEDIA
Warner Media will pause all new business in Russia.
WE COMMUNICATIONS
WE Communications shared this tweet via Twitter: "Ahead of #InternationalWomensDay, show your support for the women and girls of #Ukraine by considering a donation to these charities: International Rescue Committee, UN Women. "
WELLS FARGO
Wells Fargo announced $1 million in donations across three nonprofits to enable humanitarian aid for Ukraine and Ukrainian refugees, as well as support services for U.S. service members and their families across the globe. "In times like this, it's important we come together to support those most impacted," said Wells Fargo CEO Charlie Scharf. "We appreciate the nonprofits on the ground and hope our grants will enable them to accelerate getting humanitarian aid to those who require it most. At the same time, we want to support our nation's military, which is often called upon in times of need, and we will continue to provide essential services for service members and their families."
WESCOM CREDIT UNION
Wescom Credit Union members donated $114,035.55 to support humanitarian relief efforts in Ukraine. The Credit Union matched donations up to $100,000 — making total donations $214,035.55.
WHITE & CASE LLP
White & Case is making a donation of US$1 million to the Ukrainian Red Cross Society and is matching donations made by team members to qualifying relief organizations. Additionally, the firm has established a legal aid hotline based in its Prague office to assist refugees.
WINSTON & STRAWN LLP
Winston & Strawn LLP launched a donation campaign with a $25,000 match from The Winston & Strawn Foundation. Match proceeds will be given to the International Committee of the Red Cross, or IRC. While the firm will honor any donations made to Ukraine-supported charities, 100% of the firm's donation will be given to the IRC. A member of Winston's Paris office is liaising with the Ukrainian embassy with the goal of gathering much-needed medical supplies that will be shipped to Ukraine.
YUM! BRANDS
Yum! Brands (which includes KFC and Pizza Hut) is pausing all investments and development in Russia. Meanwhile, the Yum! Brands Foundation is donating $1 million to the Red Cross to support those affected by the crisis, is activating the Yum! Disaster Relief Fund to support Ukrainian franchise employees, and is matching donations from employees to the following charities providing relief in Ukraine: UNICEF, Red Cross, World Food Programme and International Rescue Committee. In addition, our franchisees in the surrounding region are providing support to refugees.
ZENDESK
Zendesk donated $400,000 USD to the International Rescue Committee and $300,000 USD to World Central Kitchen from its corporate giving entity, the Zendesk Foundation. These grants will help provide on-the-ground support for people in Ukraine, and aid the overwhelming influx of refugees entering Poland and neighboring countries. Zendesk is also matching employee donations of up to $100,000 USD to the International Rescue Committee. Via its Tech for Good program, the company is offering free software, and volunteers to assist with setup, to nonprofits providing aid, relocation and other services to the people of Ukraine. All applications are welcome here.
Zendesk suspended all sales activities in Russia and Belarus. For the small number of existing customers there, it will, in compliance with sanctions and export controls, honor current commitments but, as current subscription terms expire, exit these relationships.
More Companies Donating to Ukraine and/or Suspending Operations in Russia
AMAZON
Amazon said it will suspend shipment of retail products to customers based in Russia and Belarus, and we will no longer be accepting new Russia and Belarus-based AWS customers or Amazon third-party sellers. Amazon also suspended access to Prime Video for customers based in Russia, and will no longer take orders for New World, the only video game it sells directly in Russia. In terms of aid, Amazon donated $5 million and is matching employee donations as well.
We're happy to report that over 10,000 employees have donated to the effort. Tens of thousands of customers around the world have also made donations via our homepages, and we're making sure those funds get to Save the Children and the Red Cross on the ground.
MCDONALD's
McDonald's is temporarily closing all of its 850 restaurants in Russia, in response to the country's invasion of Ukraine. The company said, despite the pause, it is prepared to support all three legs of the stool in Ukraine and Russia. including salary continuation for all McDonald's employees in Russia. RMHC Russia will continue its full operations; RMHC Ukraine is partnering with local hospitals and providing humanitarian aid throughout the country.
BURGER KING
Burger King has suspended all corporate support for the Russian market, including operations, marketing, and supply chain. Burger King said it is committed to "redirecting any profits from franchised operations to humanitarian aid for Ukrainian refugees."
COCA-COLA
Coca-Cola suspended business in Russia.
PEPSICO
PepsiCo Foundation donated $4 million to the Red Cross in Poland, World Vision in Romania, the United Nations World Food Programme, World Central Kitchen, and Save the Children. The company will match up to $1 million raised from PepsiCo employees through its Gift Matching Campaign.
Pepsi said it would suspend capital investments and all advertising and promotional activities in Russia, while staying true to the humanitarian aspect of its business. "That means we have a responsibility to continue to offer our other products in Russia, including daily essentials such as milk and other dairy offerings, baby formula and baby food. By continuing to operate, we will also continue to support the livelihoods of our 20,000 Russian associates and the 40,000 Russian agricultural workers in our supply chain as they face significant challenges and uncertainty ahead."
STARBUCKS
Starbucks closed its 100 stores in Russia.
BOEING
Boeing announced a $2 million emergency assistance package to support humanitarian response efforts in Ukraine. The assistance package will be directed to organizations working to bring food, water, clothing, medicine and shelter to displaced Ukrainians – including those seeking refuge in neighboring countries. In addition, Boeing will match all qualifying employee contributions made in support of Ukrainian humanitarian relief through the company's charitable matching program.
UNITED AIRLINES
United Airlines is inviting United's MileagePlus® members to donate cash or miles to the airline's signature relief partners - Airlink, Americares, American Red Cross and World Central Kitchen - by visiting united.com/UkraineSupport. United will match the first five million donated miles - the equivalent of hundreds of connecting flights to places like Poland, Hungary and Romania - and $100,000 as well as award bonus miles to anyone who gives $50 or more.
"The human tragedy we are witnessing in Ukraine is horrifying and has shocked us all so we're doing our part to quickly help get aid to the people who desperately need relief," said United President Brett Hart. "Our partners have been on the ground for more than a week and it's clear they need more resources to fulfill their mission of flying workers and supplies to and from the frontlines of this crisis. We're proud to do our part and will continue to look for ways to lend support where it's needed."
IKEA
IKEA Foundation announced an immediate donation of €20 million for humanitarian assistance to those who have been forcibly displaced as a result of the conflict in Ukraine. This is in response to an emergency appeal from UNHCR, the UN Refugee Agency, to scale up its assistance and protection to people affected by the conflict in Ukraine. In addition, Inter IKEA Group and Ingka Group are initially granting €10 million each to provide support in products and other assistance to UNHCR, Save the Children and other organisations working in the local markets. The company has temporarily paused operations in Russia.
IBM
IBM donated $500,000 to two organizations that are providing critical support to heavily impacted areas: $250,000 to People in Need in Czech Republic, and $250,000 to Polish Humanitarian Action in Poland. The company is in "constant touch" with local teams and continues to provide assistance that includes relocation and financial support. IBM also suspended all business in Russia.
UNILEVER
Unilever committed to donate €5m of essential Unilever products to the humanitarian relief effort. The company suspended all imports and exports of its products into and out of Russia, and has stopped all media and advertising spend. "We will not invest any further capital into the country nor will we profit from our presence in Russia," said CEO Alan Jope in a statement.
"We continue to condemn the war in Ukraine as a brutal and senseless act by the Russian state...We join calls for an end to this war and hope that peace, human rights, and the international rule of law will prevail."
ESTEE LAUDER
The Estée Lauder Companies Charitable Foundation (ELCCF) committed $1 million in support of relief efforts in Ukraine and the company will be donating ELC products to those displaced and in need. ELC Good Works, the company's employee charitable matching gifts program, will double match eligible employee donations to various disaster relief nonprofits year-round, including organizations already active in Ukraine and in neighboring countries. The group includes brands such as Michael Kors, DKNY, Clinique and Bobbi Brown. The company's statement continued:
"...After having already suspended The Estée Lauder Companies' business investments and initiatives in Russia last week, we have also decided to suspend all commercial activity in Russia, including closing every store we own and operate, as well as our brand sites and shipments to any of our retailers in Russia. Our top priority remains the safety of all our employees and we have decided to continue to provide compensation and support to our employees in Russia at this time."
CARLSBURG
Carlsberg Group announced it would stop new investments into Russia as well as exports from other Carlsberg Group companies to Baltika Breweries in Russia. Carlsberg Group, the Carlsberg Foundation and the Tuborg Foundation will donate DKK 75 million (EUR 10 million) to the relief efforts in Ukraine.
HEINEKEN
Heineken stopped beer production and sales in Russia.
LEVI STRAUSS
Levi Strauss & Co announced it is donating more than $300,000 to nonprofit organizations providing aid to those impacted by the ongoing conflict. The company and the Levi Strauss Foundation are giving $200,000 to the International Rescue Committee, which is helping to support individuals and families displaced by the conflict, while the company's Beyond Yoga brand is giving $100,000 to CARE, which is responding to the immediate needs of the people of Ukraine. In addition, the company is offering employees a 2-to-1 match, up to $200,000, for donations to a slate of organizations committed to ensuring that the most vulnerable communities get the support they need, including several that are ensuring discrimination doesn't occur at border crossings. LS&Co. and its licensee partners are also working to donate jackets, backpacks and warm clothing to people who have been displaced from their homes.
SHUTTERSTOCK
Shutterstock announced a donation of $1 million to provide direct assistance to Shutterstock's thousands of contributing photographers, videographers, 3D artists, illustrators and musicians in Ukraine.
ROCHE
Roche is donating 150,000 packages of Rocephin, a critical antibiotic used to treat the symptoms of many kinds of bacterial infections and listed on the World Health Organization's list of essential medicines.
KAISER PERMANENTE
Kaiser Permanente says it will match individual donations from employees and physicians, dollar for dollar, up to a total of $200,000.
GRAMMARLY
Grammarly said it has committed $5 million—equivalent to the net revenue generated from usage of Grammarly's product in Russia and Belarus since 2014—to organizations and funds supporting the people of Ukraine. The company is adding a message in its product to direct users writing about the war to resources for helping Ukraine. Grammarly also made the decision to block users located in Russia and Belarus from using Grammarly products or services.
WIX
Wix, which employs 950 team members in Ukraine, worked together to book travel and lodging to help about 500 Ukraine-based Wix employees and their families to flee the country amid the conflict. Since Ukraine restricted men ages 18 to 60 from leaving the country, Wix is unable to evacuate all of its remaining employees, but is still actively helping families flee, paying employees their salaries in advance, and providing refugees with food, cash, diapers, and other essentials.
UBER
Uber said it will offer unlimited free rides to certain Polish cities from the Ukraine-Poland border. The ride-share company is also adding an in-app donation button for its U.S. riders to make donations to the International Rescue Committee.
SANTANDER
Santander Bank removed fees on all permitted transfers to Ukraine. To assist in the response to the humanitarian crisis, Santander made an initial donation of €1 million to the Red Cross and UNHCR, the UN refugee agency. The bank also pledged to offer customers and employees in Europe the ability to make their own donations; Santander will match all donations from employees. To support Ukrainian customers living in Poland, Santander Bank Polska has put in place other measures such as suspended account and card fees, charge-free use of ATMs and ongoing access to cash in branches and via ATMs.
SPOTIFY
Spotify closed its office in Russia indefinitely and is providing individual support to team members in the region as well as its global community of Ukrainian employees. Further, Spotify removed all RT and Sputnik content from Spotify in the EU and other markets. The company launched a global guide on the Spotify platform to provide users around the world with trusted news. In terms of giving, the company is matching employee donations two to one, to support local humanitarian efforts. The company is also exploring additional steps it can take.
BIOTECH COMPANIES
More than 300 biotech companies and industry executives signed a letter in which they pledged to stop doing business with Russian companies. The letter outlines buckets of action that biotech companies should take, including halting most trade except for food and medicine, as well as collaboration and service agreements with Russian companies, and rejecting money from Russian investment funds.
ENERGY COMPANIES
A long list of companies announced plans to divest from or review operations with and within Russia. Among the energy sector, these include BP Plc, Shell Plc, Equinor ASA, and TotalEnergies SE. ExxonMobile said it would discontinue operations on a specific operation involving Russian companies and would not invest in new developments in Russia.
LAW & ACCOUNTING FIRMS
Among major law and accounting firms, Baker McKenzie, Linklaters, and KPMG LLP are also exiting certain client relationships. McKinsey & Co announced the firm will no longer do business with any government entity in Russia.
More than a dozen law firms, including Akin Gump Strauss Hauer & Feld LLP, Morrison & Foerster LLP, Steptoe & Johnson LLP, Milbank LLP and Orrick Herrington & Sutcliffe LLP, are donating funds or launching pro bono projects.
The Morrison & Foerster Foundation is donating just under $17,000 to the International Rescue committee, which is on the ground in Poland aiding displaced families; $15,000 to Project C.U.R.E., which is distributing donated medical equipment and supplies to Ukrainian hospitals in Kyiv, Lviv, Odessa and other affected cities; and another $15,000 to World Central Kitchen, which provides meals for displaced Ukrainian families in Poland and Romania.
GOLDMAN SACHS
Goldman Sachs announced it will exit Russia. The company is arranging for departures among its 80 employees in Russia who have asked to leave.
GOOGLE
Google banned Russia's state-owned media outlet RT and other channels from collecting money for ads on their websites, apps, and YouTube videos.
PORSCHE
Porsche donated €1 million to provide emergency aid to people affected by the humanitarian crisis in Ukraine.
ADIDAS
Adidas suspended its relationship with the Russian Football Union (RFU).
BURBERRY
Burberry announced it will donate to the British Red Cross Ukraine Crisis Appeal, which is working to provide urgent aid, food, warm clothes and shelter to communities in desperate need. The company will also be matching any employee donations to charities supporting humanitarian efforts in Ukraine with an equivalent donation to the appeal.
ELECTRONIC ARTS
Games publisher Electronic Arts said it will remove the Russian national team and all other Russian teams from Fifa 22 and associated video games.
DELTA
Delta announced the suspension of its codeshare services with Russia's Aeroflot, meaning the two airlines will no longer co-operate flights.
VISA
Visa suspended operations in Russia. The company pledged to donate $2 million to support humanitarian aid. Visa also said it would double match all employee donations (up to $1 million) to the Ukraine response funds of UNICEF and the Red Cross.
AMERICAN EXPRESS
American Express credit cards will no longer work in Russia, and cards issued in Russia will no longer work outside the country.
PHILIPS
Philips and the Philips Foundations have teamed up to provide financial assistance to displaced Ukrainian citizens at the Romanian and Polish borders to cover accommodation and travel costs, as well as support for mothers and children in the form of Philips mother and child care products, respiratory care products, and handheld ultrasound devices to be used at dedicated medical tents, which are already working 24/7. The Philips Foundation is providing a 24-bed mobile hospital equipped with Philips' patient monitors, electrocardiographs, and handheld diagnostic ultrasound devices. The mobile hospital is expected to be installed in the city of Lviv. Further, the foundation is working with Philips' teams in Poland and Romania, as well as humanitarian organizations with a local presence, such as the Red Cross, to install mobile check-up units – using Philips handheld diagnostic ultrasound devices – near the Ukrainian border in Poland. The check-up units are intended to provide acute and emergency care where necessary, as determined by local emergency services. Philips has also committed to matching the collective contributions made by its employees.
CANADA PACIFIC
Canada Pacific donated $500,000 to the Canadian Red Cross in support of humanitarian relief in Ukraine and for Ukrainian refugees.
ALLIANZ
Allianz announced it would make available 10 million euros to support humanitarian efforts in light of the invasion of Ukraine along with up to 2.5 million euros to match employee donations.
AMGEN
Amgen opened the Amgen Foundation Disaster Relief Matching Gifts Program, allowing all staff to receive the Foundation match when they donate to select charities to support humanitarian efforts in Ukraine. The Amgen Foundation approved two disaster relief grants of $250,000 each to International Medical Corps and Project Hope. Amgen CEO, Bob Bradway, sent the following message to employees globally:
We are saddened by the events unfolding in Ukraine. While we do not have staff in Ukraine, as a global organization, we have many staff of Ukrainian and Russian nationality or descent as well as business activity in both countries. We are actively monitoring this situation with our priority being the safety of our staff and the patients in the region who rely on our medicines.
CANADA GOOSE
Canada Goose suspended all wholesale and e-commerce sales to Russia on Wednesday and donated $100,000 CAD to the United Nations High Commissioner for Refugees.
EXPEDIA
Online travel-booking company Expedia ceased the sale of travel into and out of Russia.
ETSY
Etsy, the online marketplace focused on handmade or vintage items, said it will cancel all balances — about $4 million worth — owed by sellers in Ukraine on its platform.
VOLVO & DAIMLER
Volvo and Daimler Truck will suspend all vehicle exports to Russia until further notice.
HARLEY DAVIDSON
Harley Davidson suspended business and shipments of its bikes to Russia.
NETFLIX
Netflix says it won't air state TV channels in Russia.
AIRBNB
Airbnb will offer free housing for up to 100,000 Ukrainian refugees. The home rentals platform's nonprofit set up to provide housing relief during international crises, Airbnb.org, will partner with resettlement agencies to house Ukrainian refugees across the world. Meanwhile, hundreds of consumers are booking stays through Ukraine hosts as a show of solidarity and as a way of sending money directly to Ukrainian families. So far these bookings have grossed nearly $2 million.
TECH TO THE RESCUE
A consortium of technology companies comprising the Tech to the Rescue Foundation has pledged to offer pro bono digital services for Ukrainian NGOs. Specifically, Bunq is offering help finding shelter and Dutch HSM visas for Ukrainians and Russians fleeing the war.
META
Meta has established a special ops center composed of native Russian and Ukrainian speakers to monitor Facebook and report issues in real-time. SpaceX is providing internet service to Ukraine by deploying 50 of its Starlink satellites to the region.
TWITTER
Twitter is temporarily pausing advertising in Russia and Ukraine, the company tweeted, "to ensure critical public safety information is elevated and ads don't distract from it." The company also said it would match employees' donations to "verified organizations supporting Ukrainian refugees seeking shelter and safety."
MEDICOM
Medicom said it will be sending $250,000 worth of medical products from North America and Europe. In addition, the company is launching a fundraiser among its nearly 2,000 employees and will match every dollar donated. The funds raised will be donated to Doctors Without Borders and used primarily to improve access to health care and medication. Medicom has operated a distribution center in Kyiv for over 10 years and employs over 15 people there.
MESSAGEBIRD
MessageBird announced the launch of MessageBird.org, a company NGO fund designed to invest in innovative peacekeeping initiatives and provide a platform to help coordinate humanitarian efforts from the global tech community. It will also fund mental health programs around major crisis situations.
TY
TY Inc. pledged to donate 100% of profits from sales of Beanie Babies during the month of March to Save the Children, to provide emergency assistance to those in crisis across Ukraine and the region.
GOYA
Goya Europa, the European arm of Goya Foods Inc., will distribute hundreds of thousands of pounds of food to the people of Ukraine in response to the international call for critical aid of food, fuel, and medicine.
SOUTHEASTERN GROCERS
Southeastern Grocers Inc. (SEG), parent company and home of Fresco y Más, Harveys Supermarket and Winn-Dixie grocery stores, together with the SEG Gives Foundation, will donate $250,000 to the International Committee of the Red Cross to support Ukraine and its citizens. SEG will also donate 100% of the proceeds from its private label Ukrainian vodka to the cause for the next 31 days as a nod to Ukraine's official declaration of independence nearly 31 years ago.
JEFFRIES FINANCIAL GROUP
Jeffries Financial Group pledged to donate its March 2, 2022 trading revenue to the Ukraine relief effort. The group yielded $12.4 million from its trading that day.
Ten Taiwanese firms collectively raised NT$10M for Ukrainian refugees in Poland.
LEGO
The Lego Foundation, in partnership with the Ole Kirk Foundation, will donate $16.6 million to emergency relief in Ukraine.
We will update this post as more examples are submitted.
How companies are donating to Ukraine and supporting their global employees is just one example of the conversations our members are having. If you'd like to be a part of this corporate citizenship community, tapping into the latest research, regulations, and best practices surrounding community engagement, sustainability, etc. continue reading about BCCCC membership here.
List of NPOs Where Companies Are Donating for Ukraine
Cooperative for Assistance & Relief Everywhere (CARE)
Global Giving, Ukraine Crisis Relief Fund
International Federation of Red Cross & Red Crescent Societies (IFRC)
International Rescue Committee
United Nations Children's Fund (UNICEF)