2022 Corporate Citizenship Conference Day 3: Choosing a better path forward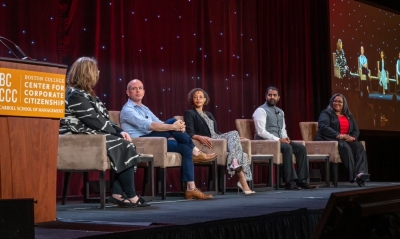 Attendees entered the final day of the 2022 International Corporate Citizenship Conference feeling energized and ready to glean more insights to inform their CSR work. Some early-risers chose to muster up energy for a morning Corporate "Fitizens" walk around Boston Common—while others headed straight for breakfast in the America Ballroom, eager to start the day with an eye-opening general session on working effectively with partners and nonprofit capacity building.
Developing the nonprofit leaders of tomorrow
To develop the next generation of nonprofit leaders that can drive progress on social justice, Wells Fargo partners closely with national advocacy organizations to build their operational and leadership capacity—especially in preparing for the future. In this conversation, attendees heard from Wells Fargo about the origins of the program, as well as perspectives from colleagues at the national advocacy organizations they support.
Georgette "Gigi" Dixon, executive vice president and head of external engagement diverse segments, representation and inclusion at Wells Fargo, discussed Wells Fargo's Academy for Nonprofit Leaders, established in partnership with BCCCC, which was the culmination of Wells Fargo's external relations work with advocacy groups over the past decade. The idea emerged when Dixon and her colleagues heard nonprofit organizational leaders express concerns about succession planning and a desire to train the next generation of leaders. She was excited to share that so far the leadership academy has accepted 160 high-potential professionals from 142 nonprofit organizations to provide support as they take the next steps in their careers.
Dixon was joined by graduating leaders from past program cohorts, including Mauricio Calvo, chief executive officer, Latino Memphis; Njemile (NJ) Davis Michael, digital program analyst, technology division, USAID; and Shyam R. Gadwal, vice president of scholarships and programs, Asian and Pacific Islander American (APIA) Scholars.
Katherine Smith, executive director of BCCCC, joined them onstage to engage in a conversation, starting with the evolution and rapid growth of diversity, equity, and inclusion (DEI) as a priority in the business community. Dixon pointed out that the focus on DEI is moving more rapidly than it ever has in her career, and the Wells Fargo is working very intentionally to ensure its operations and people are reflecting the communities they serve. She also stressed that having the company's DEI function report to the CEO is important to make progress.
"The climate that supports bringing your full self to work, and a celebration of difference, is a real achievement," said Davis Michael. "The institutionalization of DEI leaders and positions through funding, staffing, and support—we're moving beyond performative actions to actions that are moving the needle."
Regarding where business might be missing the mark, Gadwal brought up the particular challenges for his constituents. "Disaggregating the data is so important. Not all Asian Americans are the same, there are over 50 ethnicities and 300 languages that comprise our group," he said. "Also, as a corporation, you need to own your past—otherwise how can we measure progress? Being able to say, 'here's what we used to do and here's the progress we're making now,' that's how we're going to make change."
Calvo also saw bright spots in his work as a nonprofit partnering with companies. "The private sector is realizing that corporate citizenship is not checking a box. This is an integral part of what companies do. The commitment and intentionality is there now," he said. Regarding room to grow, Calvo said, "We love the check, but we need you to put us in your policy agenda as well so we can really have transformative work."
Smith added that a positive result of the pandemic is trust-based philanthropy, the trend that more corporate givers are giving unrestricted grants and support capacity building at nonprofits. Dixon agreed this is a major focus for Wells Fargo's Academy for Nonprofit Leaders. "Historically we've had a hesitancy to get close enough to the nonprofit to understand operational capacity," said Dixon. "This program is really about shoring up the capacity of the organization to sustain itself over time, and to understand the benefit of partnering with corporations that understand listening to their stakeholders."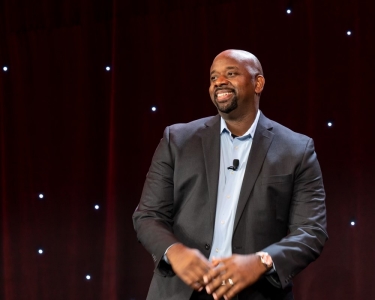 Attendees left the morning discussion ready to connect with peers and learn best practices from leaders in the field. The agenda delivered two rounds of intensive breakout sessions covering topics from corporate giving trends to creating cultures of environmental sustainability. Participants also benefited from several interactive case study discussions from a variety of leading companies:
Blue Cross Blue Shield of Massachusetts led a session on how to engage beyond philanthropy to align strategy, partnerships, and programs to advance health justice.
Takeda led a strategy-focused session on how to incorporate corporate purpose, employee voices, and the ERG passions into philanthropy.
Moving corporate citizenship forward
Attendees then reconvened in the America Ballroom one last time. BCCCC Executive Director Katherine V. Smith welcomed the crowd, thanking Liberty Mutual and all of the event sponsors for their generous support, and invited attendees to save the date for the 2022 International Corporate Citizenship Conference on April 30 through May 2 in Minneapolis.
Smith then introduced the crowd to next year's convening sponsor, Target, which brought to the stage Ronald Brown, vice president for community impact at Target, Brown expressed excitement over the energy he felt over the course of the conference and looked forward to Target's deeper involvement in next year's planning.
"Over the past few days I've met some incredible people. I'm excited about the future and proud to celebrate everything this conference stands for," said Brown. "Our companies have a major role to play when it comes to corporate citizenship. We truly can no longer operate without taking it into account into our core competencies."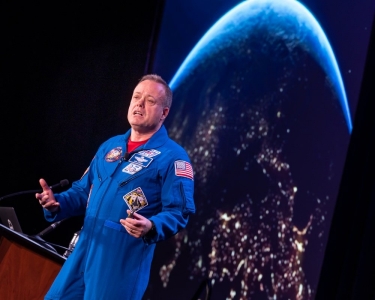 Brown also described Target's new sustainability strategy, Target Forward, which is the company's vision to co-create an equitable and regenerative future together with its guests, partners, and communities. The idea of moving humanity forward served as a perfect segue to the event's keynote speaker, Ron Garan, a highly decorated NASA astronaut, fighter pilot, and active social entrepreneur.
Garan applauded Target's use of the power of awe and wonder to collaborate. He then invited the audience to engage their own imaginations and picture being on the International Space Station, peering out at the Earth from space. Garan let this set the stage for his holistic, high-level view of problem solving.
"Many things become clear from space, chiefly that everything is changing," said Garan. "The mindsets and approaches that led us here are becoming antiquated and ineffective. We cannot rely on continued momentum to carry us through the growth changes of our businesses."
Through the uncertainty and disruptions of the modern business climate, Garan encouraged corporate citizenship professionals to overcome that fear of uncertainty, to use the power of imagination to create the jobs needed to power this exponentially changing world.
Successful companies of the future, Garan says, will understand our problems as planetary. Especially on the environment, he pressed that the world needs revolutionary solutions. "We need a major course correction and we need it now. Our environment and our businesses are not mutually exclusive—they're complementary, and even more, it's a required connection," said Garan. "The path forward is to zoom out to a higher vantage point."
In space, Garan saw a new view of the world—not one rooted in the two-dimensional maps that draw barriers between nation states, but one based on "Earthrise." This represents the holistic view of Earth he saw from space, based on a photo taken by an astronaut on the first manned mission to the moon. Through this view, Garan saw what Dr. Martin Luther King Jr. called the "interrelated structure of all reality," and the power of radical collaboration—which rejects the boundaries we have created—to make lasting positive change.
"Business decisions that we're making now have the incredible power to either destroy or save our world," said Garan. "We could cling to the old two-dimensional mindset, or enterprise can help to usher in a new humanity—based on the image of Earthrise—which represents interdependence, long-term thinking, and profound collaboration all wrapped up in the blanket of humanity."
And with that the 2022 International Corporate Citizenship Conference came to a close. The CSR professionals in the room left the ballroom at the Westin Copley with a brighter, bolder, and better perspective to apply to their work—inspired to bring their new ideas to life.
We've been covering the 2022 International Corporate Citizenship Conference with daily recaps and deep dives into the event's unique content. Visit the Corporate Citizenship Perspectives blog to hear more from the Center throughout the year.