2022 Virtual Conference Recap: Employees make better corporate citizenship efforts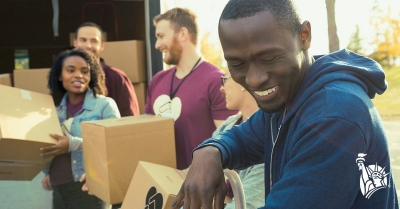 Today kicks off the first day of virtual sessions of the 2022 International Corporate Citizenship Conference, hosted by Boston College Center for Corporate Citizenship with convening sponsor Liberty Mutual.
This year's theme is Better, Bolder, Brighter! For the next three days, corporate responsibility and sustainability professionals will have the opportunity to be inspired by, learn from, and network with leaders in the field on pressing environmental, social, and governance (ESG) topics of the day.
Attendees filed into the virtual mainstage this morning ready for nearly three hours of online learning and networking, including nine live sessions and interactive platform features including Q&A with experts and virtual peer meeting opportunities. This rich virtual experience was brought to attendees by conference mobile app sponsor Pitney Bowes. Attendees are also able to enjoy an event that is as environmentally sustainable and inclusive as possible thanks to BCCCC's carbon neutral (UPS), zero waste (General Motors), accessibility (Toyota), and inclusion (TJX) sponsors. Learn more about event accessibility and sustainability here.
BCCCC Executive Director Katherine V. Smith welcomed hundreds of attendees to the event. "What a crazy two years it has been; challenging and at the same time tremendously inspiring to see how this community has come together to address all kinds of problems in the world," said Smith. "I'm so very proud of all of our corporate citizenship teams for all the great work they've done."
Smith reminded virtual participants that next month they will have the chance to reconvene in-person in Boston at the in-person version of the conference. There, CSR professionals will reconnect with old friends and meet new colleagues as BCCCC hosts the event in-person for the first time in three years.
Tickets to the in-person conference in Boston on April 24-26 are still available, and will include access to all the recordings from the virtual event—there's still time to register!
The journey to Better, Bolder, Brighter philanthropy
For this opening session, attendees were inspired by a story of philanthropic transformation from the event's convening sponsor, Liberty Mutual, and the evolution of the Liberty Mutual Foundation (LMF). The panel featured LMF colleagues Melissa MacDonnell, Sylvia Stevens-Edouard, and Bryan Spence.
Established in 2003, LMF supports the communities in which Liberty Mutual employees live and work. At the start, the foundation had great success in making large and impactful grants that benefited the community and supported key issues of accessibility, education, and homelessness—but did so quietly. Over the past decade, LMF has "found its voice" in amplifying the work of partners and expanded its community engagement even further to grow its impact.
"We were engaging in the community in significant ways, but no one outside of our leadership and our team knew about our work." said MacDonnell, president of LMF and vice president at Liberty Mutual Insurance. When LMF solicited feedback from grantees, they learned important lessons. "They wanted Liberty to talk about the causes we care about and why, and spotlight them as partners," continued MacDonnell. "They said that as a corporation, we had helpful strengths that we were leaving on the table."
One strength is the communications potential of working with a multinational company, which for Liberty Mutual took shape as positioning partner thought leadership in issue areas such as youth homelessness. "We see thought leadership as an opportunity to move beyond the transactional proposal, grant review, and grant award process. It's very much about learning from our nonprofit partners and the people that they serve," said Spence, who is national director of programs at LMF. "It's part of the added value that we're seeking to explore."
Liberty also uses this work to engage employees, which has similarly evolved over the foundation's history. LMF began its journey by running two distinct campaigns for employee giving and corporate service days on an annual basis, which has since become a year-round comprehensive giving, service, and volunteer program with global impact: Liberty Torchbearers.
Stevens-Edouard, who is senior director of community relations at Liberty and led the creation of Torchbearers, described the opportunity as a similar situation of value being left on the table—but for Liberty employees who were already invested in and giving back to the community on their own time. "With episodic activities you don't get connectivity, you don't get that sense of belonging," said Stevens-Edouard. "Liberty Torchbearers is all about drawing those connections, not just to the causes Liberty cares about, but the causes employees care about."
Stevens-Edouard also addressed the organizational barriers to be overcome with such a big change. Being a risk-focused casualty insurance company, introducing a new program that affected all employees was a risk. So, LMF's solution was rooted in culture: the team collaborated with departments such as legal, HR, communications, and others to ensure buy-in and sustainable growth from across the Liberty Mutual organization.
As it pursues new opportunities in 2022 and beyond, LMF will look for ways to align efforts across the company and with nonprofit partners, creating positive impact in the lives of people and communities that experience vulnerabilities. 
Data-driven employee engagement
The theme of engaging employees in corporate citizenship efforts continued into the afternoon, but not before attendees got the chance to download the big ideas of the morning in the Gallagher networking lounge. After chatting with familiar peers and new acquaintances, attendees jumped back into content with afternoon breakout sessions.
In the breakout, "Keys to career success in corporate citizenship," experienced professionals from the field lent their knowledge to those first starting out. The panel featured Immanuel Sutherland of Altria Client Services, Christine Hoisington of Booz Allen Hamilton, and Colleen Olphert of BCCCC, who have a combined five decades of experience in corporate citizenship. The practitioners provided their perspectives on specialized skills needed for the corporate citizen profession. "The thing that I've been focusing on for the past several years is becoming a better thinker on a systems-, enterprise-, and strategy-level," said Sutherland. "In other words, how do you connect the dots?" Hoisington added, "Much of our work cannot be measured immediately, so we have to remind people, especially managers, of long-term impacts."
Attendees could also join Cisco in a Lead and Learn Case Study, as they discussed a data-driven approach to employee engagement. Cisco's community impact colleagues Kelly Petrich and Ajay Gopal shared the story of how a company of 80,000 employees was able to reach 80% participation in community engagement efforts. The secret is Cisco's "growth hacking" strategy, widely used in behavioral economics, adapted to an employee community impact setting. In this way, Cisco's team leveraged digitization and "nudges"—data-driven interventions to aid decision making—to further their corporate citizenship goals.
The work began with Cisco's purpose, "to drive an inclusive future for all." Petrich, who is director of community impact, stressed the importance of engaging employees at-scale in order to achieve that purpose, which started with a broader definition of engagement. "Like many others in this space, at Cisco we were largely focused on encouraging employees to volunteer and donate, and prioritized organizations that were already approved in our matching gifts system," said Petrich. "As we started to really look at this transformation, we realized we needed a much more inclusive approach, with a menu of ways that employees could engage."
By using feedback tools such as focus groups, Petrich and colleagues learned that employees were already having a positive impact in their communities, but it didn't always take the form of volunteering or giving. This opened up new opportunities for digital advocacy, environmental sustainability actions, and other inventive campaigns that employees could track. 
"We knew that if we wanted to achieve scale of participation, we had to digitize our offerings," said Gopal, who is community impact manager at Cisco. "What we needed was an always-on, integrated digital solution that enabled employees to find the opportunities that mattered to them, either locally or globally, and take action, either in-person or virtually."
Data about employee engagement helped Cisco to generate many varied insights, from preferred programs to community impact. The team also made data available to all employees in one community impact dashboard, so teams could see how well they performed compared to others. Cisco's team applied this data to intelligently nudge employees to take actions, for example, via well-timed, personalized emails inviting employees to volunteer, or a customized call to action on the employee homepage. 
With that, the attendees finished up the first day of the virtual International Corporate Citizenship Conference, energized with new ideas and excited for the two days ahead.
We're blogging throughout the 2022 International Corporate Citizenship Conference to give you daily recaps and deep dives into the event's unique content. Participate in the conversation using #BCConf22. Visit the Corporate Citizenship Perspectives Blog to read all the recaps.