Movers, Shakers & Impact Makers: Rapid response to meet urgent community needs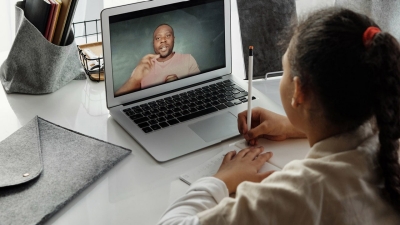 The member community convened by Boston College Center for Corporate Citizenship is one of a kind. The 500+ companies we serve each year around the globe are leaders in environmental, social, and governance action, and the thousands of individuals who make up this network are some of the best in the field!
---
Featured this week: Tim Dismond, CBRE; Jeff Levinson, NetScout Systems; BJ's; Blue Shield of California; CBRE; Cox Enterprises; Delta Dental; MassMutual; TJX Companies; Verizon; ViacomCBS; Yum! Brands Inc.; Accenture; Harvard Pilgrim Health Care Foundation; Tufts Health Plan Foundation; JetBlue; National Instruments (NI); Klaviyo, Ryan LLC, and VICE Media Group, Blue Cross Blue Shield of Massachusetts, FedEx, TD Bank Group, Fifth Third Bank, Symetra Financial
---
Members: Would you like your company to be featured in future posts? Fill out this Member News Form.
Here is how our members have been working to build better business and a better world:
Spotlight on You
Tim Dismond has been promoted to chief responsibility officer at CBRE. In this new role, Mr. Dismond will retain his current responsibilities as chief diversity officer and bring together all aspects of the company's environmental, social, and governance (ESG) efforts under his leadership. "Tim has already had a tremendous impact in advancing our diversity efforts," said Bob Sulentic, CBRE's president and chief executive officer. "His increased scope and authority, and higher profile inside and outside CBRE, will put him in an even more powerful position to drive compelling diversity and inclusion outcomes, as well as accelerate our gains across the full spectrum of ESG programs. In the process, we will strengthen our company and the work we do for clients."
Jeff Levinson, vice president, general counsel, and secretary for NetScout Systems, recently wrote an article about how modern general counsels (GCs) have evolved into a true generalist and should play a central role in driving cross-functional corporate environmental, social, and governance (ESG) initiatives. "ESG plays into a long-term value creation as part of companies' commitment to addressing issues of importance to all stakeholders," said Levison. "GCs can take the lead to help their companies drive ESG and create long-term value."
Job Postings
BJ's (Just added!)
Westborough, MA
Communications Manager
Communications Specialist
Blue Shield of California
Oakland, CA
Corporate Citizenship Specialist, Consultant
CBRE
U.S. Remote
Corporate Responsibility Manager
Cox Enterprises
Atlanta, GA
Senior Manager, CSR Environmental Sustainability
Delta Dental
San Francisco, CA
Foundation & CSR Program Manager
MassMutual
Boston, MA
Head of Sustainability
TJX Companies
Framingham, MA
Senior Manager, Inclusion and Diversity
Verizon
New York, NY
Senior Analyst, Corporate Social Responsibility
ViacomCBS
New York, NY
SVP, Corporate Communications
Yum! Brands, Inc.
Louisville, KY
Social Purpose & Communications Manager
Member Companies in the News
Accenture is working with Australia's tropical marine research agency, the Australian Institute of Marine Science (AIMS), to accelerate global efforts to protect coral reefs. Following an initial phase of experimentation at The Dock, Accenture's flagship R&D and global innovation center, the project will use the latest technology to enable reef scientists to share data faster, foster collaboration across countries and regions, and ultimately assist in conservation efforts.
Harvard Pilgrim Health Care Foundation and Tufts Health Plan Foundation are giving $1 million to 42 organizations across the region to expand vaccine education, awareness, and outreach in communities of color, in their first joint community investment after the two companies announced their combined organization. "We are at an inflection point in the pandemic," said Thomas Croswell, chief executive officer of the combined organization of Harvard Pilgrim Health Care and Tufts Health Plan, and a member of the Tufts Health Plan Foundation board. "As vaccine production and distribution are ramping up, important education efforts are taking place to address community concerns and we need to support them."
JetBlue announced a round of rapid response grants to 12 STEM organizations severely impacted by the COVID-19 pandemic, providing financial support to continue their critical work reaching students and communities traditionally underrepresented in these fields. The JetBlue Foundation—focused solely on supporting aviation and STEM education—supports education programs focused on mentorship, technical education training, and social justice, with a joint goal of increasing access and awareness of STEM and aviation careers. The rapid response cycle will also help organizations committed to racial and gender equity that have encountered financial setbacks in achieving their missions due to the pandemic.
National Instruments (NI) released its 2030 Corporate Impact Strategy outlining the company's vision for making a measurable, positive impact on society and the environment by 2030. The long-term plan to advance diversity, equity, and sustainability furthers NI's promise to Engineer Ambitiously™, connecting people, ideas and technology to take on the world's greatest challenges. Over the next decade, NI is dedicated to creating impact in three areas by working toward a set of 15 goals and commitments, including two "moonshot" diversity goals.
Members on the Move
Congratulations to new members Klaviyo, Ryan LLC, and VICE Media Group, who joined this past month. Learn more about joining the Boston College Center for Corporate Citizenship member community: Member Benefits
Attendees from Blue Cross Blue Shield of Massachusetts, FedEx, TD Bank Group, and more have registered to attend the International Corporate Citizenship Conference on April 26-28, 2021. Learn more about the conference.
Participants from Fifth Third Bank, Harvard Pilgrim Health Care, and Symetra Financial have registered to join CSR colleagues for a second round of live Bootcamps as part of the Accelerated Certificate Summit. Learn more about joining them and earning your certificate.