Accelerated Certificate Summit
Join us in February 2021 for Our Accelerated Certificate Summit!
The Boston College Center for Corporate Citizenship is happy to offer our most popular certificate—The Certificate in Corporate Citizenship Practice—in an Accelerated Summit that combines the valuable networking of live-learning courses with the flexibility of online options.
This dynamic virtual event is a hybrid-learning experience that enables you to earn your Certificate quickly and cost-effectively by diving deep into CSR best practices and connecting core skills with applicable electives. The Summit offers plentiful opportunities to network with colleagues as well.
ENROLL NOW FOR SPRING 2021
Supplement online courses with live learning and networking events.
Enroll Now
How Do You Benefit?
A Certificate in Corporate Citizenship Practice can unlock new professional opportunities: Use it to learn practical skills, implement more successful programs, and connect with peers—all while earning a recognized professional credential in the field.
I Feel Truly Empowered "I left feeling like I could have a bigger impact than I thought before. I feel truly empowered."

-October 2020 Bootcamp Participant
Fantastic and Engaging "The instructors were fantastic and engaging! I love that everyone was able to participate on video. It made it feel like we were in-person."

-October 2020 Bootcamp Participant
Seamless Experience "It isn't easy transitioning to virtual learning, and it all went seamlessly! I'm looking forward to the next week of bootcamps. "

-October 2020 Bootcamp Participant
Who Should Attend?
The Summit is valuable for corporate citizenship professionals at all stages of their career journeys, enabling participants to select the learning path that works best for their style and schedule.
Not sure which Accelerated Certificate Summit path is right for you?
Contact us at
ccc.bc.edu.
How Do You Earn Your Certificate?
The Accelerated Certificate Summit combines required courses with relevant electives that allow you to customize your learning experience.
To Earn Your Certificate:
Enroll in all three required courses (Communications, Measurement, and Strategy) and choose two electives for a total of five courses. These courses are self-paced, which allows you to complete them on your own time.
You will earn your certificate once all five courses are completed.

Each course has corresponding Bootcamps that you can attend in conjunction with the course.
Our new live Bootcamps are 2.5-hour power sessions that include personalized expert instruction and interaction with corporate citizenship peers in a virtual classroom environment.
Bootcamps are not required to earn your certificate, but they provide excellent opportunities to receive personalized instruction and network with peers.
Can You Take Fewer than Five Courses?
Absolutely. You can take as many, or as few, courses as you want. If you take fewer than five courses, those will count toward your certificate if you decide to take additional courses at a later time.
Once you complete the requirements (3 required courses + 2 electives), you will earn your certificate. Courses do not need to be taken at the same time.

Are Bootcamps Required?
No. Bootcamps are optional and can be added to certain courses for free when you sign up for a course.
Bootcamps are great opportunities to receive more personalized instruction and network with your peers. These live-learning events take place over two weeks to accommodate a variety of schedules.
Bootcamps also count toward the completion of the online coursework.
See the table and schedules below to find out which Bootcamps are coupled with each course and when the Bootcamps are offered.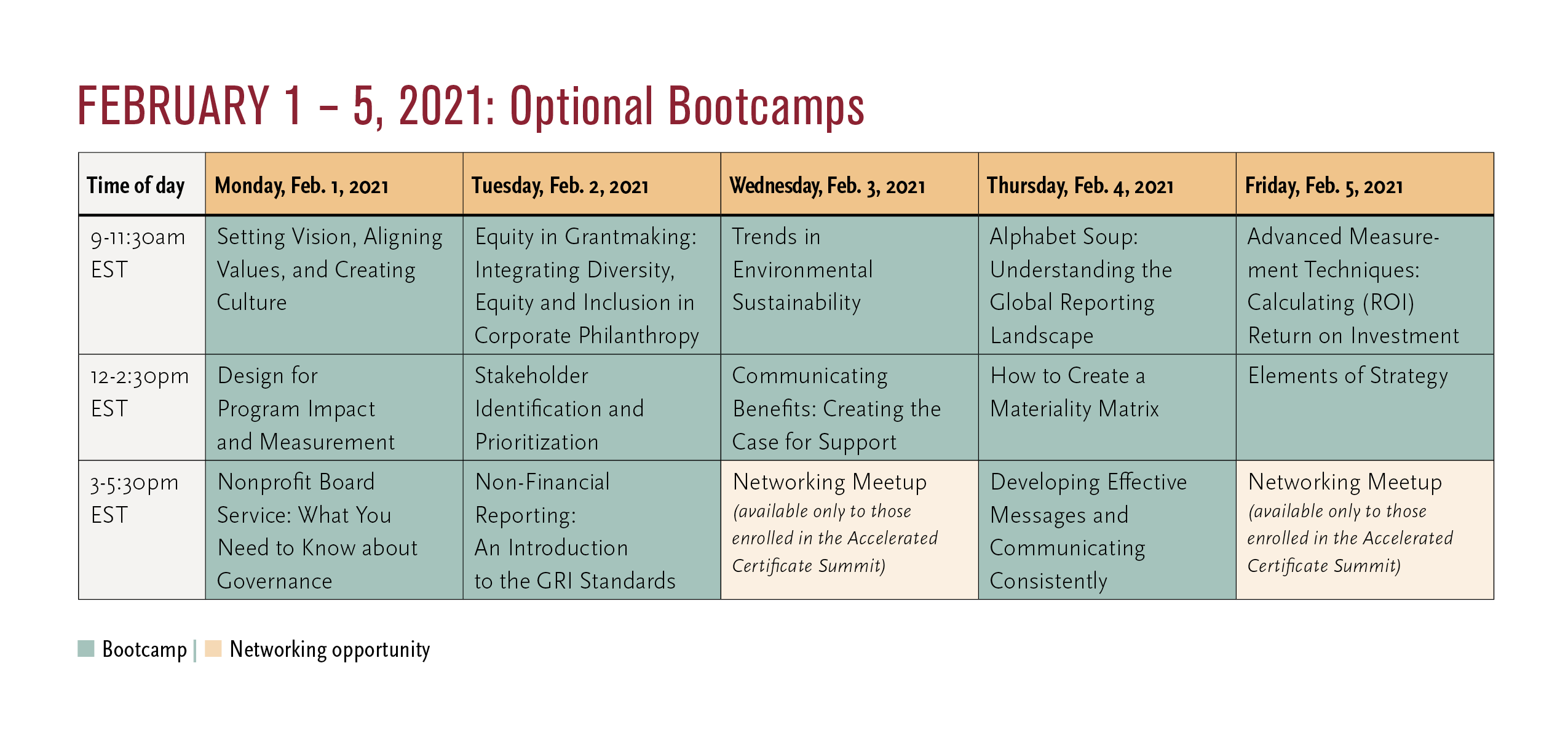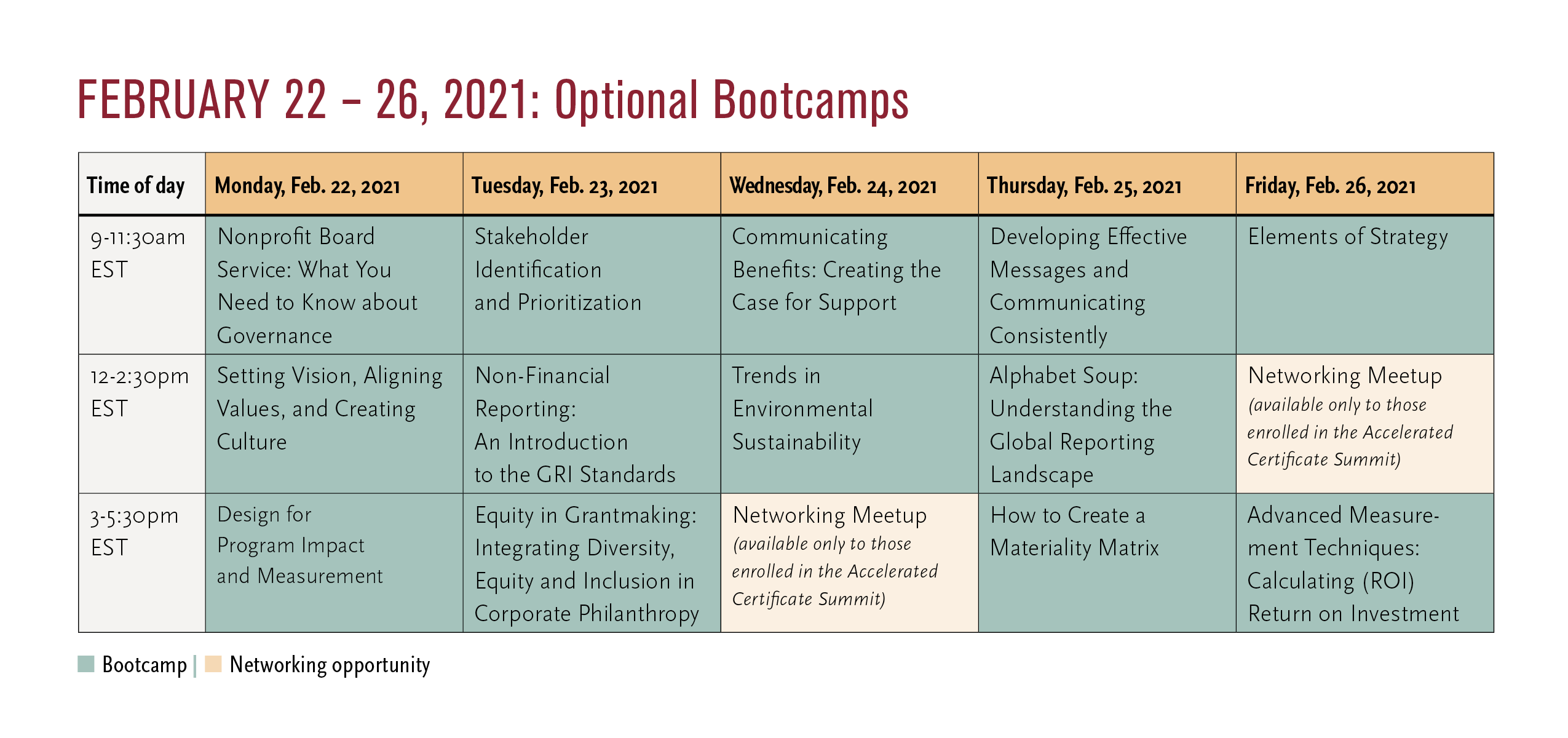 ENROLL NOW FOR SPRING 2021
Supplement online courses with live learning and networking events.
Enroll Now
Pricing
If you want to earn your certificate and have not taken any courses previously, you will want to sign up for five courses.
However, if you are just wanting to take a specific course - or you have already completed a few courses and you're ready to finish your certificate - you can register for fewer courses.
Conference Bundle Discount
When you register for the Accelerated Certificate Summit, you have the option to bundle your registration with the upcoming International Corporate Citizenship Conference.
When you sign up for both the Certificate and the conference, you will receive the lowest-cost discount on the conference. Reunite with your cohort at the conference and continue your experience!

ENROLL NOW FOR SPRING 2021
Supplement online courses with live learning and networking events.
Enroll Now