Movers, Shakers & Impact Makers: Community involvement for meaningful impact
Thu Feb 04 15:00:00 EST 2021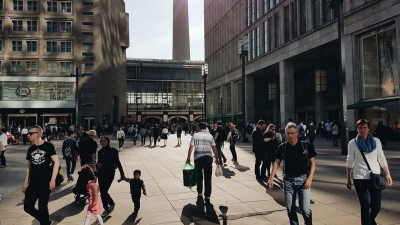 The member community convened by Boston College Center for Corporate Citizenship is one of a kind. The 500+ companies we serve each year around the globe are leaders in environmental, social, and governance action, and the thousands of individuals who make up this network are some of the best in the field!
---
Featured this week: Kala Gibson, Fifth Third Bank; Evan Harvey, Nasdaq; Derek Oliver and KeyAnna Schmiedl, Wayfair.com; Blue Shield of California; CBRE; Cox Enterprises; Delta Dental; MassMutual; TJX Companies; Verizon; ViacomCBS; Yum! Brands Inc.; Greg Helwig, Kiddie Academy; Salt River Project; Matt Flake, Q2; AstraZeneca, FedEx, Mailchimp, Harvard Pilgrim Health Care, Lumen, LyondellBasell
---
Members: Would you like your company to be featured in future posts? Fill out this Member News Form.
Here is how our members have been working to build better business and a better world:
Spotlight on You
Kala Gibson, head of business banking and chief enterprise corporate responsibility officer at Fifth Third Bank, has been recognized as a top Black leader by the Cincinnati USA Regional Chamber. Gibson was honored for his work at the bank, where he oversees business banking, community and economic development efforts—including Community Reinvestment Act lending and investment—and environmental, social, and governance efforts. He's also chairman of the bank's Executive Diversity Leadership Council. Recently he led the bank's Paycheck Protection Program which helped small business owners, delivering in 2020 more than 40,000 loans totaling more than $5.4 billion.
Evan Harvey, global head of sustainability at Nasdaq, lent his insights in an interview on what it means to shape a sustainable business, his role, and how serving the firm's clients has evolved throughout the years. "In the last decade, Nasdaq has continually broadened its understanding of what it means to be a sustainable business: not only by creating real, long-term value for investors, but also by finding new sources of performance data, becoming more transparent about our values, and engaging meaningfully with more diverse stakeholders," said Harvey. "Now we look at ESG as part of a healthy and productive corporate culture, emblematic of our purpose, and that makes me very proud."
Derek Oliver and KeyAnna Schmiedl of Wayfair.com will lend their expertise to the upcoming panel, Beyond Borders: How Businesses can Aid Refugees' Economic Integration. They will join Tent Partnership for Refugees and other prominent organizations to inform how to apply a refugee lens to diversity, equity, and inclusion and/or corporate social responsibility initiatives. Register for this free online event here.
Job Postings
Blue Shield of California
Oakland, CA
Corporate Citizenship Specialist, Consultant
CBRE
U.S. Remote
Corporate Responsibility Manager
Cox Enterprises
Atlanta, GA
Senior Manager, CSR Environmental Sustainability
Delta Dental
San Francisco, CA
Foundation & CSR Program Manager
MassMutual
Boston, MA
Head of Sustainability
TJX Companies
Framingham, MA
Senior Manager, Inclusion and Diversity
Verizon
New York, NY
Manager, ESG Data Analytics and Reporting
Senior Analyst, Corporate Social Responsibility (Just added!)
ViacomCBS
New York, NY
SVP, Corporate Communications
Yum! Brands, Inc.
Louisville, KY
Social Purpose & Communications Manager
Member Companies in the News
Kiddie Academy Educational Child Care announced a partnership with national nonprofit Family Promise designed to empower families experiencing homelessness and set children up for success. With an initial gift of $25,000, the partnership will develop a program for spreading awareness about family homelessness and fundraising in support of the organization's mission. "Together, Kiddie Academy and Family Promise will work to empower all stakeholders—volunteers, donors, community members, businesses, and government officials—to effect change across communities, so families can achieve economic stability and children can access a brighter future," said Greg Helwig, CEO of Kiddie Academy.
Salt River Project is offering free energy savings kits to limited-income customers in multifamily communities, a project designed to help multifamily communities become more energy efficient. Each kit includes four Energy Star certified LED bulbs, one LED night light, and tips to help residents lower their energy use and costs.
Q2's naming rights for Q2 Stadium in Austin, TX, have come with a community involvement twist. The financial solutions provider will also sponsor a Dream Starter Competition in conjunction with Austin FC with $100,000 allotted to start or accelerate a business plan of a local company and will allow fans to vote on Q2 nonprofit donations of $150,000. "As a mission-based company, this provides a deeper purpose for what we want to do in our community," says Matt Flake, Q2 president and CEO.
Members on the Move
Attendees from AstraZeneca, FedEx, Mailchimp, and more have registered to attend the International Corporate Citizenship Conference on April 26-28, 2021. Learn more about the conference.
Participants from Fifth Third Bank, Harvard Pilgrim Health Care, Lumen, and LyondellBasell have registered to join CSR colleagues for a second round of live Bootcamps as part of the Accelerated Certificate Summit. Learn more about joining them and earning your certificate.