Feeding Families and Saving Lives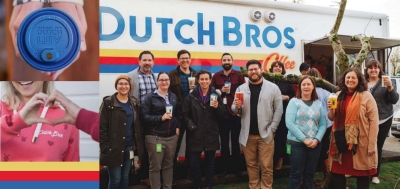 With the rise of COVID-19 and its effects on the economy, millions are newly at risk of food insecurity.
Skyrocketing unemployment has led to an estimated increase of 17.1 million food insecure households in the U.S. In the most severe projections by Feeding America, the annual food insecurity rate will rise by 5.2 percentage points to 16.7%, meaning that approximately 1 in 6 people will experience food insecurity in 2020. Across the world, the situation could be even more dire: Among low- and middle-income countries in Sub-Saharan and North Africa, Latin America, and Asia, the number of food-insecure people in 2020 is estimated at 844.3 million, an increase of 83.5 million (11%) due to COVID-19 income shock.
To support food-insecure communities across the nation, many companies have risen to the occasion. Dutch Bros Coffee, a coffee chain headquartered in Grants Pass, Oregon, has always maintained its promise to give back to its community, and one way it does that is through various fundraising drives held throughout the year. Events such as "Drink One for Dane," dedicated to raising funds for the Muscular Dystrophy Association in honor of Dutch Bros co-founder Dane Boersma, or "Buck for Kids," where Dutch Bros donates $1 from every drink sold to local children's organizations in its communities, highlight Dutch Bros' commitment to giving back.
One of these fundraisers, Dutch Luv Day, achieved a milestone for supporting food security this year. Held on every Valentine's Day, Dutch Luv Day is a tradition that started in 2007 as a canned food drive, and has grown to an annual one-day fundraising event. Harnessing the impact of more than 380 locations in seven states, every dollar raised has gone to an organization addressing a community's specific needs. Since 2007, Dutch Bros has raised more than $1.5 million to support those experiencing food insecurity through this fundraising event.
At its most recent Dutch Luv Day in 2020, Dutch Bros raised $483,346 for local nonprofits fighting hunger, which translates to more than 1.4 million meals—a new record for the company. "Each year, Dutch Bros steps up in a big way to support our efforts to connect people facing hunger with fresh, nutritious food," said Susannah Morgan, CEO of Oregon Food Bank. "It's strong community partnerships like these that are so critical to our shared mission to end hunger."
Since the outbreak of the COVID-19 pandemic, the Dutch Bros Foundation has committed $1 million to providing relief to individuals and families. In anticipation of increased unemployment and economic instability, the foundation has allocated funds to three community causes: emergency safety nets, food security, and service providers and first responders. Of that $1 million, the Foundation has allocated $400,000 to food security, due to the expectation that food insecurity will be an ongoing community need for the duration of the pandemic. The Foundation provides grants to food bank partners throughout the Dutch Bros footprint, with local franchisees and operators directing funds to ensure the critical needs of immediate communities can be met. The Dutch Bros Foundation also donated half of its commitment—$500,000—to the United Way's Safety Net fund in each of the seven states in which Dutch Bros operated at the beginning of the pandemic. This system focuses on maintaining households for the vulnerable, securing access to food, medical and dental services, and providing employment resources. The safety net dollars will reach recipients through various community foundation funds established to address COVID-19 impacts in their respective regions.
Building on these commitments, Dutch Bros also dedicated all profits from the month of April to support medical first responders and its communities. "We truly believe we're all better together. Giving back to our customers and neighbors is part of our DNA," said Travis Boersma, CEO of Dutch Bros. "We're so thankful to be able to support and serve our communities during this unprecedented situation." The funds went directly to First Responders First, an initiative that provides essential supplies and equipment to protect frontline healthcare workers and their patients. "First Responders First is a really amazing initiative making a huge difference right now. We're honored to help support this fund," continued Boersma. "We started this business not just to sell coffee, but to make an impact in positive ways." With the central mission of making a positive impact, Dutch Bros did not hesitate to take action when COVID-19 affected its local communities. In fact, the company made it clear that this pandemic could not break its spirit nor the spirit of its communities, and continued to "keep the Dutch Luv flowing."
---