How we expect leaders to communicate in crisis
Mon Aug 31 12:00:00 EDT 2020
To develop the skills you need to lead, drive change, and communicate it effectively, apply now for the Corporate Citizenship Leadership Academy. Early bird discount ends Sept 4!
The spring 2020 update of the Edelman Trust Barometer found that since January 2020 overall trust has increased, with the government experiencing record-setting high marks for trust in the 20-year history of the survey.
The study also revealed that the public's expectations for businesses to address the COVID-19 pandemic are high with 65% of respondents suggesting that corporate CEOs should lead relief and recovery and not wait for direction of government. At least half of all respondents in most regions believe that business is not doing enough. Of the five dimensions of response to the pandemic, the expectations were highest that companies would provide economic relief and support (50%), followed by help people cope (44%), get the country back to normal (37%) and contain the pandemic (34%).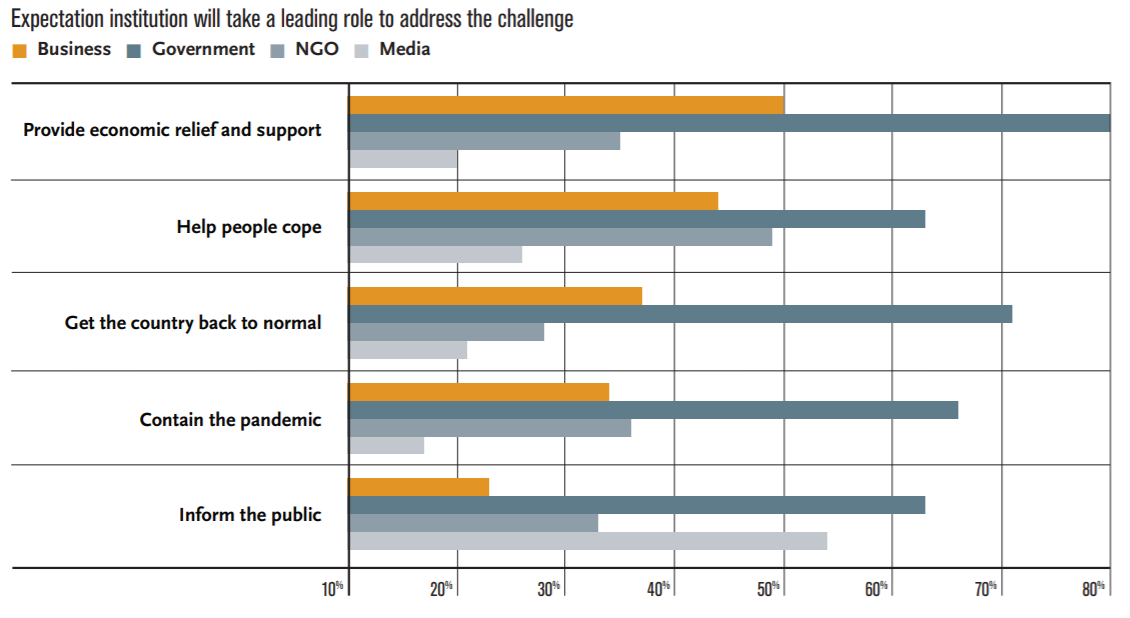 SOURCE: Edelman Trust Barometer 2020. Spring Update: Trust and the Covid-19 Pandemic. U.S. Findings. https://www.edelman.com/sites/g/files/aatuss191/files/2020-05/2020%20Edelman%20Trust%20Barometer%20Spring%20Update.pdf
Here are some examples of how chief executives of our member companies are leading corporate crisis response:
Providing economic relief and support
Half of respondents expect businesses to take a leading role in providing economic relief and support to those who have lost their jobs and helping small businesses survive until they can reopen.
"Our industry is designed to help people plan, prepare, and protect. We are unwavering in our commitment to our mission, and we plan to continue offering the peace of mind that life insurance can provide, at a time when people need comfort and security most. To help support customers during this fluid situation, we are waiving late fees, working with customers on reasonable repayment plans after the grace period and flexibly working on a case-by-case basis, and regarding the need to extend any contract deadline where appropriate."
Marianne Harrison, President and Chief Executive Officer, John Hancock1
"We are mobilizing across the company to address the broader societal and economic impact of the virus. To address the significant hardship that lost work creates for employees and families, we are paying our employees in our retail stores and our hourly service providers at impacted sites around the world their regular pay during this time regardless of hours worked. And we're providing relief funds for local communities, contributing financial support to those on the front line of the response and to impacted small businesses."
Satya Nadella, Chief Executive Officer, Microsoft2
Helping people cope
These companies are communicating corporate support for emerging vital needs, including food security. According to Edelman, nearly half of people expect businesses to take a leading role to help customers, employees, and society as a whole cope with the pandemic.
"At Hilton, we believe it is in challenging times that the power of hospitality is needed most of all. I want to personally share what we are doing here at Hilton to support our guests and their travel plans as the situation around novel coronavirus (COVID-19) continues to evolve. Whether you are traveling now or in the future, our Team Members are ready to welcome you with the Hilton hospitality you've come to expect."
Christopher J. Nassetta, President and Chief Executive Officer, Hilton3
"The most important thing to know right now is that everything we do starts with the health and safety of our teams and their families. However, the mission can't end there. We have an incredibly important role to play in this crisis and in our communities, providing food."
Mark Clouse, President and Chief Executive Officer, Campbell Soup Company4
Getting back to normal
Public expectation for developing guidelines for relaxing social distancing, for example, falls primarily on the government. Seventy-one percent expect the government to take a leading role compared to 37% assigning that role to business.
"Lowe's associates are working around the clock to ensure our customers, first responders and government officials have access to the essential products they need to keep their families safe, their businesses running and their communities healthy through this unprecedented time. You have my commitment that Lowe's will continue to do our part to serve you as we work together to overcome these trying times."
Marvin Ellison, President and Chief Executive Officer, Lowe's5
"At the center of our company's purpose is a commitment to help all families, and it's something we take to heart in good times and bad. This is why we'll be working hard to keep our stores open so we can be there to support you and your families. We remain committed to prioritizing our efforts to provide for guests' well-being so they can take care of themselves and their families during this unprecedented time."
Brian Cornell, Chairman and Chief Executive Officer, Target6
Containing the pandemic
Thirty-four percent of people expect businesses to take a leading role to address containing the pandemic, which entails developing treatments and a vaccine for COVID-19 and developing necessary policies to slow and control the spread of the virus.
"We are dealing with an extraordinary and unprecedented public health crisis that requires an incredible level of involvement and collaboration across government, society, and business. As a medicines company present in over 140 countries, we are stepping in to provide additional financial support to critical community or national programs that can help address urgent public health needs resulting from the COVID-19 pandemic."
Vas Narasimhan, Chief Executive Officer, Novartis7
"The companies involved in efforts to expand access to coronavirus testing, including BD, are here to support the U.S. effort to combat coronavirus as we have in other parts of the world. We are working around the clock internally and with external partners to increase the coronavirus diagnostic capacity in the U.S. by ramping up production of our sample collection tools and increasing access to our automated molecular platform for in vitro diagnostics."
Thomas Polen, Chief Executive Officer and President, BD8
This Member Spotlight is an excerpt from Issue 33 of the Corporate Citizen.
To develop the skills you need to lead, drive change, and communicate it effectively, apply now for the Corporate Citizenship Leadership Academy. Early bird discount ends Sept 4!
REFERENCES:
1 John Hancock Financial Services Inc. (2020). Marianne Harrison with a message regarding the novel coronavirus (COVID-19). John Hancock. https://www.johnhancock.com/john-hancock-coronavirus-update.html
2 Nadella, S. (2020, March 21). Coming together to combat COVID-19. LinkedIn. https://www.linkedin.com/pulse/coming-together-combatcovid-19-satya-nadella/
3 Hilton Worldwide. (2020, March). Hilton's Response to Novel Coronavirus (COVID-19). Linkedin. https://www.linkedin.com/pulse/hiltons-responsenovel-coronavirus-covid-19-chris-nassetta/
4 Campbell Soup Co. (2020, April). Our Response To COVID-19. Campbell Soup Co. https://www.campbellsoupcompany.com/newsroom/news/2020/04/02/our-response-to-covid-19/
5 Lowe's. (2020, March). Lowe's Commits $25 Million, Updates Operations in Response to COVID-19. Lowe's. https://corporate.lowes.com/newsroom/press-releases/lowes-commits-25-million-updates-operations-response-covid-19-03-20-20
6 Target Corporation. (2020, March). A Note to Our Guests About the Coronavirus from CEO Brian Cornell. Target. https://corporate.target.com/article/2020/03/target-coronavirus-update
7 Novartis Pharmaceuticals Corporation. (2020, March). Novartis Announces Broad Range Of Initiatives To Respond To Covid-19 Pandemic; Creates USD 20 Million Global Fund To Support Impacted Communities. Novartis. https://www.novartis.com/news/media-releases/novartis-announces-broad-range-initiatives-respond-covid-19-pandemic-creates-usd-20-million-global-fund-support-impacted-communities
8 BD. (2020, March). BD Statement on White House Meeting on COVID-19 Testing. BD. https://investors.bd.com/news-releases/news-release-details/bd-statement-white-house-meeting-covid-19-testing