Sanofi embraces supplier diversity as a business imperative
Wed Jun 19 07:30:37 EDT 2013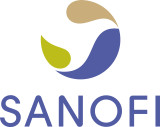 Maintaining strong relationships with suppliers is an important way to ensure corporate citizenship is integrated throughout a company's operations. Corporations can be held accountable for their supply chains, and thus, should select and manage suppliers carefully. Sanofi, a diversified health care provider, is dedicated to developing a diverse supplier base that brings value to the business as well as the communities in which it operates. This priority led to the development of the Supplier Diversity Initiative at Sanofi. Kathleen Castore, Head of Supplier Diversity & Sustainability, recently shared some concrete advice and insights into Sanofi's Supplier Diversity Initiative.
What is the history behind this initiative? How and why did Sanofi decide to develop its Supplier Diversity Initiative?
I think we should first define supplier diversity. Supplier diversity is the active and intentional effort of a company to include small and diverse businesses in their procurement of goods and services. For most companies, a supplier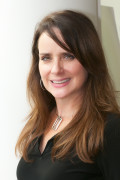 diversity initiative develops over time. Its origins at most companies begin from a compliance-driven perspective. Many companies have contracts with the federal government or other entities that require the utilization of small, women-owned, minority-owned, veteran, and service-disabled veteran businesses, to name a few of the classifications, in the sourcing process. Often there is a subcontracting plan or goals surrounding the efforts that must be reported in order to keep those contracts, as well as to be eligible for ongoing new contracting opportunities.
However, at Sanofi, we recognize not just our obligations as government contractors, but we understand the business case around supplier diversity, so if even we didn't "have" to be compliant, Sanofi has the mindset that supplier diversity is a business imperative. It is a business process that we aspire to integrate into our regular business operations, whereby we seek to create a supplier base that mirrors the diversity of the various communities where Sanofi operates and is reflective of our customers, patients, workforce, and marketplace. Our diversity in thought and experiences is necessary to get different perspectives which lead to the development of innovative solutions from our suppliers. With the current shift in national demographics and more than one-third of the current U. S. population being ethnic minorities, we also recognize that suppliers are current and future Sanofi customers and patients.
What departments are involved in the process? How is the program executed?
The key driver of the Supplier Diversity Initiative resides within North America Procurement and with the business partners the department serves throughout the organization. The buyers of goods and services have a set of policies and processes when going out to bid that requires the inclusion of small and diverse suppliers. With these policies in place, we can ensure that we give these suppliers maximum practical opportunity to be included in current (or future) requests for proposals. However, here at Sanofi our culture is to develop diversity in all areas of our business, so procurement also works closely with the Diversity & Inclusion Department, as well as the Corporate Social Responsibility Department, headed by John Spinnato. He explains that "The Supplier Diversity Initiative is part of the ethical responsibility we have here at Sanofi, and as a large corporation we are committed to supporting the economic development of small and diverse businesses in our communities."
How do you find diverse suppliers to do business with and how does Sanofi develop and sustain those relationships?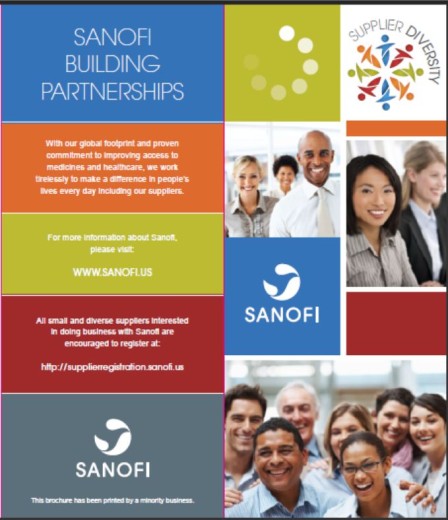 Outreach is a critical component for Sanofi in locating potential suppliers, so Sanofi attends numerous events across the country where procurement staff attends as a subject matter expert in their commodity area. At these events we meet with potential suppliers that might be a fit at some point in our supply chain or services. This is also an effective way to meet with current suppliers and capacity-build on other offerings they provide, and to build stronger relationships by meeting in person. Sanofi is also very involved with numerous nonprofit advocacy groups, such as the Women's Business Enterprise National Council and the National Supplier Development Council, that service the various classifications and we regularly meet with local suppliers at quarterly meetings or conferences. One key is building relationships from both the corporate and supplier side. The more Sanofi gets to know suppliers, the more we can help them to navigate the infrastructure of a large purchasing organization.
Formal and informal mentoring programs are also a very significant way that we promote the training and development of small and diverse businesses. We go into it as something that helps the supplier, but often find that the mentoring programs help the mentor just as much. To this day, we have sustained relationships with suppliers that we mentored previously.
How was senior management "buy-in" procured? How are employees involved in the initiative?
When I first started in my position, I have to be honest, it was really a bottom-up process, and we were at the ground floor. Supplier diversity was relatively new to me and the Sanofi organization and it was a bit of a challenge as it was something that many were not aware of. As Sanofi progressed into a diversified health care company, things started to change more. We recognize diversity as a serious business driver in all matters within the company and that helps in the awareness and messaging of the Supplier Diversity Initiative. It is great to see fellow employees get excited when they know they have input into the supplier selection process. It seems that the more employees know about the initiative, the more exciting it gets. They feel a great pride in being able to support it. Awareness is key.
Senior management has been instrumental in supporting and understanding the importance of the initiative. Christophe Cailleaud, Vice President, Head of North America Procurement feels that "supplier diversity is a proactive approach and integral part of our strategic sourcing process at Sanofi, as we recognize the value of developing and utilizing a diverse supply base. Diverse suppliers provide us with great opportunity for innovative solutions, cost savings, quality service, and continued economic stimulus." Christophe has helped drive this across the enterprise so we have a top-down/bottom-up approach that drives the message that we all have currency and ownership in this initiative.
What are some of the benefits of integrating diversity throughout Sanofi's business practices? What were some of the challenges in this process?
Some of the benefits to our organization are:
Increase in opportunities for Sanofi to buy locally, regionally, and/or nationally to ensure a good source of supply
Enhancement of community relations and promotion of a positive image of Sanofi as a good corporate citizen
Encouragement of economic development
Opportunity to access greater flexibility and personalized service from small businesses
A competitive edge in securing government procurement opportunities that require subcontracting plan objectives, such as for: small, woman-owned, small disadvantaged, HUBZone, veteran-owned, service-disabled veteran-owned businesses
Diversity strengthens supplier relationships, drives innovation, reduces cost and generates savings
Increased supply chain competitiveness
One of the challenges working with such a large organization is the site disconnectedness. It does get difficult working across so many sites at times, and so many commodity areas. But this challenge also becomes the reason we have to try harder, work smarter and keep it as a priority.
What were some of the best practices or lessons learned from the initiative?
Lessons learned are twofold. First, Sanofi is committed for the long term to the Supplier Diversity Initiative and the impact it has on our business. We will continue to broaden the small and diverse supplier pool and reach for continuous improvements in the program. Second, we still have a ways to go, but we will keep reaching to become a best-in-class in supplier diversity not just in health care but in industry. Sanofi will continue to promote training and development of small and diverse suppliers, expand the supply base in hard to get areas and increase external and internal awareness in a way that leads to productivity and value-added business results.