Deepen Employee Engagement with Corporate Citizenship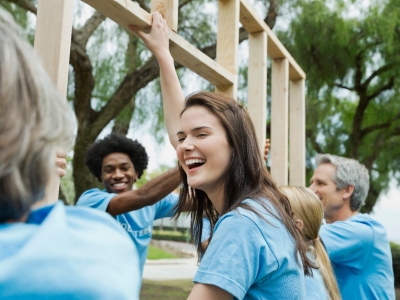 Effective corporate citizenship yields many benefits: greater productivity, improved reputation, increased employee retention, and lower cost of recruiting. Meanwhile, a recent Gallup study found 87% of workers globally are disengaged, and estimates that actively disengaged employees cost U.S. businesses $450–$550 billion per year in productivity losses. Corporate citizenship initiatives, especially volunteer and giving programs, have the potential to increase engagement. This course explores strategies and leading practices for designing CSR programs that improve employee engagement. Take it to learn:
The business value of employee engagement.
How corporate citizenship efforts encourage employee engagement.
Strategies for creating and deepening engagement.
Engagement tactics to connect with senior leadership, managers, and employees.
Tools for rewarding employee participation in corporate citizenship programs and measuring engagement.
Enrollment Options | Where & When You Can Take This Course

Take This Course Online, Starting Today (Or Whenever You're Ready)

This course is available in a fully-online, self-paced format. You can complete it at your desk, according to your schedule. Continue reading below for course content details, then use this button to enroll.

Take This Course In person, At the Fall 2023 Summit

This course may be offered at the 2023 Fall Summit, happening in Charlotte, NC, October 2-6, 2023. Learn more about the Summit as an in-person learning opportunity for this course (and others), by clicking below.

Request Help Deciding on the Format that's best for You

Options can be a wonderful thing... But sometimes you need more information to weigh them against one another. If you'd like to discuss how best to achieve your goals with this course and/or a CSR certification, please reach out.
Course Content: Preview the Specific Units or Modules Included in This Course
COURSE STRUCTURE
Start and finish on your schedule: Courses take 15-17 hours, including video content and exercises.
Module 1: Basics of Employee Engagement
Introduction to employee engagement: current research and the connection between corporate citizenship and employee engagement
Activity: Reflect on current engagement, observable behaviors, and brainstorm ways to improve
Module 2: Vision and Planning for Success
Create a big picture vision for success in employee engagement
Activity: Create your 2025 headlines
Module 3: Your Employee Engagement Plan
Review company examples and ideas to build your own employee engagement plan
Activity: Draft an employee engagement map
Module 4: Culture of Engagement
"Diagnose" your current corporate culture and determine how to best support increased engagement within that culture
Activity: Diagnose your corporate culture
Module 5: Functional, Social, and Emotional Jobs to be Done
Describe how to address individuals in your company to put your engagement ideas into practice
Activity: Identify the value of programs for different employee segments
Module 6: Motivation and Rewards
Explore the development and motivation of employees
Activity: Discuss employee motivation and identify the benefits and values they provide to properly reward participation
Module 7: Communicate with Employees
Plan and develop your employee engagement messages
Activity: Address hard to reach employees, apply principles of persuasion, and identify sticky messages
Module 8: Ambassadors and Networks
Identify how change happens and how ambassadors can help you create a more engaged workforce
Activity: Reflect on change and create a network diagram for your organization
Module 9: Metrics & Measurement
Examine how to measure progress towards an engaged workforce using the logic model
Activity: Measure your engagement
Module 10: Final Engagement Map
Update your employee engagement map and plan your next steps
Activity: Edit your engagement map and plan for success
This course is recommended for:

HR professionals responsible for measuring and improving engagement; those wanting to increase participation in community involvement programs; those seeking to get higher employee engagement numbers; corporate citizenship professionals responsible for employee volunteer programs, Green Teams, and/or communicating with employees; corporate citizenship professionals developing or refreshing their company's CSR strategy; and other professionals engaging with employees in the design, development, and evaluation of corporate citizenship programs.
Suggested prior knowledge and skills:

Completion of a Center course including Corporate Citizenship Strategy or Corporate Citizenship Communications.
Professional credentials earned:
5 certificate units toward a Certificate in Corporate Citizenship Practice. This is an elective course for a Certificate in Corporate Citizenship Practice.
Tuition
» Member: $2130.00
» Non-Member: $2900.00
Please note that course discounts may be available when you enroll in multiple courses at once, either idependently or as part of a Summit (in-person learning experience) registration. See the chart below. If you are considering take multiple courses, connect with our team to better understand your options.

Interested in Taking This Course Online?
Register to begin the self-paced, online course.
Register Here