Deepen Employee Engagement with Corporate Citizenship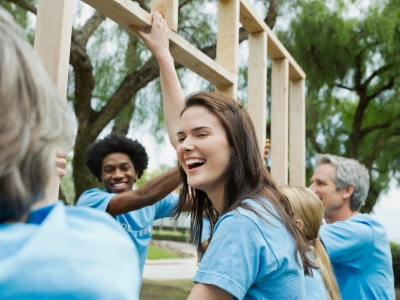 By engaging employees in corporate citizenship, your company can derive a variety of benefits, including: greater productivity, improved reputation, increased employee retention, and lower cost of recruiting. A recent Gallup study found that 70 percent of U.S. employees are disengaged at work (87 percent of workers globally), and estimates that actively disengaged employees cost U.S. businesses $450–$550 billion per year in productivity losses. Corporate citizenship initiatives, especially volunteer and giving programs, have the potential to increase engagement. This course explores strategies, tools, and leading practices for designing your corporate citizenship with the objective of improving employee engagement.
Course Offerings
Accelerated Certificate Summit: Fall 2020
Take this course as part of an accelerated program to earn your Certificate in Corporate Citizenship Practice, combining the best aspects of self-paced online courses, live learning, and networking opportunities.
Certificate in Corporate Citizenship Practice
This is an elective course to earn your Certificate in Corporate Citizenship Practice, which can help you develop in-depth knowledge, practical skills, and useful tools to implement innovative corporate citizenship programs.
Join us and learn:
> The business value of employee engagement.
> How corporate citizenship efforts encourage employee engagement.
> Strategies for creating and deepening engagement.
> Engagement tactics to connect with senior leadership, managers, and employees.
> Tools for rewarding employee participation in corporate citizenship programs and measuring engagement.
This course is for:
HR professionals responsible for measuring and improving engagement; those wanting to increase participation in community involvement programs; those seeking to get higher employee engagement numbers; corporate citizenship professionals responsible for employee volunteer programs, Green Teams, and/or communicating with employees; corporate citizenship professionals developing or refreshing their company's CSR strategy; and other professionals engaging with employees in the design, development, and evaluation of corporate citizenship programs.
Is your company a member? Corporate members SAVE an average of 20% on Executive Education offerings.
Suggested prior knowledge and skills:
Professional credentials earned:
5 certificate units toward a Certificate in Corporate Citizenship Practice and 1.2 Continuing Education Units (CEUs). This is an elective course for a Certificate in Corporate Citizenship Practice.
Tuition
Member: $2130.00
Non-Member: $2900.00
Enroll early for discounted rates! See Upcoming Offerings above for deadlines per course.
Related Bootcamps
Need to master a new skill? Short on time and budget? Bootcamps are 2.5-hour power sessions that include personalized expert instruction and interaction with corporate citizenship peers in a virtual classroom environment. Just $400/members and $500/non-members, with early bird discounts available!