Health Equity Equals Stronger Communities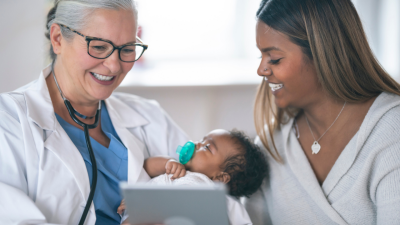 In environmental, social, and governance (ESG) efforts, it is more important than ever for companies to choose issues that they can address with core capabilities and resources. Because of the increased level of scrutiny that the business community now receives, the alignment of corporate citizenship investments with business strategy needs to be clear.
According to BCCCC's latest research study, State of Corporate Citizenship 2022, a significant majority (nearly 70%) of executives report success in achieving business objectives when corporate citizenship is integrated with overall business strategy. This dynamic plays out strongly in health-related industries, where companies often tie the health and wellness of society to business success.
The following is an excerpt from the State of Corporate Citizenship 2022 study, which is exclusive to members of the Boston College Center for Corporate Citizenship. Is your company a member? Learn more about companywide membership here.
Blue Cross and Blue Shield of North Carolina's (Blue Cross NC) mission to build a healthier North Carolina goes far beyond health insurance. The company is committed to putting diversity, equity, and inclusion at the heart of everything it does, including corporate citizen-ship. With this strong focus, Blue Cross NC's corporate citizenship efforts aim to address systemic racism head-on in collaboration with community organizations to address social determinants of health that cause health inequity.
Blue Cross NC's community engagement and diversity initiatives address inequities in health care that result in social, economic, and health disparities for marginalized communities. "No community can truly be healthy until racism no longer exists," the company said in a statement following the deaths of George Floyd, Ahmaud Arbery, Breonna Taylor, and many other people of color to police violence in 2020.
The insurer's recent efforts focus on three critical areas that will make the biggest health impact for people of color: behavioral health, maternal and infant health, and nonprofits led by and serving people of color. Through these initiatives, Blue Cross NC is supporting nonprofit organizations and health entities that are addressing and improving health outcomes for Black, Hispanic, American Indian, rural, and other underserved and marginalized communities.
"We're investing in and working with our state's network of nonprofits to help more North Carolinians start healthy and stay healthy," says Cheryl Parquet, director, community engagement and marketing activation for Blue Cross NC. "We're helping to provide access to the basics: safe housing, healthy food, quality education, and affordable health care—as well as reliable transportation to get to work, school, and medical care."
In this spirit, the company's community engagement team uses strategic funding to identify grants and volunteer opportunities that focus on drivers of health, non-medical factors that have a profound impact on health. For its specific region, Blue Cross NC has homed in on access to care, education, safe housing, early childhood, and food security as primary health drivers. For example, to address food security, Blue Cross NC invests in food banks and meal distributions, offers nutrition education, and supports local farm-to-table initiatives. These efforts have become even more crucial since the COVID-19 pandemic disrupted the food system. In 2020, Blue Cross NC donated 4.7 million meals across North Carolina to those in need of access to fresh, healthy food.
Blue Cross NC understands that many of the communities hit hardest by health disparities are communities of color. With this in mind, Blue Cross NC's Strengthen NC: Champions for Change program intentionally invests in building the capacity of organizations led by or serving historically underrepresented communities and people of color, especially to address inequalities in maternal health and/or behavioral health. Ten organizations selected for the program benefit from up to $50,000 per year in unrestricted grant funding for up to two years; pro bono consulting, mentorship, and workshops with experts; and access to each other's support through a cohort-based model.
Blue Cross NC also takes a location-based approach by including rural communities in its corporate citizenship efforts, which are especially impactful given the approximate 40% of North Carolinians who live in rural counties. With a special focus on key drivers of health —including community safety and social connectedness—Blue Cross NC is committed to investing $8 million improving the health and well-being in these communities.
Through these efforts and more, Blue Cross NC is promoting health equity in the communities that need it most—using drivers of health as a guide for impact.
This has been an excerpt from the State of Corporate Citizenship 2022 study, which is exclusive to members of the Boston College Center for Corporate Citizenship. Is your company a member? Learn more about companywide membership here.