It's ESG Report Season | Updates from BCCCC Member Companies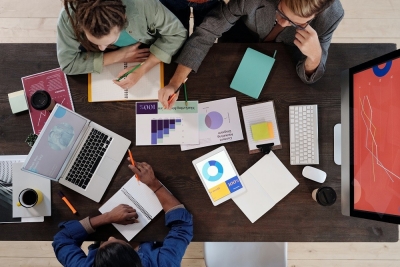 Featured this week: Jesenia Hernandez, Zendesk; Priscila Brueggemann, Sandra Dorsey, April Huynh, Carlee McCracken, Dalen McWilliams, Helene R. Siesel, Kayla Sturgeon, Jessica Ulmer, Fallon Watts, SAIC; AvalonBay; Crowe; Desert Financial Credit Union, Kyndryl; Lam Research; Loomis Sayles; Moody's; Nestlé USA; Onsemi; Palo Alto Networks; Prudential; RGA Reinsurance Company; Tanger Outlets; Verizon; Western Digital; Zendesk; Ancestry; Catalent; Nutrien; Synopsis; Cigna; KeyBank; Kiddie Academy; Old National Bancorp; Echo Global Logistics; Cedars-Sinai Medical Center, Fidelity Investments, Verizon
The member community convened by the Boston College Center for Corporate Citizenship is one of a kind. The 500+ companies we serve each year around the globe are leaders in environmental, social, and governance action, and the thousands of individuals who make up this network are some of the best in the field!
Members: Would you like your company to be featured in future posts? Fill out this Member News Form.
WAR IN UKRAINE: We are updating the blog post How Companies Are Responding to the War in Ukraine: A Roundup with the latest responses from our member companies.
Here is how our members have been working to build better business and a better world:
Spotlight on You
Jesenia Hernandez has been promoted to Diverse Talent Community, Senior Coordinator at Zendesk. "So grateful to work at a company that values and prioritizes internal growth and professional development," said Hernandez.
SAIC recognized nine leaders to celebrate Women's History Month. Their accomplishments were celebrated as part of this year's theme #BreakTheBias, as these leaders make important strides toward a world that is more equitable among colleagues and across communities.

· Priscila Brueggemann, Intelligence Analysis Manager, National Security and Space Sector
· Sandra Dorsey, Cyber Governance, Risk and Compliance Manager / Audit Manager, Defense and Civilian Sector
· April Huynh, Marketing Research Analyst / Deputy Program Manager, Strategy and Sales Enablement
· Carlee McCracken, Executive Assistant, Strategy and Sales Enablement
· Dalen McWilliams, Diversity, Equity and Inclusion Analyst / Co-Lead, Connect and Grow Employee Resource Group
· Helene R. Siesel, Senior Program Analyst / Project Manager, Naval Business Unit, Defense and Civilian Sector
· Kayla Sturgeon, Senior Cybersecurity Operations Analyst, U.S. Army Space and Missile Defense Command and Strategic Systems, Defense and Civilian Sector
· Jessica Ulmer, Senior Instructional Systems Designer, Enterprise Solutions and Operations / Leadership Team Member, Accessibility Employee Resource Group
· Fallon Watts, Systems Support III, Department of Defense Composite Health Care System, Defense and Civilian Sector
Member Job Postings
Apollo Global Management
New York, NY
Citizenship & Foundation Program Manager
AvalonBay Communities
Arlington, VA
Diversity Recruiting Director
Boston College Center for Corporate Citizenship
Chestnut Hill, MA
Assistant Director, Member Recruitment
Fiscal Specialist
Crowe
Various Locations
ESG Internal Audit Manager
Desert Financial Credit Union
Phoenix, AZ
Community Development Events Program Manager
Kyndryl
Multiple Locations
Various CSR Roles
Lam Research Corporation
Oregon / Remote
Senior Manager, ESG
Moody's
Various Locations
Manager, Volunteer Programs
Morgan Stanley
New York, NY
Community Affairs Operations Associate
Community Affairs Engagement Associate
Nestlé USA
Arlington, VA
Sr. Manager, Community Affairs
Onsemi
Phoenix, AZ / Remote
Senior Director, Sustainability, Environmental Social and Governance Senior Manager, Corporate Social Responsibility
Palo Alto Networks
Santa Clara, CA
Social Impact Program Manager
Prudential
Various Locations
Communications Director

RGA Reinsurance Company
Chesterfield, MO
ESG Specialist – Sustainability
Tanger Outlets
Fully Remote or Hybrid
Director, Energy & Sustainability
Verizon
Basking Ridge, NJ
Social Innovation Manager- Climate Equity
Zendesk
United States (Remote)
Sustainability Director
Member Companies in the News
COMPANIES TAKE ACTION ON UKRAINE: We are updating the blog post How Companies Are Responding to the War in Ukraine: A Roundup with the latest responses from our member companies. Here's more of the latest member news:
Congratulations to the members who released annual reports covering the environmental, social, and governance (ESG) aspects of business. Read more here:
· Ancestry has published its first 2021 Impact Report. The inaugural impact report illustrates how the company is making strides to build a more inclusive culture and product experience to grow its global customer base, so everyone can learn more about their family history.
· Catalent has published its third annual Corporate Responsibility (CR) Report for its most recent fiscal year. The fiscal 2021 report details Catalent's approaches and achievements in innovation, quality, supply chain responsibility, environmental sustainability, talent, and enhancing its relationship with its communities; as well as charting its performance relative to the standards set by SASB and TCFD.
· Nutrien Ltd. released its 2022 Environment, Social and Governance Report which captures a year of focused action in the pursuit of Nutrien's 2030 sustainability commitments and supporting initiatives. The report highlighted many of Nutrien's achievements in 2022, including $50 million in investments for Scope 1 emissions reduction projects that are expected to reduce CO2 equivalent emissions by 1 million tonnes by the end of 2023.
· Synopsis has released its 2021 Corporate Social Responsibility Report, which covers the company's ESG performance for fiscal year 2021. The company's Smart Future CSR strategy provides a framework for how Synopsis manages operational impact.
Cigna Foundation has prioritized support for Maine's LGBTQ+ youth through its recent grant to OUT Maine. The grant will provide resources to Gay/Straight/Trans Alliances in schools throughout the state, which are clubs that provide a range of support for LGBTQ+ youth—from critical safe spaces to gatherings where youth can collaborate on school climate-changing initiatives such as education for students and faculty.
KeyBank Foundation announced that it is donating $150,000 to help Move to Prosper's (MTP) mission with providing single-woman families with housing opportunities around Columbus, OH. KeyBank previously supported MTP's 10-family pilot program with a grant in 2018. The grant will impact 100 families with young children for the next three years, providing them housing in high opportunity neighborhoods.
Kiddie Academy announced plans to host STEM Adventures, a free community event promoting science, technology, engineering and math exploration through interactive activities, at more than 115 of their Educational Child Care locations nationwide. Participating Academies will focus on a "movement" theme, with activities like making flying paper airplanes, participating in a bouncing ball rodeo or making a ping pong ball launcher.
Old National Bancorp announced a $8.3 billion Community Growth Plan that builds on its long-standing commitment to support historically underserved and economically disadvantaged individuals, families and communities throughout its footprint, in collaboration with the National Community Reinvestment Coalition. The Plan includes nearly $5 billion in community lending and affordable housing commitments to underserved and low-to-moderate income (LMI) borrowers and another $3.3 billion in community development initiatives and philanthropic programs in LMI and majority-minority neighborhoods over a five-year period.

Members on the Move
This week, we proudly welcome new member Echo Global Logistics! Learn more about joining them, along with more than 10,000 professionals in the Boston College Center for Corporate Citizenship member community: Member Benefits.
Members from Cedars-Sinai Medical Center, Fidelity Investments, Verizon, and more registered this week to attend the IN-PERSON International Corporate Citizenship Conference 2022 taking place in Boston on April 24-25. You can join them to learn and network with hundreds of professionals in the CSR field: There's still time to register.