Movers, Shakers & Impact Makers: Volunteering with skills to support diverse small business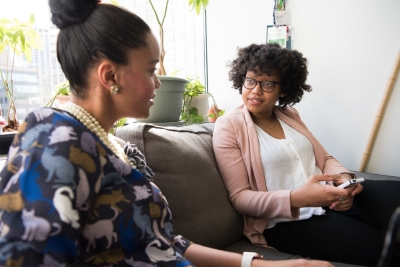 The member community convened by Boston College Center for Corporate Citizenship is one of a kind. The 500+ companies we serve each year around the globe are leaders in environmental, social, and governance action, and the thousands of individuals who make up this network are some of the best in the field!
---
Featured this week: Tara Copas, PSEG; Rick Thigpen, PSEG; Adobe; Blue Cross Blue Shield of Massachusetts; JetBlue; JP Morgan Chase; Loomis, Sayles & Company; Microsoft; TransUnion; Walgreens; Alliance Data; Texas Health Resources; General Mills; Merck; Target; Trane Technologies; Wells Fargo; Arranta Bio; Blue Cross Blue Shield Association; Coastal Community Bank; NIPSCO
---
Members: Would you like your company to be featured in future posts? Fill out this Member News Form.
Here is how our members have been working to build better business and a better world:
Spotlight on You
Congratulations to Tara Copas, who was recently hired as the Assistant Manager- Energy and Sustainability at CBRE!
Rick Thigpen, senior vice president of corporate citizenship at PSEG, recently sat down with THIRTEEN to discuss the importance of equity and social justice in New Jersey. "It's really a privilege for public service to be involved in talking about equity and social justice in New Jersey," said Thigpen. "It's going to make our future brighter, and it's going to remind everybody that our future will be brighter together."
Adobe
San Francisco, CA
Sustainability and Social Impact Lead
Blue Cross Blue Shield of Massachusetts (Just added!)
Boston, MA
Sustainability & Environmental Health Lead
Boston College Center for Corporate Citizenship
Chestnut Hill, MA
Manager, Digital Communications
JPMorgan Chase
Washington D.C.
Corporate Responsibility- Grants Associate
JPMorgan Chase
San Francisco, CA
Corporate Responsibility, Global Philanthropy- Senior Program Associate
Loomis, Sayles & Company
Boston, MA
Community Investments Manager
Microsoft (Just added!)
Redmond, WA
Global Sustainability Policy Lead
TransUnion
Chicago, IL
Senior Consultant, Social Impact Communications
Walgreens (Just added!)
Deerfield, IL
Senior Manager, CSR Data Management
Member Companies in the News
Congratulations to the members who have released social impact and sustainability reports recently:
Alliance Data released its 2020 Environmental, Social and Governance (ESG) Performance Report, which showcases progress made against three-year sustainability goals set in 2017, and key findings from its second stakeholder perception survey, or materiality assessment, which will guide the next phase of Alliance Data's evolving ESG strategy.
Texas Health Resources has published its 2020 Social Purpose Report, which provides a high-level overview of the health system's key social responsibility programs, commitments, and goals, as well as outlines progress being made to enhance its workplace, environment of care, and community.
General Mills' Good Works pro bono volunteer program recently partnered with Handson Twin Cities to help Maazah Chutney, a small business owned by Afghan sisters, develop a more robust marketing strategy and help grow their business online. Maazah is one of eight small businesses in the Twin Cities that participated in the GoodWorks program. This latest round of the program gave General Mills employees an opportunity to use their knowledge and skills to provide one-on-one consulting services to help local BIPOC-owned small businesses and nonprofits that were impacted by the COVID-19 pandemic.
Merck announced the creation of the Kenneth C. Frazier Award for Maternal Health Equity, a grant award that will be bestowed annually to one organization in recognition of its commitment to and progress toward more equitable, high-quality maternal health care. The award will be granted by Merck for Mothers, Merck's global initiative to help create a world where no woman has to die while giving life. The award is named in recognition of the legacy and commitment to maternal health by Kenneth C. Frazier, departing chairman and chief executive officer of Merck.
Target announced its new sustainability strategy, Target Forward, a vision to co-create a more equitable and regenerative future with its guests, partners, and communities. Target has organized its efforts around three key ambitions: designing and elevating sustainable brands; innovating to eliminate waste; and accelerating opportunity and equity. Target Forward aims to put the company's business to use to positively impact both people and the planet, intended to influence every corner of Target's business, deepen its collaboration with its partners, and build on past efforts.
Trane Technologies announced the launch of Sustainable Futures, a multiyear strategy to expand underrepresented students' access to science, technology, engineering and math (STEM) education, support healthy classrooms, and promote skill-building for green careers. As part of its 2030 Sustainability Commitments, the company is also committing $100 million and 500,000 volunteer hours to the effort by 2030.
Opportunity Finance Network (OFN) announced that Wells Fargo is committing a $25 million grant to its Finance Justice Fund to help tackle systemic barriers to capital in communities around the country, the largest grant in its 35-year history. Managed by Opportunity Finance Network, the Finance Justice Fund aims to address the racial wealth gap and persistent poverty by delivering financing through community development financial institutions (CDFIs) to Black, Latinx, Native, rural, and other communities with less access to traditional financial services.
Members on the Move
Welcome to new members Arranta Bio, Blue Cross Blue Shield Association, Coastal Community Bank, and NIPSCO! Learn more about joining them, along with more than 10,000 professionals in the Boston College Center for Corporate Citizenship member community: Member Benefits.