Movers, Shakers & Impact Makers: Virtual Gatherings, Tangible Takeaways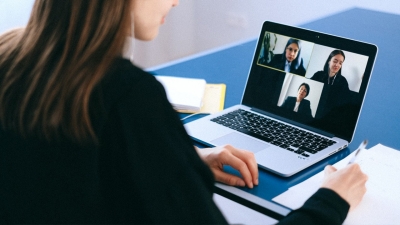 The member community convened by Boston College Center for Corporate Citizenship is one of a kind. The 500+ companies we serve each year around the globe are leaders in environmental, social, and governance action, and the thousands of individuals who make up this network are some of the best in the field!
---
Featured this week: Monica Caudillo, LyondellBasell; Bank of the West; Desert Financial Credit Union; HITT Contracting; Palo Alto Networks; Verizon; Yum! Brands Inc.; BBVA USA; Citrix; CoBank; USAA; Vertex; Wells Fargo; Dominion Energy; Kohler; Robert Half; Toyota
---
Members: Would you like your company to be featured in future posts? Fill out this Member News Form.
Here is how our members have been working to build better business and a better world:
Spotlight on You
Monica Caudillo, communication associate advisor, corporate relations at LyondellBasell is excited for the upcoming International Corporate Citizenship Conference, and shared her complimentary event survival kit on LinkedIn. "Looking forward to attending the Boston College Center for Corporate Citizenship 2021 International Corporate Citizenship Conference virtually," said Caudillo. Join her and 600 CSR professionals on April 26-28!
Job Postings
Bank of the West
Denver, CO
Senior CSR Regional Officer
Desert Financial Credit Union
Phoenix, AZ
Vice President, Executive Director of Desert Financial Foundation
HITT Contracting
Falls Church, VA
DE&I, Corporate Social Responsibility and Policy Specialist
Nasdaq
New York, NY
Senior Director, Environmental, Social and Governance Manager
Palo Alto Networks
Santa Clara, CA
Senior Program Manager, Environmental Sustainability
Regeneron
Tarrytown, NY
Senior Manager, Environmental Sustainability
USAA
San Antonio, TX
VP, Diversity and Inclusion
Verizon
Basking Ridge, NJ
Senior Analyst, Corporate Social Responsibility
Yum! Brands, Inc.
Louisville, KY
Social Purpose & Communications Manager
Member Companies in the News
BBVA USA hosted its third annual Financial Education Forum, a virtual event designed to provide insight on the state of financial health in the U.S., as part of its ongoing commitment to financial education. BBVA also released its 2020 Impact Report, published by the Center for Financial Education, which demonstrates the effectiveness of the bank's financial education program and its clear alignment with current financial trends in the U.S. At the event, experts from the field noted that, despite improvements, Black Americans, women, and people with low incomes are bearing the brunt of the COVID-19 crisis and that financial health disparities continue to widen by both race and income.
Citrix announced last year a six-figure partnership with United Negro College Fund (UNCF). For more than seven decades, UNCF has raised more than $5 billion and helped more than 500,000 students to not just attend college, but thrive, graduate, and become leaders. The Citrix scholarship application is now live on the UNCF website, and the company's goal is to award 50 scholarships for students at HBCU's this year.
CoBank launched its annual Sharing Success program, a $4 million fund that is a cornerstone of CoBank's corporate citizenship efforts, matching donations by the bank's cooperative and other eligible customers to nonprofit organizations in their communities. Since Sharing Success was established in 2012, CoBank and its customers have together contributed more than $56 million to groups such as volunteer fire departments, local schools, and hunger relief programs.
USAA has announced its first new philanthropic commitment of 2021 with $1.1 million going to AAPI nonprofit organizations, as attacks on the Asian American Pacific Islander (AAPI) community have risen to alarming levels in the U.S. and across the globe. This gift in support of the AAPI community, is aligned with USAA's 3-year, $50 million commitment to advance racial equality.
Vertex recently published its 2020 Corporate Responsibility Report, outlining how the company remained steadfast in its mission to innovate and deliver transformative medicines. Vertex remains equally committed to supporting its talented workforce and communities. From responding to the pandemic, building upon its longstanding commitment to inclusion, diversity, and equity (ID&E), practicing environmental responsibility, and adhering to sustainability best practices in its operations, Vertex outlines its 2020 achievements in the new report.
Wells Fargo has invested in five additional Black-owned banks, bringing up its total to 11 Minority Depository Institutions in 2021 as part of a $50 million pledge and a commitment to foster economic growth in Black and African American communities. As part of the equity capital investment, Wells Fargo is also offering access to a dedicated relationship team that can work with each MDI on financial, technological, and product development strategies to help each institution strengthen and grow.
Members on the Move
Welcome to new member Dominion Energy! Learn more about joining them, along with more than 10,000 professionals in the Boston College Center for Corporate Citizenship member community: Member Benefits
Attendees from Kohler, Robert Half, Toyota, and more have registered to attend the all-virtual International Corporate Citizenship Conference on April 26-28, 2021. Learn more about the conference.