Movers, Shakers & Impact Makers: Exceeding expectations in ESG goals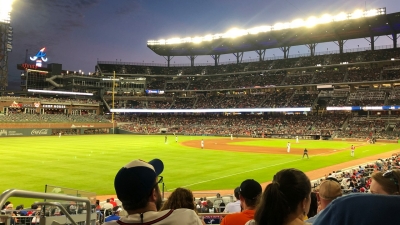 The member community convened by Boston College Center for Corporate Citizenship is one of a kind. The 500+ companies we serve each year around the globe are leaders in environmental, social, and governance action, and the thousands of individuals who make up this network are some of the best in the field!
---
Featured this week: Rita Brooks, Kerrie Ford, Natasha Hansen, Jacqueline Hurley, Janelle Varlas, and Penney Vernieri, SAIC; Bank of the West; Desert Financial Credit Union; HITT Contracting; Palo Alto Networks; Verizon; Yum! Brands Inc.; CFA Institute; Fifth Third Bank; Major League Baseball; Marsh McLennan; Raytheon Technologies; Affiliated Managers Group (AMG); LendingTree; BJ's Wholesale Club; Blue Shield of California; Takeda Pharmaceuticals
---
Members: Would you like your company to be featured in future posts? Fill out this Member News Form.
Here is how our members have been working to build better business and a better world:
Spotlight on You
SAIC is spotlighting the remarkable contributions of the women at SAIC to close out Women's History Month. The company recognized the following employees who #ChooseToChallenge every day by being leaders at work, at home, and in their communities:
Job Postings
Bank of the West
Denver, CO
Senior CSR Regional Officer
Desert Financial Credit Union
Phoenix, AZ
Vice President, Executive Director of Desert Financial Foundation
HITT Contracting
Falls Church, VA
DE&I, Corporate Social Responsibility and Policy Specialist
Nasdaq
New York, NY
Senior Director, Environmental, Social and Governance Manager
Palo Alto Networks
Santa Clara, CA
Senior Program Manager, Environmental Sustainability
Regeneron
Tarrytown, NY
Senior Manager, Environmental Sustainability
USAA
San Antonio, TX
VP, Diversity and Inclusion
Verizon (Just Added!)
Basking Ridge, NJ
Senior Analyst, Corporate Social Responsibility
Yum! Brands, Inc.
Louisville, KY
Social Purpose & Communications Manager
Member Companies in the News
CFA Institute's new report, Future of Sustainability in Investment Management: From Ideas to Reality, finds that 85% of CFA Institute members now take E, S, and/or G factors into consideration in their investing, up from 73% in 2017.
Fifth Third Bank has exceeded the five-year Community Commitment financial goal it made in 2016, delivering $41.6 billion in lending and investments. This is 130% of its $32 billion target it announced with the National Community Reinvestment Coalition, together with more than 145 community signatories throughout its footprint. The Bank also invested $378 million in Fifth Third Impact Programming in additional housing and small business technical assistance; financial empowerment programming; inclusion initiatives and supplier diversity; branches and staffing; and other programs and services. As part of its impact programming pledge, Fifth Third delivered $112.9 million in philanthropy.
Major League Baseball announced that it will relocate the 2021 All-Star Game and MLB Draft, originally scheduled to take place in Atlanta, to a to-be-determined location. The decision comes a little more than a week after the passage of S.B. 202, a Georgia law which critics say will restrict voting access for residents of the state. Commissioner Rob Manfred said in a statement that the decision to move the All-Star Game was "the best way to demonstrate our values as a sport" and was made after consultation with teams, former and current players, the MLB Players Association, and The Players Alliance, among others.
Marsh McLennan released its first comprehensive Environmental Social and Governance (ESG) Report, Changing What's Possible. The report highlights Marsh McLennan's commitments to reduce its carbon emissions by 15% below 2019 levels by year-end 2025, lead the change on inclusion and diversity, and continue to embed ESG considerations into its strategy to benefit all stakeholders.
Raytheon Technologies announced Connect Up, a 10-year, $500 million corporate responsibility initiative to drive transformative, generational impact on critical societal challenges. The initiative will combine philanthropic capital, public/private partnership, and employee volunteerism, expanding upon and elevating the company's legacy of community investment through lifelong learning, veteran and military family support, and localized community engagement.
Members on the Move
Welcome to new members Affiliated Managers Group (AMG) and LendingTree! Learn more about joining them, along with more than 10,000 professionals in the Boston College Center for Corporate Citizenship member community: Member Benefits
Attendees from BJ's Wholesale Club, Blue Shield of California, Takeda Pharmaceuticals, and more have registered to attend the all-virtual International Corporate Citizenship Conference on April 26-28, 2021. Learn more about the conference.