Movers, Shakers & Impact Makers: On climate change, companies commit to being part of the solution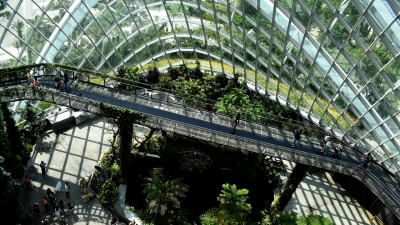 The member community convened by Boston College Center for Corporate Citizenship is one of a kind. The 500+ companies we serve each year around the globe are leaders in environmental, social, and governance action, and the thousands of individuals who make up this network are some of the best in the field!
---
Featured this week: Jim Fitterling, Dow; Jennifer Cohen, Walt Disney Company; BJ's; Desert Financial Credit Union; MassMutual; Philip Morris International; TJX Companies; Yum! Brands Inc.; Jaime Muguiro, CEMEX; Dallas Fort Worth International (DFW) Airport; Isaiah Walston, HITT Contracting Inc.; CBRE, Charles River Laboratories, Dolby Laboratories, General Motors, Westlake Chemical Corporation, Cisco Systems, EY, TJX Companies, Tufts Health Plan
---
Members: Would you like your company to be featured in future posts? Fill out this Member News Form.
Here is how our members have been working to build better business and a better world:
Spotlight on You
Dow CEO Jim Fitterling released a statement condemning acts of hate and harassment aimed at people of Asian descent and the escalating number of violent crimes targeting vulnerable, elderly Asian Americans in recent weeks. "It's up to all of us—especially those of us who would likely never experience hate or violence because of our race—to speak up," said Fitterling. "We stand by everyone who experiences prejudice and discrimination. That's why, last summer, we committed to 'act on behalf of those who deal with racism, bigotry, and the threat of violence every day.' Building on that commitment, over the coming weeks, we'll work closely with our Asian Diversity Network, one of Dow's ten Employee Resource Groups, to deepen our understanding of this issue and identify ways to make an impact."
Jennifer Cohen has been named executive vice president, social responsibility at The Walt Disney Company. In her newly created role reporting directly to the CEO, Cohen, a 23-year Disney veteran who most recently served as senior vice president, brand, franchise and customer relationship management, will lead the company's global corporate social responsibility (CSR) and environmental, social, and governance (ESG) work.
Job Postings
BJ's
Westborough, MA
Communications Manager
Communications Specialist
Desert Financial Credit Union (Just Added!)
Phoenix, AZ
Vice President, Executive Director of Desert Financial Foundation
MassMutual
Boston, MA
Head of Sustainability
Philip Morris International
New York, NY / Washington, DC
Partnerships Specialist
TJX Companies
Framingham, MA
Senior Manager, Inclusion and Diversity
Yum! Brands, Inc.
Louisville, KY
Social Purpose & Communications Manager
Member Companies in the News
CEMEX announced that its U.S. operations have been awarded a grant from the United States Department of Energy to research, engineer and develop a pilot for a breakthrough carbon capture unit. The project, anchored to CEMEX's Victorville, CA, cement plant, will also consider cost-competitive solutions to completely close the loop on current carbon emissions. "CEMEX is committed to being part of the solution to reduce carbon emissions globally and to deliver net-zero CO2 concrete to all of our customers by 2050," said CEMEX USA President Jaime Muguiro. "We cannot achieve these without innovative technology and collaborative relationships with both public and private organizations who share a commitment to climate action."
Dallas Fort Worth International (DFW) Airport has been named Public Agency of the Year by the Regional Black Contractors Association (RBCA). This honor recognizes noteworthy accomplishments made by the airport to increase participation of Black contractors in airport projects and working collaboratively with RBCA to improve processes and procedures that may create obstacles to the success of minority businesses looking to do business at DFW Airport.
HITT Contracting Inc. announced its commitment to become carbon neutral by the year 2023 in response to numerous studies that project major societal and environmental impacts due to climate change. To achieve this goal, HITT is committed to understanding and tracking its operational greenhouse gas emissions, implementing organizational carbon reductions, and purchasing carbon offsets. "After tracking and understanding our greenhouse gas emissions, we could not ignore the effect our operations have on the environment," said HITT Director of Sustainability Isaiah Walston. "By reducing our carbon footprint and moving toward carbon neutrality, we can positively impact our workforce, clients, and society as a whole."
Members on the Move
Congratulations to members CBRE, Charles River Laboratories, Dolby Laboratories, General Motors, and Westlake Chemical Corporation, which celebrate their 5-year member anniversaries this month! Learn more about joining the Boston College Center for Corporate Citizenship member community: Member Benefits
Attendees from Cisco Systems, EY, TJX Companies, Tufts Health Plan, and more have registered to attend the all-virtual International Corporate Citizenship Conference on April 26-28, 2021. Learn more about the conference.