Movers, Shakers & Impact Makers: Identifying COVID-19 health disparities and increasing access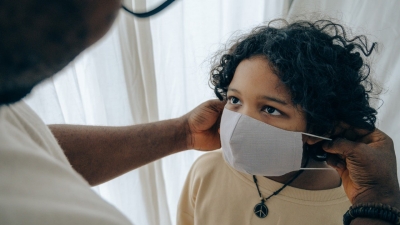 The member community convened by Boston College Center for Corporate Citizenship is one of a kind. The 500+ companies we serve each year around the globe are leaders in environmental, social, and governance action, and the thousands of individuals who make up this network are some of the best in the field!
---
Featured this week: Katrina Jackson, UL; Kathyrn Luria, Webster Bank; BJ's; Cox Enterprises; Delta Dental; MassMutual; TJX Companies; ViacomCBS; Yum! Brands Inc.; Bank of America; Baxter; Blue Cross Blue Shield of Massachusetts; Paramount Pictures; Qurate Retail Group; LG&E and KU Energy; Crayola; Clorox; Dow; Synopsys
---
Members: Would you like your company to be featured in future posts? Fill out this Member News Form.
Here is how our members have been working to build better business and a better world:
Spotlight on You
Katrina Jackson, global head of diversity and inclusion at UL, celebrated her company's successful 2021 Diversity + Inclusion Leadership Summit - Advancing Equity: Empower, Commit, Act! The event attracted more than 5,000 participants and served to amplify UL's commitment to DEI. "This year we expanded our offerings to a fully digital experience extending over 3 days with 14+ sessions across the globe," said Jackson. "What a great way to kick off the year and we're just getting started! #ulincludes"
Kathyrn Luria, senior vice president, community affairs at Webster Bank, celebrated her company's partnership with Johnson Security Bureau, Inc., featuring a video on how President and CEO Jessica Johnson-Cope worked to secure jobs in her community of The Bronx, NY, and open up new opportunities for her business. Johnson-Cope said in the video, "We realize that as a Black-woman-owned firm, sometimes opportunities don't come to us as easily. But with Webster, they understand the challenges for businesses like ours." With her share, Luria said, "Excellent partnership here – making a difference in our communities matters far and wide. Proud to be a Webster banker."
Job Postings
BJ's
Westborough, MA
Communications Manager
Communications Specialist
Cox Enterprises
Atlanta, GA
Senior Manager, CSR Environmental Sustainability
Delta Dental
San Francisco, CA
Foundation & CSR Program Manager
MassMutual
Boston, MA
Head of Sustainability
TJX Companies
Framingham, MA
Senior Manager, Inclusion and Diversity
ViacomCBS
New York, NY
SVP, Corporate Communications
Yum! Brands, Inc.
Louisville, KY
Social Purpose & Communications Manager
Member Companies in the News
Bank of America outlined initial steps to achieve its goal of net zero greenhouse gas (GHG) emissions in its financing activities, operations, and supply chain before 2050. Bank of America continues to actively engage with its clients to help accelerate their own transitions to net zero, and it plans to establish interim science-based emissions targets for high-emitting portfolios, including energy and power. In addition, Bank of America released its broader 2030 operational and supply chain goals as part of a holistic commitment to environmental sustainability.
The Baxter International Foundation announced a new partnership with The American Diabetes Association® (ADA) as part of the ADA's Health Equity Now (HEN) platform to address health disparities for people with diabetes in Chicago's underserved Black communities. Made possible with a three-year, $2 million grant from the Baxter International Foundation, the philanthropic arm of Baxter International Inc., the community-based program will focus on nutrition and technology as key drivers in removing barriers to diabetes care and promoting diabetes prevention.
Blue Cross Blue Shield of Massachusetts announced a new effort with the Massachusetts League of Community Health Centers to help provide equitable access to COVID-19 vaccinations. Blue Cross will contribute $1 million to fund tens of thousands of free rides to and from COVID-19 vaccination sites across the state to support community health centers, underserved communities, and vulnerable populations.
Paramount Pictures' Volunteer Crew will support the COVID-19 Communities of Color Impact Survey, an initiative established by Congresswoman Karen Bass and Community Coalition Los Angeles to collect the information required to identify needs and inform legislation and local support campaigns. Paramount has set the goal of 25 employees each contributing 4 hours or more in their virtual phone bank to encourage LA County residents to complete the survey throughout the month of February. It joins in support of serving those most vulnerable among us impacted by this pandemic and salutes Community Coalition LA for its 35-year legacy empowering people to be the creators of change.
Qurate Retail Group and the National Retail Federation (NRF) Foundation are expanding their Small Business Spotlight initiative to support 100 entrepreneurs of diverse backgrounds in 2021. Through this program, Qurate Retail Group will provide the selected businesses with on-air and/or digital exposure and various other pro-bono in-kind services on its various platforms: QVC US, HSN, and Zulily. Business owners will be featured in concert with Black History Month (February), Women's History Month (March), National Military Appreciation Month (May), Pride Month (June), National Hispanic Heritage Month (September), and National Disability Employment Awareness Month (October).
Members on the Move
Congratulations to longtime member LG&E and KU Energy which celebrate its 20-year member anniversary this month! Learn more about joining the Boston College Center for Corporate Citizenship member community: Member Benefits
Attendees from Clorox, Crayola, Dow, Synopsys, and more have registered to attend the all-virtual International Corporate Citizenship Conference on April 26-28, 2021. Learn more about the conference.