Movers, Shakers & Impact Makers: Helping Black- and minority-owned small business bounce back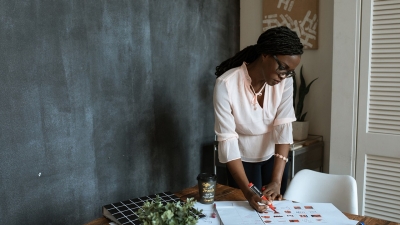 The member community convened by Boston College Center for Corporate Citizenship is one of a kind. The 500+ companies we serve each year around the globe are leaders in environmental, social, and governance action, and the thousands of individuals who make up this network are some of the best in the field!
---
Featured this week: Donnica Hawes-Saunders, Philip Morris International; Natalie Edwards, National Grid; Blue Shield of California; CBRE; Delta Dental; Fiserv; ON Semiconductor; TJX Companies; Verizon; ViacomCBS; CoBank; NW Natural; Zebra; Apple; Bank of the West; HITT Contracting
---
Members: Would you like your company to be featured in future posts? Fill out this Member News Form.
Here is how our members have been working to build better business and a better world:
Spotlight on You
Donnica Hawes-Saunders, manager of global communications at Philip Morris International, was published in the Spring 2021 Issue of Black EOE Journal, America's leading African-American business and career magazine. In the article "Maximizing Our Potential," she discusses corporate diversity and inclusion and the role Historically Black Colleges and Universities (HBCUs) play in moving forward.
Natalie Edwards is National Grid's newly established chief diversity officer. Based in New York, Edwards will take on responsibility for National Grid's inclusion and diversity efforts across its U.S. and U.K. businesses. "At National Grid, I plan to build on the great inclusion and diversity work that has already been achieved to increase a sense of belonging at all levels," said Edwards. "I want to ensure we have a culture where every employee feels seen, heard and valued for their uniqueness."
Job Postings
Blue Shield of California
Oakland, CA
Corporate Citizenship Specialist, Consultant
CBRE
U.S. Remote
Corporate Responsibility Manager
Delta Dental
San Francisco, CA
Foundation & CSR Program Manager
Fiserv (Just added!)
Alpharetta, GA
Director Communications, Diversity & Inclusion/Corporate Social Responsibility
TJX Companies
Framingham, MA
Senior Manager, Inclusion and Diversity
Verizon (Just added!)
New York, NY
Manager, ESG Data Analytics and Reporting
ViacomCBS
New York, NY
SVP, Corporate Communications
Member Companies in the News
CoBank recently published its 2019 Corporate Social Responsibility Report, Growing Rural America. As a mission-based cooperative lender and member of the Farm Credit System, CoBank is an active supporter of causes and programs that support people and communities in need, as well as the industries it serves across rural America. In 2019, the bank made a total of $11.3 million in charitable contributions, including commitments for future years. CoBank's giving encompasses a broad portfolio of activities and partners, including education, disaster relief, healthcare, hunger, veterans' issues, and diversity and inclusion, but most important is its commitment to supporting the growth and vitality of rural America.
Fiserv is giving back to help Black- and minority-owned small businesses get Back2Business in communities hit hard by COVID-19. Back2Business will provide business consulting services, leading Clover payments technology solutions from Fiserv, and financial support for employee payroll, rent or lease payments, operations equipment, and resources. To help elevate economic inclusion and create transformative change, Fiserv is partnering with the Association for Enterprise Opportunity (AEO), which includes a Grants for Small Business Program, which will award up to $10,000 to Black- and minority-owned businesses that have been impacted by COVID-19 and social unrest. Fiserv is equipping these businesses with vital education, coaching, and capital.
NW Natural is partnering with BioCarbN, a developer and operator of sustainable infrastructure projects, to convert methane from some of Tyson Foods' facilities into renewable natural gas (RNG) to heat homes and businesses. Under this partnership, NW Natural has options to invest up to an estimated $38 million in four separate RNG development projects. In December, NW Natural exercised its option for the first development project in Nebraska. Once fully operational, these four projects are expected to generate more than 1.2 million MMBtu of renewable natural gas each year—enough to provide heat for about 18,000 homes NW Natural serves in Oregon.
Zebra recently published its Inclusion and Diversity Action Report, detailing, "How We're Walking the Walk (and Continuing to Talk)." Zebra leans continuously into critical conversations and shares employees' personal stories with Zebra Nation so that it, as a company and as individuals, can learn how to be more accepting of others and help prevent uncomfortable interactions from occurring at Zebra. It will also invest heavily in educational resources and talent development to foster a fair and equitable growth environment for every employee.
Members on the Move
A very happy 5th Member Anniversary to members, Apple Inc., Bank of the West, and HITT Contracting, Inc.! Learn more about becoming a member.