Driving Engagement and Business Performance: The Role of Employee Volunteering Programs
The following is excerpted from The Corporate Citizen. To learn more about how you develop and implement employee volunteer programs to drive employee engagement, consider joining us at one of our Executive Education courses.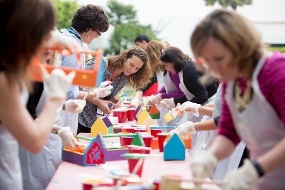 By thoughtfully developing and implementing initiatives like employee volunteer programs, corporate citizenship practitioners can benefit society and their business at the same time. The key is getting employees engaged.
The Center's Community Involvement survey finds that more than 90 percent of companies list improved employee engagement among the top three benefits of an employee volunteer program. This impressive statistic is supported by existing Center research—the 2014 State of Corporate Citizenship study—which finds that nearly 70 percent of executive respondents view employee volunteer programs as a top priority (see Figure A). It's no surprise then that nearly 60 percent of executive respondents reported that they plan to increase resources for employee volunteer efforts in the next three years.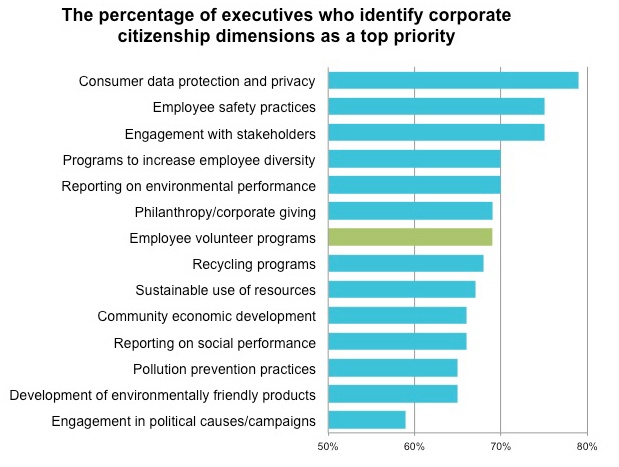 The link between employee volunteer programs and business performance has been long explored in academic research, and recent studies have confirmed the multitude of benefits that these programs offer to communities, employees, and the company. A 2010 study found that—by volunteering with their colleagues—employees are likely to form a stronger emotional attachment to the company, increasing their acceptance of corporate culture, while at the same time enhancing their awareness and understanding of business goals and strategies.[1]
In a separate 2010 study, researchers found that employees who find value in their corporate volunteer program take greater pride in belonging to their company, are more likely to defend and promote the organization externally, have stronger intentions to remain with the company, and are more likely to go above and beyond required tasks to get the job done.[2]
Meanwhile, a 2013 study found that employees who volunteer are more engaged with their work and feel more connected to their jobs.[3] Specifically, researchers found that volunteering was positively associated with the level of meaning an individual assigned to their work, better overall job performance and increased focus while at work.
It's clear: Strategic volunteer programs offer benefits to the business as well as to society. Yet—according to the forthcoming Community Involvement Survey— participation in volunteer efforts hovers in the 30 percent range. So how can effective corporate citizenship managers increase employee engagement in corporate volunteer programs? By exploring what motivates employees to volunteer in the first place—and preparing for unexpected answers.
According to a 2008 study, while the desire to simply do good in the community may be the reason many decide to volunteer outside of work, it is not what drives people to corporate volunteer programs. Instead, many are drawn by skill development and networking opportunities.[4] Specifically, researchers found that employees are motivated to participate in corporate volunteer programs for the opportunity to learn new abilities, utilize leadership skills, support their employers, and expand their networks.[5] A 2010 study echoes this finding, reporting that employees especially value volunteer programs that provide skill development, networking opportunities, and social interaction.[6]
The way in which employees are recognized for their efforts may also determine engagement. According to a 2013 study, both private and public recognition can increase volunteerism.[7] Researchers found that—while recognition does not work on everyone—it in no way hurts engagement levels for those unmoved by acknowledgment.[8] For those who are positively affected, the gains achieved by offering recognition are impressive, bringing engagement up from 6 percent to 21 percent.[9]
Training, awareness, and support are also important drivers of engagement. A 2014 study found that employees are more likely to volunteer when their managers have received corporate citizenship training, and when external stakeholders take an interest in company citizenship issues.[10] Additionally, a 2013 study found that the type of support volunteers receive during their assignments—such as an adequate supply of resources, a safe environment, and clear understanding of the project's mission—substantially affects an employee's perception of a volunteer effort, particularly for those working on long-term initiatives.[11] The study finds that—when this support is offered—employees are more engaged, develop more skills, and are more likely to volunteer independently.[12]
By considering what motivates employees to volunteer—and what tools and resources are required to help them be successful—corporate citizenship practitioners can increase involvement in their corporate volunteer programs, driving engagement and support for not only corporate citizenship objectives, but traditional business goals as well.
Learn more about this topic in the course, Fundamentals of Employee Volunteer Programs, available both in-person and online, on demand.
---
[1] Turner, A. (2010). The buy-in to corporate culture: Creating internal emotional capital through work-based volunteering schemes. Proceedings of the 2nd European Conference on Intellectual Capital, ISCTE Lisbon University Institute, Lisbon, Portugal and Polytechnic Institute of Leiria, Portugal.
[2] Jones, D. A. (2010). Does serving the community also serve the company? Using organizational identification and social exchange theories to understand employee responses to a volunteerism programme. Journal of Occupational and Organizational Psychology, 83 (4), 857-878.
[3] Rodell, J. B. (2013). Finding meaning through volunteering: Why do employees volunteer and what does it mean for their jobs? Academy of Management Journal 56 (5,) 1274-1294.
[4] Hassay, D. N., Hudson, S., & Peloza, J. (2008). The marketing of employee volunteerism. Journal of Business Ethics, 85 (2), 371-386.
[5] Hassay, et al. (2008).
[6] Jones, D. A. (2010).
[7] Winterich, K.P., Mittal, V., & Aquino, K. (2013). When does recognition increase charitable behavior? Toward a moral identity-based model. Journal of Marketing, 77, 121-134.
[8] Winterich, et al. (2013).
[9] Winterich, et al. (2013).
[10] Kim, J., & Kim, T. (2014). Multi-level antecedents of company support for employee volunteering. Corporate Social Responsibility and Environmental Management. Retrieved from http://onlinelibrary.wiley. com/doi/10.1002/csr.1360/epdf.
[11] Caligiuri, P., Mencin, A., & Jiang, K. (2013). Win-win-win: The influence of company-sponsored volunteerism programs on employees, NGOs, and business units. Personnel Psychology, 66 (4), 825-860.
[12] Caligiuri, et al. (2013).