Fundamentals of Employee Volunteer Programs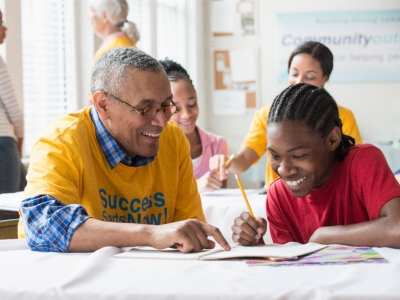 Today's employee corporate volunteer programs—whether they are traditional, skills-based, or pro bono—provide opportunities to develop leadership and other skills, network with other employees, and reinforce personal and company values. Does your corporate volunteering program maximize value on all three of these dimensions? This course will give you the tools to create or continuously improve volunteer programs that are highly recognizable, valued programs that help build better partnerships, deepen engagement among employees, and contribute to the company's visibility and reputation.
In this course, you will learn how to:
Develop programs that deliver value to your employees, community, and business.
Make the most of your corporate citizenship budget dollars by leveraging volunteers and establishing ambassador networks.
Understand the factors motivating others to support and participate in your programs in greater numbers.
Design communications reinforcing reputation, employee retention, and other business relationship goals.
Set and achieve participation goals.
Measure progress and performance.
Enrollment Options | Where & When You Can Take This Course

Take This Course Online, Starting Today (Or Whenever You're Ready)

This course is available in a fully-online, self-paced format. You can complete it at your desk, according to your schedule. Continue reading below for course content details, then use this button to enroll.

Take This Course In person, At the Spring 2024 Summit

This course may be offered at the 2024 Spring Summit, taking place in San Diego, CA, at the Rancho Bernardo Inn. Read more about the in-person learning opportunity for this course (and others), by clicking below.

Request Help Deciding on the Format that's best for You

Options can be a wonderful thing... But sometimes you need more information to weigh them against one another. If you'd like to discuss how best to achieve your goals with this course and/or a CSR certification, please reach out.
Take This Course Online, On Demand
You can enroll in this self-paced, online course today
Enroll Now
Course Content: Preview the Specific Units or Modules Included in This Course
COURSE STRUCTURE
Start and finish on your schedule: Courses take 15-17 hours, including video content and exercises.
Module 1: Introduction and Volunteering Overview
Outline an overview of what topics can be expected throughout the course
Introduces context and research relevant to volunteering
Activity: conduct an analysis of your company's volunteering portfolio
Module 2: The Vision for Your Volunteer Program
Assess company performance and culture to devise a clear vision for a volunteer program
Activity: assess your company's volunteer program(s) as they are today
Module 3: Strategy
Explore tools and models that will aid in the process of building a sound strategy for a volunteer program
Activity: case study and evaluate strategy
Module 4: Structure
Prepare the organization for the program by framing a structure that fits within the organization
Activity: discuss leadership and structure within the course
Module 5: People
Develop an understanding for individual motivations in order to optimize engagement with the volunteer program
Activity: design a program made to address roadblocks
Module 6: Rewards
Learn effective methods to leverage incentives to promote employee participation and engagement
Activity: design a program to provide benefits, share values, and motivate
Module 7: Processes and Systems
Conduct a SWOT (Strengths, Weaknesses, Opportunities, Threats) Analysis to understand organizational competencies
Activity: SWOT analysis and a case study
Module 8: Evaluate Success
Methods for measuring and evaluating success of the volunteer program
Activity: view a video and capture shared metrics
Module 9: Communicate Success
Successfully communicate success to stakeholders to maintain interest and support of the volunteer program
Activity: create an understanding of effective communication
Module 10: Tying it all Together
Constructively scrutinize a case study to apply understanding of the STAR Model in the context of a volunteer program
Activity: build a STAR model for a case study


This course is recommended for:

Corporate citizenship professionals responsible for the design, development, and execution of employee volunteer programs as well as corporate citizenship professionals seeking to rejuvenate an existing employee volunteer program.
Suggested prior knowledge and skills:

Completion of the Center course Corporate Citizenship 101 or a broad knowledge of Corporate Citizenship.
Professional credentials earned:
5 certificate units toward a Certificate in Corporate Citizenship Practice. This an elective course for a Certificate in Corporate Citizenship Practice.


Tuition
» Member: $2130.00
» Non-Member: $2900.00
Please note that course discounts may be available when you enroll in multiple courses at once, either idependently or as part of a Summit (in-person learning experience) registration. See the chart below. If you are considering take multiple courses, connect with our team to better understand your options.