Companies are making net zero a reality with renewable energy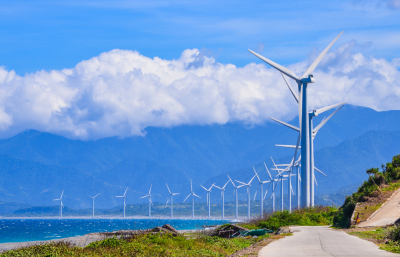 Featured this week: Barbara Donaldson, Synopsys; Crowe; Delta Air Lines; Estee Lauder; FactSet; Morgan Stanley; Northrop Grumman; Philip Morris International; Prudential; Regeneron; Royal Caribbean; Thermo Fisher Scientific; Vanguard; Blue Cross Blue Shield of Louisiana; Dow; Ochsner Health; Banfield Pet Hospital; Robert Horton, CEMEX; DFW Airport; Joe Yeargan, DPR Construction; Beth Wozniak, nVent Electric; Molly Cartmill, Sempra; Andy Smith, Texas Instruments; Texas Mutual; Andy Cecere, U.S. Bank; Installed Building Products; Amneal Pharmaceuticals; Erie Insurance
The member community convened by the Boston College Center for Corporate Citizenship is one of a kind. The 500+ companies we serve each year around the globe are leaders in environmental, social, and governance action, and the thousands of individuals who make up this network are some of the best in the field!
Members: Would you like your company to be featured in future posts? Fill out this Member News Form.
Here is how our members have been working to build better business and a better world:
Spotlight on You
Barbara Donaldson, vice president, Synopsys Workplace Resources at Synopsys, was featured in the company blog From Silicon To Software for her perspectives on workplace sustainability efforts. The post follows up on a previous announcement made last year, in which Synopsys contracted 15-megawatt of wind energy to mitigate approximately 70% of its projected North American emissions. Now, the 111-megawatt wind farm as part of the "Azure Sky Wind Project" is up and running in Throckmorton County, Texas. "For more than a decade, I have focused on our operational impact by pursuing environmentally sustainable activities at Synopsys locations around the world, from recycling programs to green building," says Donaldson. "This wind farm is just one of many environmental sustainability initiatives at Synopsys."
Member Job Postings
Boston College Center for Corporate Citizenship
Chestnut Hill, MA
Director, Executive Education & Advisory Products

Crowe
Various Locations
ESG Internal Audit Manager
Delta Air Lines
Atlanta, GA
Sustainable Travel Experience Program Manager, Global Sustainability
Estee Lauder
New York, NY
Manager, Equity, Philanthropic Partnerships
FactSet
Norwalk, CT or New York, NY
Manager, Corporate Sustainability
Northrop Grumman (JUST ADDED!)
El Segundo, CA
Senior Director, Corporate Citizenship
Philip Morris International
Stamford, CT
Community Relations Specialist
Regeneron
Tarrytown, NY
Associate Director, Corporate Responsibility - ESG Reporting and Engagement
Royal Caribbean Group
Miami, FL
Senior Specialist, ESG Comms
Thermo Fisher Scientific (JUST ADDED!)
Waltham MA, Carlsbad CA, or Washington DC
CSR Associate
Vanguard
Malvern, PA / hybrid
Community & Employee Experience Lead
Head of Community Stewardship

Member Companies in the News.
Several BCCCC member companies participated in the inaugural Economic Inclusion Symposium in Baton Rouge, LA. Blue Cross Blue Shield of Louisiana, Dow, and Ochsner Health all hosted booths as part of the symposium's Baton Rouge Procurement Opportunity Partnership (BR-POP) Vendor Connect Showcase for small, minority, and veteran business owners to connect with contracting opportunities.
Banfield Pet Hospital was featured in FastCompany as one of "39 companies doing corporate social responsibility right," as part of the publication's 2022 World Changing Ideas Awards honoring initiatives that use a company's platform and power to help advance change. Banfield was recognized for its Educational Pathways initiative, a year-long $10 million commitment supporting science, technology, engineering, and mathematics (STEM) education and strengthening educational pathways for current and future veterinary professionals. The program includes a national partnership with Boys & Girls Clubs of America focused on encouraging high school students from underrepresented backgrounds to pursue careers in veterinary medicine.
CEMEX added to its fleet of cement mixer trucks almost 200 new lower-carbon natural gas-powered units. These trucks will have a carbon footprint that is approximately 25% lower than the diesel trucks they are replacing. The initiative is part of the company's flagship Future in Action program to become a net-zero CO2 company by 2050. Over half of the vehicles are in Mexico, with the remaining half split between Southern California in the U.S. and Colombia.
Dallas Fort Worth International Airport (DFW) announced that it was awarded a $35 million grant from the FAA and Department of Transportation to build a new zero carbon central utility plant. The grant is part of a $1 billion bipartisan infrastructure law to fund improvements to airports across the U.S. DFW is the largest in the world and the first carbon-neutral airport in the U.S. "The implementation of this new Zero Carbon Electric Central Utility Plant is a key component to the Airport reaching its 2030 goal of achieving net zero carbon," said Robert Horton, vice president environmental affairs at DFW Airport.
DPR Construction and Meta have partnered to bring Hardhat in Hand, Meta's nationwide skilled trades training program, to Meta's Mesa Data Center. This paid, eight-week program focuses on recruiting new people to the construction trades and providing participants with fundamental knowledge relevant to all construction and skilled trade occupations. Hardhat in Hand is run in partnership with the Maricopa County Community College District and the Phoenix-based nonprofit Chicanos Por La Causa. "Bringing the Hardhat in Hand program to Mesa expands the skilled trade opportunities in our community. Participants develop the skills for a rewarding career and can earn full-time employment with years of opportunity at a great place to work," said Joe Yeargan, project executive at DPR Construction.
HMH released the results of its 2022 Educator Confidence Report, an annual barometer for how educators across the country are feeling about the state of teaching and learning, which found more than 3 in 4 educators feel negatively about the state of the teaching profession in the U.S. The Educator Confidence Index, a measure of overall confidence (out of 100), continues to drop and now sits at 40.0—its lowest in the report's history—down from 42.7 in 2021 and 49.0 in 2020. The report is the result of a survey of more than 1,000 K-12 classroom teachers and 125+ administrators.
nVent Electric plc announced the release of its 2021 Environmental, Social and Governance (ESG) Report. The report shares nVent's progress in each of its three ESG focus areas of People, Products and Planet and provides updates on progress towards its long-term goals. The report also introduces new long-term Products goals and shares increased greenhouse gas emissions reduction and renewable energy use targets. "At nVent, we are building a more electrified and sustainable world, driven by our commitment to ESG and continuous improvement," said nVent CEO Beth Wozniak. "ESG is integrated into our strategy and is having a positive impact as we demonstrate the power of our mission to connect and protect."
Sempra Foundation and GRID Alternatives announced the completion of multiple solar energy installations designed to help provide access to clean renewable power for environmental and economic justice communities in northern Baja California, Mexico. The solar installations serve as onsite power sources for several organizations including Rancho de los Niños, an orphanage near Ensenada, and YMCA Menores Migrantes, a youth migrant shelter in Tijuana. Organizations have seen electricity cost reductions of up to 50%, allowing funds to be reallocated to critical needs that are not typically covered by donations. "Energy is foundational to progress, and by providing these children with cleaner, more affordable, more reliable energy, precious resources can now be spent on medicine, books and other important necessities, helping to shape a better future for all," said Molly Cartmill, chief stewardship officer of Sempra Foundation.
Texas Instruments (TI) Foundation awarded $300,000 to the Dallas Holocaust and Human Rights Museum to support operating and programming plans in the coming years. The three-year grant aims to help the museum further its mission of teaching Holocaust history, advancing human rights against prejudice, hatred and indifference and overall continuing to educate the North Texas community. Executive Director of the TI Foundation Andy Smith strongly believes in the museum's mission. "We believe this gift will impact thousands of lives every year as visitors to the museum are shaped by lessons of the past and inspired to stand up to hatred and bigotry in their own lives."
Texas Mutual has launched a first-of-its-kind claims apprenticeship program to establish a new talent pipeline with students from diverse income and educational backgrounds. The Texas Mutual Claims Apprenticeship Program at has been launched at the company's Houston regional office, working with students from Houston Community College (HCC) who will also earn a full-time salary as a Texas Mutual employee. "This first-of-its-kind program was created through the collaboration of our claims, community affairs, customer engagement and human resources teams," said the company in a statement. "We are invested in helping build the workforce of tomorrow and excited to launch this apprenticeship program to help create a talent pipeline that is diverse, loyal and equipped to serve our customers across the state."
U.S. Bank recently released its 2021 Environmental, Social, Governance (ESG) report highlighting the bank's work across key environmental, social and governance initiatives including the bank's continued focus on climate and human capital strategies. "As a financial services provider, we are committed to serving all of our key stakeholders including our customers, employees and communities," said Andy Cecere, chairman, president and CEO of U.S. Bank. "Our ESG efforts reflect our commitment to being a responsible corporate citizen. As ESG continues to evolve we will continue to learn, set ambitious targets, measure our progress and share results."
Wayfair recently released its Inaugural Corporate Responsibility Report. "While we are at the beginning of our journey, we are motivated by our desire to continuously improve, and we're invested in setting ourselves up for the long haul," said Derek Oliver, Head of Government Affairs and Corporate Responsibility. "Our dedication to helping anyone, anywhere build their feeling of home guides our work towards building a more fair, inclusive and sustainable world for future generations."
Members on the Move
Welcome to new members, Installed Building Products and Amneal Pharmaceuticals! They will join more than 10,000 professionals in the Boston College Center for Corporate Citizenship member community. Learn more about joining them and what you get as a part of membership.
A corporate citizenship professional from Erie Insurance just registered to attend the Summit! This week-long learning experience is designed to help busy professionals complete a large portion of their Certificate in Corporate Citizenship Practice all at once, with plenty of time to network with peers. Learn more about joining them at one of two upcoming Summit events!