Using the SDGs as a blueprint to build a better future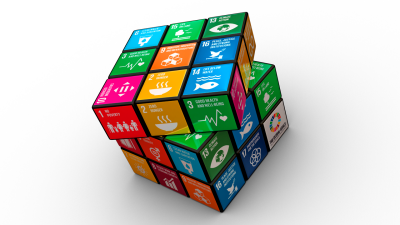 Ambitious corporate citizenship initiatives approach environmental, social, and governance (ESG) issues with systemic thinking that addresses challenges at their roots. A ready-made blueprint for systemic thinking is the U.N.'s Sustainable Development Goals (SDGs), the ambitious list of 17 objectives that set out clear targets to address global challenges.
This is an excerpt from the Summer 2021 issue of the Corporate Citizen.
Read the full issue here.
---
Underpinning the goals are 169 overlapping indicators and more than 1,000 individual metrics. Becoming familiar with this framework can help companies think through where they are best positioned to make contributions and where they can seek partnership. In this post, we explore how CEMEX tackles the extensive environmental and social issues they are best positioned to address, zooming out with a wider lens to see issues from multiple angles and using the SDGs as guideposts for impact.
CEMEX is a global construction materials company that is building a better future through sustainable products and solutions, committed to achieving carbon neutrality through relentless innovation and industry-leading research and development. The company is at the forefront of the circular economy in the construction value chain and is pioneering ways to increase the use of waste and residues as alternative raw materials and fuels in its operations with the use of new technologies. CEMEX offers cement, ready-mix concrete, aggregates, and urbanization solutions in growing markets around the world, powered by a multinational workforce focused on providing a superior customer experience, enabled by digital technologies.
Sustainable development is embedded in the company's core business strategy and day-to-day operations, with an enterprise-wide understanding that it must develop building solutions to meet the needs of a world with limited resources. The company puts words into action with a robust social impact strategy rooted in the SDGs, particularly in the areas the company has identified it is best suited to address. CEMEX's social impact strategy seeks not only to minimize negative impacts and anticipate risks, but to uncover business opportunities as well.
"We have positively impacted more than 23 million people on an accumulated basis, contributing to the achievement of the SDGs," say Rogelio Zambrano, chairman of the board of directors, and Fernando A. González, chief executive officer in a joint statement. "By focusing on CEMEX's five priority SDGs, we are making large strides in addressing the most pressing global challenges and building a better future."
CEMEX's social impact strategy starts with engaging stakeholders in meaningful dialogue conducted by multidisciplinary social impact committees. The company then uses that information to identify and manage impacts, create plans to diminish them, and continuously assess the levels of risk to the environment, communities, and the financial bottom line. In the next critical step, the company collaborates with stakeholders to create and implement community engagement plans, all of which are aligned with community investment pillars that correspond with SDGs, whose results are measured and communicated externally.
CEMEX's social impact strategy has resulted in a number of successful programs that have helped the company explore issues at the intersection of the SDGs it seeks to address. To learn more, the company established the multidisciplinary CEMEX-Tecnológico de Monterrey Center for Sustainable Communities in Mexico, which uses applied research, innovation, and entrepreneurship to promote sustainable com - munities. Among its many activities, the Center has conducted 17 socio-environmental impact studies resulting in initiatives on economic development, environmental management, housing, and urbanism.
The Center also seizes an opportunity to engage its community stakeholders with the annual CEMEX-TEC Awards, which recognizes entrepreneurs, students, and startups worldwide who foster sustainable development and social innovation. Many of CEMEX's signature social impact programs also originated at the Center, including its Community Environmental Restoration Program, which among other things trains young people in Central and Latin America to be environmental promoters and leaders.
The extraordinary events of that last year did not stop these efforts. "We provided wide support to our communities during the pandemic, including humanitarian aid, voluntary donations, sanitizing outdoor public health areas, and widely distributing the antibacterial disinfectant we produced in our plants," said Zambrano and González. "This year is testimony to the resilience of CEMEX and that we are a company dedicated to building a better future for all our stakeholders."
The year 2020 also proved critical for CEMEX's environmental progress. The company announced a 2030 target of reducing net specific CO2 emissions by 35% compared to 1990, and a 2050 goal to deliver net-zero CO2 concrete across all operations. Following through on its promise to accelerate alternative fuels and mitigate carbon emissions, CEMEX retrofitted all its European plants with hydrogen injection technology and launched Vertua, the first net-zero carbon concrete solution in the industry.
In the true spirit of the SDGs, CEMEX realizes that none of these initiatives could happen without a partnership mindset. As a service provider, CEMEX seeks to deliver a superior customer experience grounded in relationship, and this collaborative mindset is reflected in its social impact strategy. The company credits more than 500 partnerships and strategic alliances for social impact worldwide as key success factors in multiplying its positive impact on society.
CEMEX's strong footing in strategy has aided in making a huge impact on the global goals it has chosen to address. With the help of partners and keen listening and learning from stakeholders, CEMEX is truly living into its mission to build a better future.
This was an excerpt from the Summer Issue of the Corporate Citizen. Read the full issue here.