Corporate Citizenship Conference Morning Recap Day 2: Investing Today for a Stronger Tomorrow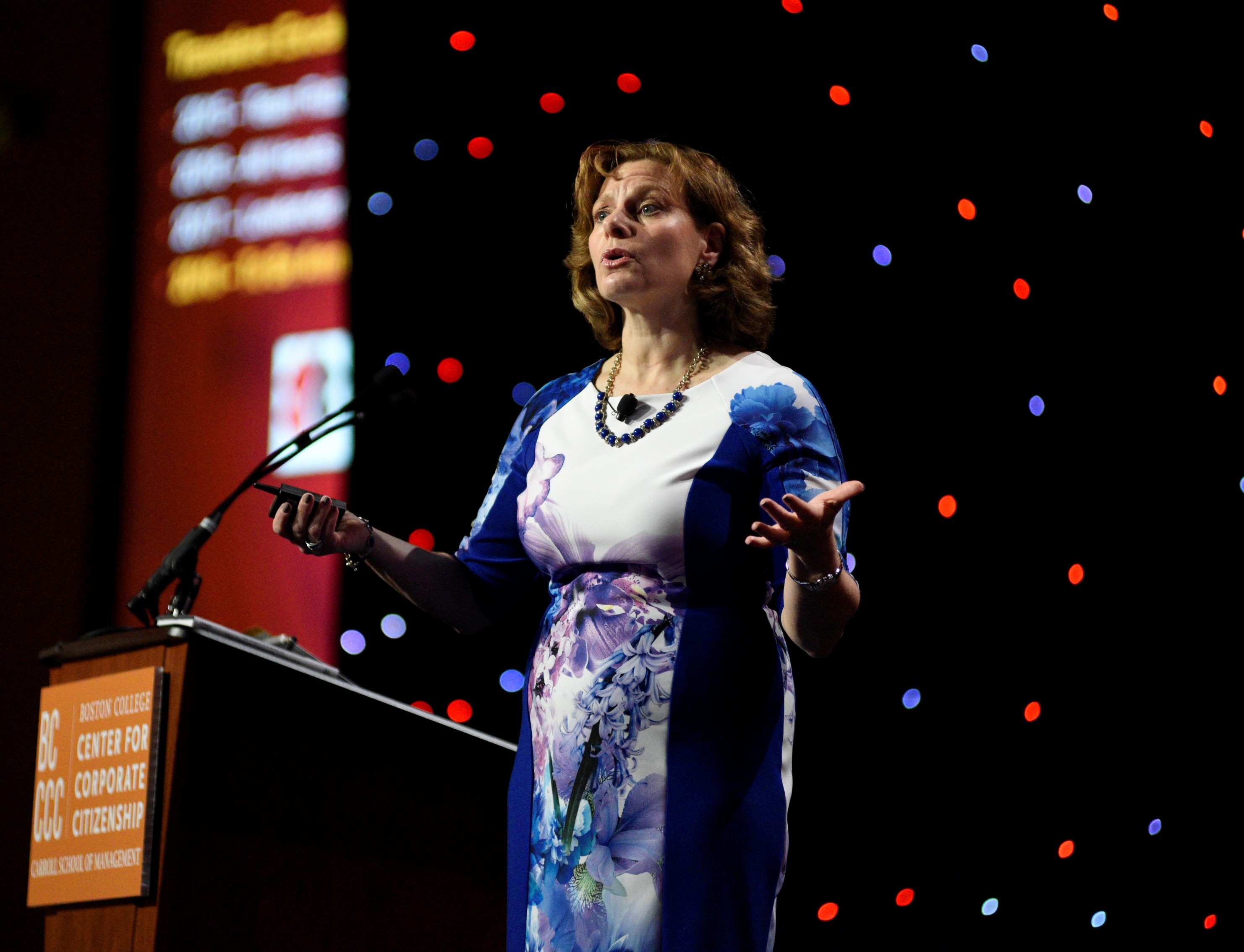 Today, attendees of the 2018 International Corporate Citizenship Conference came together for dynamic keynotes, deep-diving breakout sessions, and collaborative networking opportunities to share how they leverage responsibility to strengthen resilience and achieve results. Highlights of the day include an on-site volunteer project benefiting children's hospitals in the LA area, in-depth discussions on the importance of a long-term view, the employee engagement potential of strategic programs, and much more.
Planning for Long-Term Success
The morning started bright and early with the Idea Exchange Breakfast, hosted by Travelers. During the meal, attendees were given the opportunity to participate in CSR discussions ranging from managing global growth to engaging hard-to-reach employees, all of which were facilitated by experts in the field.
During her welcome remarks, Katherine V. Smith, executive director of the Boston College Center for Corporate Citizenship, invited attendees to participate in creating the Center's first zero-impact event. Through generous investments by the 2018 Carbon Offset Sponsor, State Street, and Zero Waste Sponsor, Subaru of America, the Center has been able to create an environmentally conscious event with carbon offsets doubled to that of impact, and water offsets tripled. In addition to recycling and composting all possible materials, the Center is donating all untouched food to Food Finders, a multi-regional food bank and food rescue program in LA.
During her remarks, Smith also shared the attributes that lead to strong and resilient corporate citizenship professionals.
"Resilient professionals cultivate four common behaviors, they scan, analyze, adapt, and learn to anticipate," she said. "Resilient leaders possess a few more—they're realists, they're master connectors, and they have the ability to improvise."
By sharing inspiring examples from some of history's greatest figures—George Washington Carver, Eleanor Roosevelt, and Mahammad Ali—Smith illustrated how CSR leaders can achieve sustainable progress by maintaining resilience in the face of obstacles.
"As resilient CSR professionals, you are able to connect negative events to bigger ideas and greater purposes," said Smith. "You're connecting purpose not only in your communities but also with all of the people you're working with—creating good in the world and also—as First Lady Eleanor Roosevelt said—creating good in our homes and those places too small to be seen."
For the day's first general session—Taking the long view to advance corporate citizenship—the audience was treated to a candid and informative talk from Marlene Ibsen, chief executive officer and president of Travelers Foundation and vice president of community relations for The Travelers Companies, Inc. Ibsen shared the mindset Travelers adopts to ensure responsibility, resilience, and results.
"At Travelers, we know that by creating a stronger fabric in our community, we build a better business," said Ibsen. "We're always thinking about the impacts, outcomes, and results of our work, and that extends to our community efforts as well."
Ibsen discussed how Travelers assesses different types of risk, and highlighted some of the projects that work to mitigate them. She expanded on partnerships with organizations such as Team Rubicon, and efforts such as its Small Business Risk Education program. This signature initiative works to provide safety risk management education for minority and women-owned small businesses.
"According to our research, only 30 percent of small businesses have a business continuity plan. This makes them incredibly vulnerable in the wake of natural disasters, a breakdown in their supply chains, or some kind of cyber-attack," she said. "With women and minority-owned small businesses on the rise, we wanted to ensure we were helping them be positioned for long-term success."
Ibsen also touched on Travelers' work to advance a healthy discourse about civil society, which led the company to serve as the National Presenting Sponsor of the Normal Rockwell Museum's Enduring Ideals: Rockwell, Roosevelt & the Four Freedoms exhibition. This is the first comprehensive traveling exhibition devoted to Norman Rockwell's iconic depictions of Franklin Delano Roosevelt's Four Freedoms: Freedom of Speech, Freedom from Want, Freedom of Worship, and Freedom from Fear. She noted that the exhibition illustrated the importance of communicating ideas and inspiring change during tense times.
"We have to risk being uncomfortable to get to authenticity," she said. "It's hard and we all make mistakes. The hope is that you've established yourself as someone who is worth correcting—and that you have trusted allies who will let you know when you've hit a sour note or said or did something with unintended consequences. I think the lesson for all of us is that we have to have the difficult civil conversations to advance our organizations and society."
In closing, Ibsen returned to the importance of maintaining an agile approach when engaging with corporate citizenship issues, and urged the audience to do the preparative work to set their companies up for success.
"The key to resilience is adaptation," she said. "If you are anticipating risks and monitoring trends and, in our case, the needs of stakeholders in the community, you will necessarily be preparing yourself for any number of eventualities. Some you can influence or even directly control; most you can't. But if you are preparing—through a lens of responsibility and results—you will be able to leverage opportunities and have a deep, positive impact. And then you be asked to do more—which is where your ability to draw on your personal resilience will pay dividends."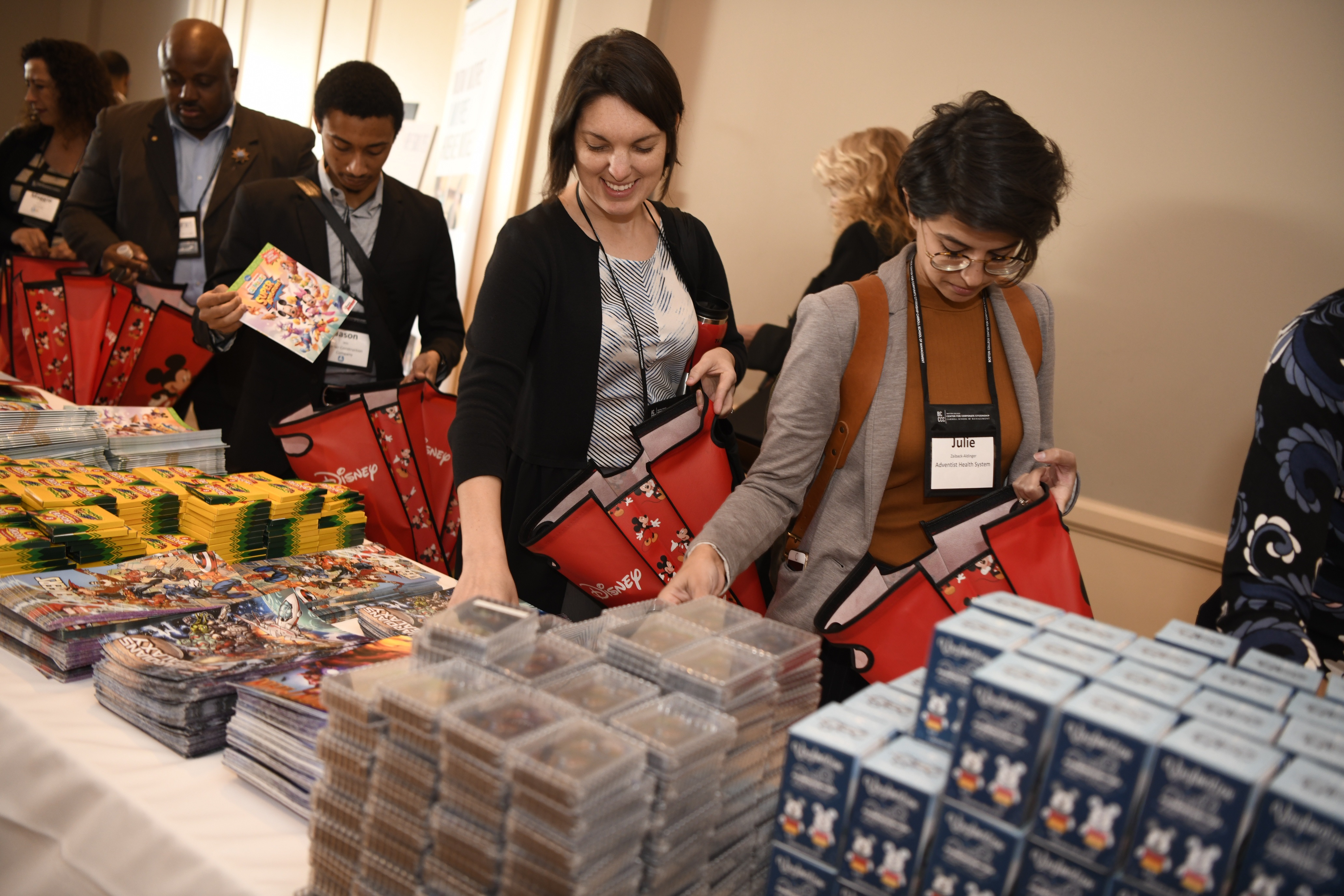 The general session was followed by a networking break hosted by Arthur J. Gallagher, as well as an on-site volunteer project, sponsored by The Walt Disney Company. Many attendees took advantage of the opportunity to act as an honorary "Disney VoluntEAR" by joining The Walt Disney Company team of heroes to help assemble comfort kits for local children's hospitals. Participants networked with their colleagues while packing kits with coloring books, activity books, crayons, playing cards, a Mickey Mouse plush, a Mickey Mouse figurine, and custom Marvel comic books. Now, a total of 756 kits are on their way to comfort area children.
At 10:30 a.m., attendees broke into smaller groups to attend one of the morning's breakout sessions, which included panel discussions covering topics such as data philanthropy, the connection of CSR efforts to brand and reputation, the importance of communication, the opportunities presented by the circular economy, and a deep dive into the conference theme: Responsibility, Resilience, Results. Additional sessions included a case study presented by FedEx on the global disaster relief efforts, a workshop on advancing diversity and inclusion through corporate citizenship sponsored by Farmers Insurance, and vendor demonstrations that offered technology options to enhance or streamline CSR efforts.
The Benefits of Engagement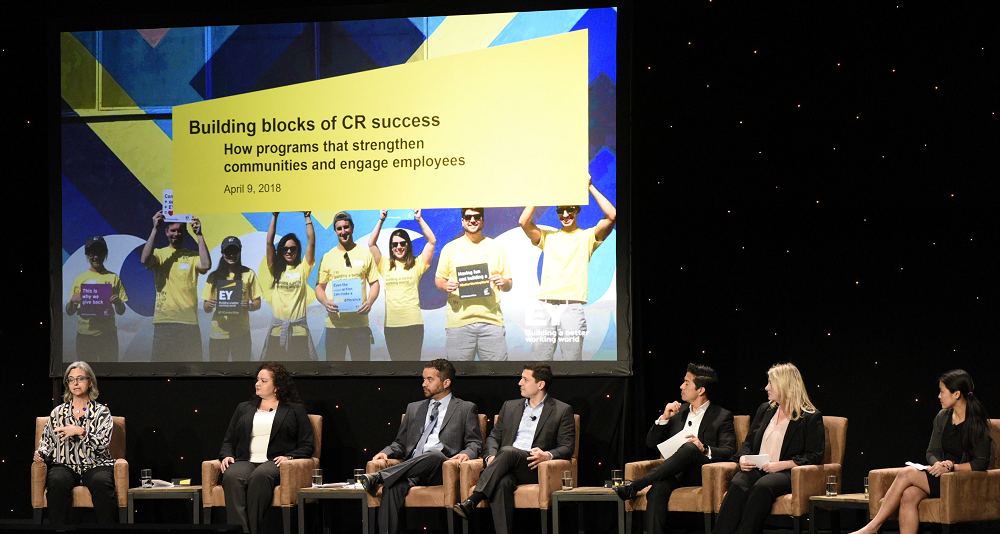 Following the breakout sessions, attendees were back in the International Ballroom for a networking lunch sponsored by EY, and the second general session of the day, titled Building blocks of corporate responsibility success: How programs strengthen communities and your workforce. During this session, EY's Americas Director of Corporate Responsibility, Deborah K. Holmes, shared the importance of aligning CSR efforts with a company's unique strengths.
"EY is about 74,000 people strong in the Americas. We are a deeply diverse group, but we share a range of strong core competencies," she said. "Regardless of job title, EY people are great coaches and mentors. We are strong business advisors and consultants. We are champions of entrepreneurs all over the world. And if there's one thing we've learned in our CR efforts, it's this: When we bring those core competencies to our communities, we make the biggest impact—both at the societal level, and for our people."
Following her opening remarks, Holmes then held a conversation with her colleagues:
Edwin Aguilar, Assurance Senior, EY
Shelby Angulo, Associate General Counsel, EY
Greg Glater, Assurance Senior Manager, EY
Jesse Kuiper, Advisory Manager, EY
Pamela K. Mizuno, Legal Operations Manager, EY
Mayra Tolosa, Advisory Senior Manager, EY
The panel discussed how—by developing and implementing corporate citizenship programs strategically—CSR professionals can offer value to their communities AND companies. The talk covered more easily implemented initiatives, mid-level programs, and those that require significant investment, and featured initiatives such as its College MAP mentoring project, which strives to demystify the college application and financial aid process for underserved high school students.
Angulo and Mizuno—who are both very involved in the program—discussed their own personal experiences with College MAP, and shared their strategies for successful engagement.
"We would not have a successful program if we didn't embody a group mentoring mentality," said Mizuno. "At EY, our folks are dispersed all over the world, and many don't have a schedule that allows for structured sessions, so flexibility is vital."
The talk also highlighted the company's 2016 Olympic Games support. In addition to serving as an official supporter and the exclusive professional services provider to the Rio Games, EY tapped 24 volunteers from the Americas, Belgium, and the Netherlands to create a positive Olympic legacy. For three months prior to the Games, these volunteers advised and supported six Brazilian not-for-profit organizations that tackle issues ranging from education to women's entrepreneurship. In their remarks, both Aguilar and Glater highlighted the varied impacts of the effort.
"With our clients, it has helped create goodwill, and it demonstrates to them that we're more than just a professional firm, we're a collection of individuals that are eager to help our local communities," said Glater. "It's also supercharged employee engagement with the firm."
The group also broke down the benefits of its EY Vantage Program, which sends some of EY's top-performing managers and senior managers to work, full time but pro bono, with entrepreneurs in emerging markets around the world. During a talk with his supervisor—Mayra Tolosa—Kuiper shared a recent pro bono project he led in Argentina.
"I went to Argentina to help a cyber-security firm," he said. "They had grown rapidly, and they hadn't had time to refine their processes. As part of this project, I interviewed stakeholders, identified gaps, and recommended solutions to help them operate more efficiently. This project obviously served to help this client; it also really helped me build confidence and improve my management skills."
Throughout the full discussion, the panel reinforced the importance of engaged employees in delivering business and social value.
"Our employee surveys consistently show that EY professionals who participate in volunteer projects are more engaged with the company," said Holmes. "They have better relationships with their managers, they stay longer with EY, and they earn higher performance ratings. These greater levels of engagement benefits our business. With a more highly engaged workforce, EY runs a more effective business and provides better service to our clients."