The Role of Reporting in Achieving a Sustainable Economy
The following is excerpted from Issue 16 of The Corporate Citizen. To learn more about how sustainability reporting can help inform and advance your efforts, joining us for our GRI and CDP courses. As a certified training partner for both GRI and CDP, we'll help you understand and utilize two of the leading sustainability frameworks to drive both social and environmental progress—and business results.
In 2015, world leaders came together to sign the Paris Agreement on Climate, and the UN unveiled 17 Sustainable Development Goals (SDGs)—complete with 169 targets—that aim to eradicate poverty and hunger, foster safe and inclusive societies, and halt global warming by 2030. Here, a group of top business and sustainability leaders discuss business practices that will assure progress toward these gamechanging sustainability targets.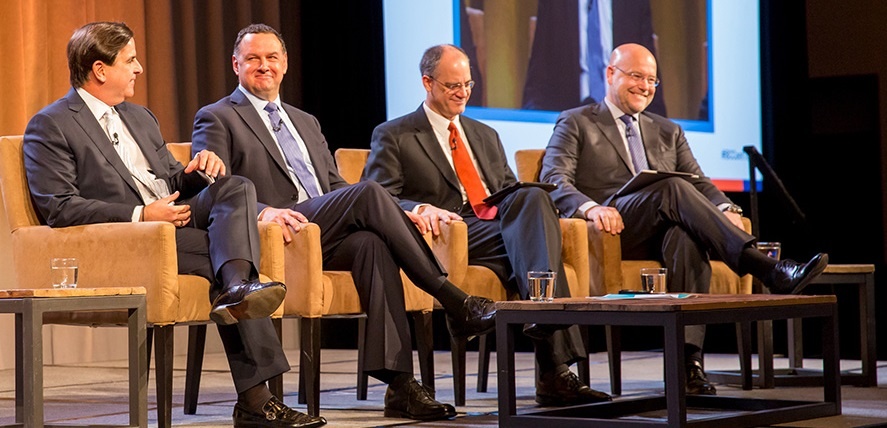 To kick off the first full day of the 2016 International Corporate Citizenship Conference, Katherine V. Smith, executive director of the Boston College Center for Corporate Citizenship, moderated a discussion between Eduardo Martinez, president of the UPS Foundation and chief diversity and inclusion officer at UPS—the event's convening sponsor— Lance Pierce, president of CDP North America; Tony Pipa, international policy adviser to the administrator and deputy assistant to the administrator at the USAID Bureau of Policy, Planning, and Learning, and Michael Meehan, CEO of GRI (pictured above seated L to R).
The sustainability leaders explored the evolution of reporting frameworks—and how they are used to help companies achieve the targets outlined by the SDGs and Paris Agreement. What follows below is a condensed version of their conversation.
The Purpose of Reporting and the Opportunity of the SDGs
Martinez: At UPS, we have an old saying that goes: In God We Trust, everything else we measure. A decade ago, there was a huge gap for private sector organizations. There were organizations that were doing the right thing—that were creating enterprises that were sustainable, ecofriendly, and people-oriented. However, we didn't have a common platform and measurement that could really hold the organization accountable to their shareholders, people, and communities. When organizations like GRI and CDP began to develop, they became beacons for organizations like UPS, helping to guide our sustainability efforts in a way that we can show an ROI.
These organizations help companies make sure that they make investments in the community that offer a return to their employees, customers, and shareholders—and they offer that common measurement.
Meehan: That really gets to the main purpose of sustainability reporting, not only the end result but the management process—the process by which your organization understands and communicates the risks and the challenges that are facing it, critical sustainability issues like corruption, human rights, climate change, the environment. The purpose of a standard—of any standard—is having a common way to talk about those things. So then you can talk about it amongst yourselves, you can talk about it with regulators, you can talk about it with infrastructure players, and so on.
When you use a standard like GRI—which is in 93 countries now—you're using the same thing that everybody else is using around the world. Now whether you create a sustainability report or not isn't the most important thing. The most important thing is that you're using this information to create a better organization, and that's what I like about the SDGs.
The SDGs—like all principles-based approaches— is sort of a pledge. They're something that your CEO can get his head around and say: "Yes, human rights are important, climate change is important—these are the five that we're going to do." How you actually track towards those goals is different. That's what sustainability reporting is.
Pipa: I think part of what's so important about the SDGs is that all countries in the world signed up and are putting political commitment behind them. That offers an opportunity for engagement. When the President adopted these particular goals, he was very clear that the next chapter of development can't be just about what governments can do, but it has to harness the unprecedented resources of our interconnected world.
I was at a panel the other day where a government official, not from the U.S., but from a developing country, said that the that the decisions that companies like UPS and Coke make—their business decisions and how they engage in those markets—is as important or going to be more important than decisions that the U.S. government makes on how we spend our foreign aid. That's unprecedented. That's a different mindset.
At the heart of this is data. Because it is data that allows us to know what progress is, and it is data that allows us to understand where the overlap is between commercial interests and development impact.
Pierce: The data platforms and standards that are out there—those are ways of helping to align and converge some of the big trends that are starting to take place and give companies some insights into how they can align their work around achieving goals such as the Paris Agreement and the SDGs.
I think it will also be apparent that we are not going to solve the problem of climate change and we are not going to tackle the SDGs unless we look at them as part of the same problem. We're not going to lift people out of poverty using 19th and early 20th century technologies to generate the power that they are going to need. We are not going to be able to create jobs if climate change is eroding the ability of communities to be productive and support themselves. Solving these problems is actually an integrated challenge, and looking for data to help track and manage consistently will be important.
Martinez: For companies, I think it's important to remember that when you're starting the journey of measurement, you're beginning the process that Michael (Meehan) mentioned. For example, when we at UPS were looking at our community impact in the programs that we had around the country, we began by looking at disaster relief.
We're a company that's over 100 years old—and we're a company of people and trucks and warehouses—so whenever there was a disaster in a community, we would always be there. When we looked at the measurement and we looked at ways that we can have greater impact through our disaster relief technologies, we saw a lot of opportunities with partners that are engaged in communities—not only on disaster relief, but also in preparedness and post-crisis recovery. So what used to be a disaster relief and sudden-onset response program became focused on resilience, preparedness, response, and post-crisis recovery.
The Evolution of Reporting and the Big-Picture Focus
Pierce: The CDP platform started out with a focus on climate and greenhouse gases. In the past 15 years, it has evolved to include a whole range of energy inputs and outputs in addition to the climate impacts. We have moved in that direction partly because there's been, on the business side, a recognition that all of these issues are integrated in many ways. They need to be thought of as aspects of a similar problem.
The reality is that we are going to be dealing with—and we already are dealing with— natural resource scarcity that affects people, companies, and the economy as a whole, and companies are going to be important for figuring out how we solve that problem. There will be more consumers, and we will need to figure out how to work through that to achieve sustainable consumption and make sure that people can get the basic goods and services that they need.
It is also important that companies are able to successfully get what they need to produce the goods and services they sell. It is integrated, and in the future it will be very much out of the traditional silos. The data tracking is an attempt to try to start to move this conversation in a direction to give companies the ability to be able to manage at that level.
Meehan: Silos are easy, because they enable us to get our heads around an issue, especially complex issues like the environment or climate change. You're right; there's far more to sustainability and there's far more to climate change than just carbon and energy. That's one of the reasons that GRI exists.
At GRI, we say we are a multi-stakeholder organization. The standard is not actually developed by us. We're just the custodian of it. It's developed by a huge network of about 600 organizations that determine what goes into that standard. That group consists of labor organizations, NGOs, business—everybody. The reason that this is so important is because you can't have one stakeholder, like the investor constituency or government or business, making the rules. You have to have everybody. And that way, it's relevant to everybody.
Pipa: What you're discussing is one of the evolutions of the SDGs over the types of goals that had come before and it is partly because we know that is how development actually works. Development doesn't work in concentrated silos, each making its own progress. Take something as simple as saying we want to bring HIV/AIDS rates down across the world. That's not just about a health intervention. We know that it's more. We know that, for example, getting girls in school and keeping them in school longer actually lowers those particular rates.
The integration and the inter-linkages across the SDGs are very real. That's one of the reasons why there's been so much excitement about these particular goals. The challenge for the SDGs is: How do you make progress on the social and human development areas, while at the very least not backsliding on environmental sustainability and economic sustainability? How to you make all that progress at the same time?
Data is central to this. It will allow us to understand what types of interventions are enabling us to be able to make that progress on several fronts at once. Without it, we are shooting in the dark. With it, we can at least develop a platform for lessons learned, apply things that we know work, and then try taking them to scale.
Meehan: I agree. We've been doing things like sustainability reporting, transparency, and disclosure for 20 years, and now I think we're at the point where we need to start thinking about what we're doing with all of this data. We need to funnel it toward common and shared goals, and the SDGs are one example of that.
Martinez: The global nature of the discussion around the SDGs could be daunting to the CSR practitioner. We need to remember the way we operate. We work through our people. So it's really important to bring the collective team together. It will involve many people in an organization, whether it's an institutional process, or whether it is just picking up the phone and asking for some help. You'll find that people in your organization or your community will react positively and will join your team. This doesn't have to just sit on your shoulders. Create your collective impact team within your institution, and then work with great partners and great institutions like CDP, GRI, USAID, the Center, and groups like IMPACT2030.
The fact of the matter is that civil society is really reaching out like never before to the private sector. And that's an opportunity for all of us.
Pierce: It is important to realize that the expectation is not simply that businesses will do more and better philanthropy in the world. The expectation is also that U.S. business will transform. Take the data that you are producing through disclosure platforms, take the learning you are getting back through participating in the SDGs, and build that back into your company. Because there is a business case for doing that. There is obviously a human case, a moral case, and an environmental case for taking action on these things, but there is a business case as well and the data will help you make that case.
That is part of the expectation that people have that as a business you will also improve yourselves—in a way that is good for the business, and good for the communities where you operate.
For more insights on how reporting will help shape a sustianable, future, check out the complete session video below. For more on the 2017 International Corporate Citizenship Conference, click here.