Corporate Citizenship Affinity Group: Leadership Academy for Corporate Citizenship Professionals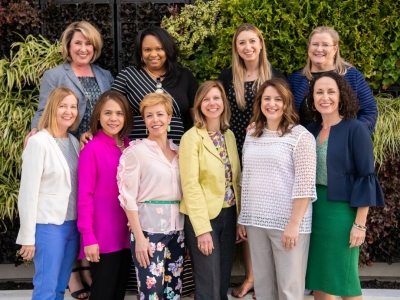 The Corporate Citizenship Leadership Academy is an intensive five-month certificate program for developing leaders with strategic responsibilities within the corporate citizenship spectrum—from community involvement to diversity/inclusion to supply chain to Environmental Health and Safety (EHS). The program is a comprehensive blend of on-campus, instructor-led classes and off-campus, facilitated distance learning.
Alumni of this program stay connected to each other through digital channels and an annual reunion at the International Corporate Citizenship Conference. Learn more about enrolling in the Leadership Academy for Corporate Citizenship Professionals.
Colleen Donham
Analog Devices Inc.
Deborah Shobe
Encana Oil & Gas (USA) Inc.
Amy Sulzman
The Prudential Foundation
Wynda Chandler
National Gas Company of Trinidad & Tobago Ltd.
Elena Sacca Smith
Toyota Financial Services
Sondra Smith
Level 3 Communications Inc.
Erik Wissa
The TJX Companies
Tobi Allen
Lockheed Martin Corporation
Tristi Charpentier
Blue Cross Blue Shield of Louisiana
Bridget Ford
Encana Oil & Gas (USA) Inc.
Kirsten Gappelberg
Mary Kay Inc
Gina Goff
C&S Wholesale Grocers Inc.
Shane O'Connor
FedEx Corporation
Rita Ortiz
The Travelers Companies
Melissa Smith
Denso International Inc
Yvonne Tang
Blue Cross Blue Shield of Massachusetts
Kasey Bergh
Nestle Purina PetCare Company
Matthew Blakely
Motorola Solutions Foundation
Leslie Bowrin
BG Trinidad & Tobago Ltd.
Jason Bozic
National Oilwell Varco
Rebecca Fracassa
Comcast Corporation
Patience Grueninger
F.Hoffmann-La Roche Inc.
Joanne Harrell
Microsoft Corporation
Bridget Hurd
Blue Cross Blue Shield of Michigan
Kaye Morgan-Curtis
Newell Rubbermaid Inc.
Sonja Shaw
MassMutual Financial Group
Wanda Sims
Novartis Pharmaceuticals Corporation
Immanuel Sutherland
Altria Client Services Inc.
Alice Womble
Blue Cross Blue Shield of Louisiana
Julie Wynn
Electronics Arts Inc.
Gayle Binney
The Dannon Company, Inc.
Jennifer Bronner
AutoTrader.com
Cindy Conner
FedEx Corporation
Angela Cox
CenterPoint Energy
Lynn Gilmore
Northrop Grumman Corporation
Joy Kessler
Advent Software Inc.
Fred Maahs
Comcast Cable Communications Inc.
Mauryann Remondini
John Hancock Financial Services Inc.
Lorna St. Thomas
Enbridge Pipelines Inc.
Erana Stennett
Bloomberg LP
Debra Benton
Southwest Airlines
Meg Davenport
Pharmaceutical Product Development
Michael Devlin
Harvard Pilgrim Health Care Foundation
Patricia Etris
Encana Corporation
Wendy Fukamaki
Pacific Gas & Electric Company
April Hawkins
MetLife Foundation
Jennifer Leitsch
Prologis
Betsy Pielocik
Bose Corporation
Julie Smith
Verizon Communications Inc.
Amy Tapia
Sandia National Laboratories
Donna Boyer
Marathon Oil Corporation
Cynthia Cecil
Altria Client Services Inc.
Jeannette Elias
National Gas Company of Trinidad & Tobago Ltd.
Jennifer Pendura
Cenovus Energy Inc.
Kathleen Ryan Mufson
Pitney Bowes Inc.
Doretha Graham Easler
NV Energy
Victoria Grisanti
EMC Corporation
Kimberly Jackson
Wells Fargo Foundation
Jonathan Lese
PerkinElmer Inc.
Patrice Mingo
Boeing Company, The
Miguel Salinas
Adobe Systems Incorporated
Lynne Smethurst
Diageo PLC
Tara Spain
Travelers Companies, The
Gloria Talley Wilkinson
Zions Bank
Sandra Wheatley
Cisco Systems Inc.
Kathleen Zemaitis
TIAA-CREF
Now accepting applications
The Leadership Academy will prepare you to lead your teams and colleagues to a new level.
Learn More