Companies respond to abortion ruling that overturns Roe v. Wade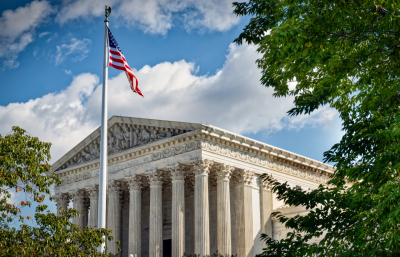 According to BCCCC's recent State of Corporate Citizenship research, corporate social advocacy is a growing trend, underscored by new examples of companies and their leaders speaking out on contentious headlines every day. What's behind this surge in advocacy? For one thing, data suggest that today's stakeholders—consumers, employees, and investors alike—expect companies and corporate leaders to advocate for a greener, more equitable society.

Consider these data points on corporate advocacy:
65% of consumers surveyed expect CEOs to do more to "make progress" on societal issues.
92% of executives agree corporate leaders should take a stand on social/environmental issues.
Gender equity and inclusion is the leading issue on which corporate leaders have advocated.
An increasingly polarized political environment also seems to be fueling the rise of corporate voices speaking out on social issues. Amidst ongoing debates on LGBTQ+ rights and gun control, the recent overturning of Roe v. Wade offers just the latest striking example. While a majority of Americans are in favor of abortion rights, the consensus is far from unanimous. According to Pew Research Center, 61% of U.S. adults say abortion should be legal in all or most cases, and 37% think it should be illegal in all or most cases.
The Supreme Court's reversal of the Roe v. Wade decision will block or limit access to abortions in many states, meaning that companies may need to adapt their employee benefits to comply with different laws across state lines.
The following roundup offers examples of how companies are responding to the recent Roe v. Wade ruling. If your team is looking for more specific data or frameworks (e.g. social disaster frameworks) to help evaluate or craft your response, please don't hesitate to submit a Knowledge Request on this issue. NOTE: Knowledge Requests are a free service available to BCCCC member companies only. Learn more about BCCCC membership here.
How Center member companies are responding to the Roe v. Wade ruling
If your company is working on an initiative related to the recent overturning of Roe v. Wade, please take a moment to share it here. We will update this post as more examples of corporate responses are submitted and curated from third-party sources.
ACCENTURE
Accenture's existing healthcare plan includes "a full range of reproductive healthcare benefits" as well as travel assistance for "covered medial services" that are not located within 100 miles of an employee's residence.
ADOBE
Adobe shared in a statement, "We have and always will prioritize inclusive benefits to create a world-class culture for our employees."
APPLE
Apple said it supports "employees' rights to make their own decisions regarding their reproductive health." "For more than a decade, Apple's comprehensive benefits have allowed our employees to travel out-of-state for medical care if it is unavailable in their home state," said an Apple spokesperson.
BANK OF AMERICA
Bank of America said in a statement, "We have expanded the list of medical treatments that are eligible for travel expense reimbursement…"
DELOITTE
Deloitte U.S. said that it would help cover travel expenses for employees needing healthcare procedures not provided locally.
INTUIT
Intuit said it would cover employee travel expenses to get abortions. "We support our employees' access to comprehensive health care — no matter where they live," the company said. "We will continue to do what we can to best support employees' ongoing access to the full range of health care that they believe is right for them."
JPMORGAN CHASE
As of July 1, 2022, JPMorgan Chase employees will be eligible for travel benefits in order to obtain an abortion if they can't access one within 50 miles of their home. The policy will apply to U.S. employees enrolled in its medical plan, as well as covered partners and dependents.
KPMG LLP
KPMG U.S. said it would cover abortion-related travel and lodging expenses.
MICROSOFT
Microsoft said it will provide travel expense reimbursement for employees seeking abortions and gender-affirming care anywhere in the country."Microsoft will continue to do everything we can under the law to support our employees and their enrolled dependents in accessing critical health care," a Microsoft spokesperson said.
MORGAN STANLEY
Morgan Stanley (MS.N) joined other large U.S. banks expanding its healthcare coverage to include travel costs for employees seeking abortion services if they are not locally available, according to a source familiar with the matter.
NIKE
Nike has offered to cover travel and lodging expenses when medical services aren't readily available. In a statement released after the ruling, Nike shared: "No matter where our teammates are on their family planning journey – from contraception and abortion coverage, to pregnancy and family-building support through fertility, surrogacy and adoption benefits – we are here to support their decisions."
NOVARTIS
Novartis, for its part, is "carefully evaluating" how the ruling may impact care for its associates. Family planning services are covered under the company's medical program, "regardless of where the services are rendered within the U.S." Should services be inaccessible within employees' home states, the company will "make accommodations," a Novartis spokesperson told Fierce Pharma via email.
PwC
PricewaterhouseCoopers Chairman Tim Ryan wrote to employees that their healthcare insurance offers "health care services and related expenses for pregnancy termination," and that they can apply for financial assistance grants through various funds. "I know that some of you will think that I haven't said enough in this note and that some of you will think that I've said too much," Ryan wrote. "What I hope you take away from it is that I care."
SANOFI
Sanofi supports the right for "all people to be able to exercise control over their own bodies," and finds that progress and equality are "intertwined, fundamental, and worth defending and protecting," according to an email obtained by Fierce Pharma. Sanofi pledges to cover travel and lodging for employees and dependents to access "certain healthcare services and treatments that may not be available locally" in response to the ruling. The company also asked that employees respect each other's privacy and right to make their own healthcare decisions, as well as focus on being inclusive "every day through our words and actions."
TARGET
Target Chief Human Resources Officer Melissa Kremer shared in an internal memo to employees Monday that in July, the company will expand its healthcare travel reimbursement policy. That policy now includes reproductive services, mental health, cardiac care "and other services that are out of reach in some communities."
THE ESTEE LAUDER COMPANIES INC.
Estee Lauder said that it would help cover travel expenses for employees needing healthcare procedures not provided locally.
VANGUARD
Vanguard said it would help cover travel expenses for employees needing healthcare procedures not provided locally.
WALGREENS
Walgreens will reimburse many of its workers for travel expenses if they have to venture more than 50 miles for an abortion, the company said — a move that follows a U.S. Supreme Court decision last week ending federal protection for abortion.
WARNER BROTHERS
Warner Bros. Discovery "immediately expanded" its healthcare benefits to cover transportation expenses for employees and covered family members who need to access abortion and reproductive care after the court's ruling, according to a spokesperson.
WALT DISNEY CO
Disney will extend a "family planning" benefit to any worker who cannot access care where they live, including "pregnancy-related decisions."
WELLS FARGO
Wells Fargo told employees it will reimburse employees and their dependents for travel and lodging costs associated with traveling more than 50 miles for healthcare services, like abortions.
Additional Companies Responding
AMAZON
Amazon added an employee benefit that would cover up to $4,000 in expenses for traveling out of state for healthcare, which includes reproductive rights or other medical issues.
APOLLO GLOBAL MANAGEMENT
Private equity firms Blackstone Inc (BX.N), Apollo Global Management Inc (APO.N), and Carlyle Group Inc (CG.O) will reimburse U.S. employees' expenses for traveling out of state to access abortion reproduction care services.
AT&T
AT&T Inc., one of the largest employers in Texas, said it is reimbursing travel expenses for medical procedures after the state banned abortions following a landmark US Supreme Court ruling. The policy applies to medical services that employees can't access within 100 miles of where they live, Dallas-based AT&T said in a statement that didn't specifically mention abortion. "The health of our employees and their families is important to our company," the telecommunications provider said.
BLACKSTONE
Private equity firms Blackstone Inc (BX.N), Apollo Global Management Inc (APO.N), and Carlyle Group Inc (CG.O) will reimburse U.S. employees' expenses for traveling out of state to access abortion reproduction care services.
BP
Oil producer BP PLC (BP.L) on Wednesday joined Shell PLC (SHEL.L) in pledging to cover travel expenses for U.S. employee health care treatment following a Supreme Court decision overturning the Constitutional right to an abortion. Neither of the two European companies explicitly named abortion in their statements. They were the first oil producers to update their health care plans to extend benefits for women, while U.S. oil majors remained silent on the issue.
CARLYLE GROUP
Private equity firms Blackstone Inc (BX.N), Apollo Global Management Inc (APO.N), and Carlyle Group Inc (CG.O) will reimburse U.S. employees' expenses for traveling out of state to access abortion reproduction care services.
CITIGROUP
Citigroup announced that its health insurance plan would cover the expenses of employees who need to travel for an abortion, including airfare and accommodations if needed.
CIVITECH
"Employers like us may be the last line of defense," said Sarah Jackel, the chief operating officer of Civitech, a company in Texas that employs 55 people and builds technology tools for political campaigns. Civitech committed to covering travel expenses for workers seeking an abortion immediately after Texas' ban went into effect.
COMCAST
NBCUniversal's parent company, Comcast, for example, will cover up to $4,000 per trip and up to three trips per year for employee medical travel, with an annual maximum of $10,000.
CONDE NAST
Condé Nast said it would cover travel and lodging for employees to get abortions. "It is a crushing blow to reproductive rights that have been protected for nearly half a century," said Roger Lynch, Condé Nast's chief executive.
CVS HEALTH CORP.
CVS has said it will make out-of-state medical care, including abortion, accessible for its employees.
DICK'S SPORTING GOODS
Sports-mega store Dick's Sporting Goods also offered to pay up to $4,000 in travel expenses for its employees, spouses and dependents enrolled in their medical plan, according to a company statement on Instagram.
EXPEDIA
Expedia Group expanded its medical benefits policy to cover travel costs "if employees are seeking healthcare that is not provided in their state." Employees can take time off in accordance with leave policies "and do not need to note a reason," the statement added.
FORD MOTOR
Ford Motor said its employees with health savings accounts could use those to reimburse themselves for transportation necessary for medical care "within limitations of tax law."
GOLDMAN SACHS
Goldman Sachs on Friday extended its healthcare travel reimbursement policies to include all medical procedures, treatments and evaluations, including abortion services, in areas where a provider is not available near to where its employees live, a benefit that will be effective July 1, according to an internal memo obtained by CNN.
GOOGLE
Technology giant Google says workers who live in parts of the country where abortion is no longer legal after the Supreme Court overturned Roe v. Wade may relocate to states where their rights are protected, no questions asked, according to reports. Google's health insurance will also cover the cost of employees' out-of-state abortion procedures for workers who travel across state lines to seek care.
HP ENTERPRISE
HP Enterprise, which is headquartered in Texas, said that its medical plan will cover medical treatments received outside of the state, including abortions.
LEVI STRAUSS
Levi Strauss & Co said on Wednesday it will reimburse travel expenses for its full- and part-time employees who need to travel to another state for health care services, including abortions.
LYFT
In a statement, Lyft said, "in the wake of the Supreme Court decision on Dobbs v. Jackson Women's Health Organization, we're committed to providing team members with undisrupted access to safe and critical healthcare services." Lyft's U.S. medical benefits plan includes coverage for elective abortion and reimbursement for travel costs if an employee must travel more than 100 miles for an in-network provider.
MASTERCARD
Mastercard told employees in May that they will assist with travel costs for employees that cannot get abortions in their home state. "We will continue to offer employees access to the same healthcare that is available today wherever they live," a spokesperson said.
META
A spokesperson for Meta, the parent company of Facebook, confirmed to ABC News that it plans to offer coverage of travel expenses for some employees seeking an abortion. "We intend to offer travel expense reimbursements, to the extent permitted by law, for employees who will need them to access out-of-state health care and reproductive services," a spokesperson said. "We are in the process of assessing how best to do so given the legal complexities involved."
PATAGONIA
Patagonia covers the cost of medical insurance for all part-time and full-time employees; the company writes: "we offer the same high-quality health plans to all employees: U.S. employees on our health plans are covered for abortion care. Where restrictions exist, travel, lodging and food are covered. 100% of co-pay costs for mental health visits are covered."
PAYPAL
PayPal President and CEO Dan Schulman shared a note on LinkedIn that employees under PayPal's benefits program have "access to resources needed to make reproductive health decisions, regardless of where they live." A separate assistance program is also available for those not covered. "I understand the anxiety and concern that many of you and your families may be feeling at this moment. I want to be clear: caring for our employees is our highest priority," Schulman wrote.
SHELL
Shell PLC on Tuesday said it will update its health care options in the U.S. to ensure employees continue to have access to uninterrupted medical services. "We are updating our national healthcare options to ensure access to a broad range of medical services, including those that require travel," the company said, when asked about changes in policy following the U.S. Supreme Court decision last week overturning the landmark 1973 Roe v. Wade ruling.
STARBUCKS
Starbucks is providing employees enrolled in its healthcare plan a medical travel benefit to access an abortion, according to a public letter to employees by Sara Kelly, Starbucks acting executive vice president of partner resources.
SONY
A source familiar with the matter at Sony Music said that earlier this year the company also relayed to its staff that it would provide care including reimbursement for travel for healthcare including reproductive healthcare. In documents obtained by Rolling Stone, Sony Music Group told employees it would provide a travel benefit up to $10,000 per year if a covered member or dependent in need of care — including for women's reproductive health and gender-affirming care — cannot obtain services within a 50-mile radius of their home.
TPG
Private equity firm TPG Inc said it will reimburse its employees for travel and lodging expenses for out-of-state abortion and reproduction care services, according to a memo to staff by Chief Executive Jon Winkelries."
YELP
Jeremy Stoppelman--the co-founder and CEO of Yelp--recently announced that the company will cover the travel expenses for employees seeking abortions. "Business leaders must step up to support the health and safety of their employees by speaking out against the wave of abortion bans that will be triggered as a result of this decision," he said.
ZILLOW
Zillow said it would reimburse its employees up to $7,500 when significant travel is required for medical procedures including abortions. "We strongly support our employees' right to make health care choices that are right for them, and we will continue to do so," a Zillow representative said.