Communications to amplify the work of stellar partners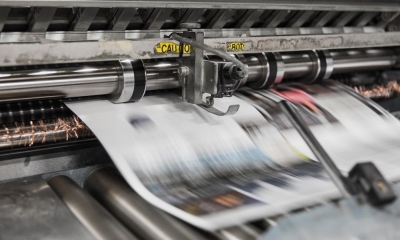 Featured this week: Alan Horowitz, Aramark; Samsung; Dwayne Maddox, Old National Bank; Yalmaz Siddiqui, Walt Disney Company; Shengyuan Su, Zendesk; AvalonBay Communities; CBRE; Crowe; Dutch Bros; Eerie Insurance; Kyndryl; Prudential; RGA Reinsurance Company; Tanger Outlets; Catalent; CoBank; Franklin Templeton; Polen Capital; First Energy Corp; Buckman; The Timken Companies; TELUS
The member community convened by the Boston College Center for Corporate Citizenship is one of a kind. The 500+ companies we serve each year around the globe are leaders in environmental, social, and governance action, and the thousands of individuals who make up this network are some of the best in the field!
Members: Would you like your company to be featured in future posts? Fill out this Member News Form.
Here is how our members have been working to build better business and a better world:
Spotlight on You
Samsung featured Aramark's Vice President, Sustainability Alan Horowitz as part of the company's Partners in Sustainability series, which features Samsung's partners sharing their views on tackling environmental challenges. "We are taking steps every day – in partnership with our clients like Samsung – that simultaneously reduce our GHG footprint and promote equity and well-being throughout our value chain," says Horowitz, who also detailed the company's environmentally friendly programs in plant-forward menu options, deforestation, and more.
This week we are also celebrating some exciting new hires within our member companies:
· Dwayne Maddox has joined Old National Bank as vice president and director of diversity, equity, and inclusion programs. "I'll be taking over some of the strategy work as well as some of the execution around the core competencies for our organization for DEI," said Maddox in an interview. "That includes everything from impact groups to how we think about our business practices by product line, and also around our philanthropy, community investment, and community involvement."
· Yalmaz Siddiqui is joining the Walt Disney Company as vice president of environmental sustainability. "I'm thrilled to be joining such an extraordinary group of people, and I look forward to learning from you, serving you, and collaborating to minimize our footprints and maximize our positive impact," said Siddiqui.
· Shengyuan Su has joined Zendesk as director of sustainability. "Looking forward, I will be working with Zendesk's VP of Social Impact Megan Trotter, and many other business leaders across the company to chart the path for the next level of Zendesk's sustainability journey," said Su. "Excited about this new adventure!"
Member Job Postings
AvalonBay Communities
Arlington, VA
Diversity Recruiting Director
CBRE
Remote
Corporate Responsibility Analyst
Crowe
Various Locations
ESG Internal Audit Manager
Dutch Bros
Remote work eligible within any state where Dutch Bros currently resides
Director of DEI (Diversity, Equity, and Inclusion)
Erie Insurance
Erie, PA
Director, Diversity, Equity & Inclusion
Kyndryl
Multiple Locations
Various CSR Roles
Prudential
Various Locations
Communications Director
Tanger Outlets
Fully Remote or Hybrid
Director, Energy & Sustainability
Member Companies in the News
Congratulations to the member companies that released ESG reports recently:
Here's more news from the BCCCC member network:
FirstEnergy Corp. plans to donate more than 1,600 trees across its New Jersey service area this year, with approximately 1,200 of those expected to be donated and planted by the end of May. This initiative is an important part of the company's efforts to reduce FirstEnergy's carbon footprint, promote responsible use of natural resources and further the advancement of sustainable practices.
Buckman partnered with Energy Drive on reducing electricity usage and water consumption at Buckman's Hammarsdale, South Africa, facility. Buckman installed Energy Drive's energy-saving solution to monitor and regulate energy usage. "The low monthly service charge is completely offset by the energy savings we gain from the variable speed drives," said Mukesh Ramatar, Plant Manager for Buckman South Africa. "But even more important are the positive environmental impacts we've seen from the solution – they are the real driver of the value we see."
Members on the Move
This week, we proudly welcome new member The Timken Company! Learn more about joining them, along with more than 10,000 professionals in the Boston College Center for Corporate Citizenship member community: Member Benefits.
This month we're celebrating the 15-year member anniversary for TELUS! Thank you for your continued membership and being part of our corporate citizenship network.