Movers, Shakers & Impact Makers: Charitable giving to support local communities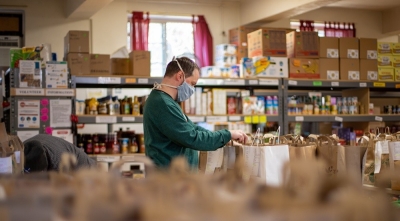 Featured this week: Nikki Clifton, UPS; Allstate; Blue Cross Blue Shield of Massachusetts; Estee Lauder; EY; Fifth Third Bank; General Motors; JP Morgan Chase; Merck; Morgan Stanley; Microsoft; Nasdaq; onsemi; Pitney Bowes; PwC; ViacomCBS; Vanguard; Walt Disney Company; BJ's Wholesale Club; Machias Savings Bank; U.S. Bank; Weil, Gotshal & Manges LLP
The member community convened by Boston College Center for Corporate Citizenship is one of a kind. The 500+ companies we serve each year around the globe are leaders in environmental, social, and governance action, and the thousands of individuals who make up this network are some of the best in the field!
Members: Would you like your company to be featured in future posts? Fill out this Member News Form.
Here is how our members have been working to build better business and a better world:
Spotlight on You
Nikki Clifton, president of social impact and The UPS Foundation at UPS, shared several exciting environmental, social, and governance initiatives that her company is enacting, including commitments to plant 50 million trees by 2030 and to advance equitable vaccine distribution around the world. "The business community has a unique opportunity and an obligation to give back to the communities where we live and work," said Clifton. "Leading social impact for The UPS Foundation is inspiring because evert day we find ways to leverage the scale of our company, the expertise and generosity of our employees, and the breadth of our assets to deliver a more equitable and just world."
Member Job Postings
Allstate Insurance Company
Remote, U.S.
Social Responsibility Impact Measurement & Reporting Senior Consultant
Estee Lauder
New York, NY
Manager, ESG Data Analytics
Fifth Third Bank
Cincinnati, OH
Corporate Social Responsibility Program Officer III
General Motors
Warren, MI
ESG Reporting, Disclosures and Benchmarking Manager
JPMorgan Chase
London, UK
Grants Management Associate - International Markets
JPMorgan Chase
San Francisco, CA
Corporate Responsibility, Global Philanthropy- Senior Program Associate
Morgan Stanley
New York, NY
Director – Community Affairs Communications Manager
Nasdaq
Various Locations
EmbeddingPurpose@Nasdaq Specialist
Purpose Project Program Manager
onsemi (Just added!)
Phoenix, AZ
Director, Talent Acquisition
Pitney Bowes (JUst added!)
Stamford, CT
Manager, Operations
Takeda
Cambridge, MA
Associate Director, Executive Communications and Science Philanthropy
PwC
Boston, MA
Sustainability/ESG Director
Vanguard
Malvern, PA
Associate Program Officer
ViacomCBS
New York, NY
Senior Manager, Global Sourcing, Energy and ESG
Walt Disney Company
Burbank, CA
Corporate Social Responsibility Specialist
Member Companies in the News
BJ's Wholesale Club announced a $1 million donation from the BJ's Charitable Foundation to Feeding America. The donation is part of the retailer's efforts to help fight hunger by awarding grants to 50 Feeding America member food banks in the Eastern United States to support child and family food assistance programs. The grant marks the fourth $1 million donation to Feeding America member food banks located in BJ's footprint. "Proud to share this announcement!" said Kyle Byrnes, head of external communications and community affairs at BJ's Wholesale Club, on LinkedIn.
Machias Savings Bank has awarded more than $50,000 in Community Development Grant funding to 14 organizations across Maine. Funding was awarded to projects that create or retain jobs, revitalize communities within the bank's service area, and help to provide affordable housing or other programs designed to assist low-to-moderate income individuals and/or families.
ON Semiconductor revealed its new trade name onsemi and refreshed brand as a next step in the company's evolution to establish itself as the leading provider of intelligent power and sensing technologies. With a continued focus on the automotive and industrial end-markets, onsemi has sharpened its strategy to drive disruptive innovation that contributes to a sustainable ecosystem of high-growth megatrends such as vehicle electrification, advanced safety, alternative energy, and factory automation. Climate change presents not only a risk to the environment, but also opportunities for innovative business solutions, and onsemi is committed to applying its research and design expertise and adapting its own operations to achieve net-zero emissions by 2040. Read more in onsemi's recent Corporate Social Responsibility Report.
U.S. Bank Foundation announced a $1 million investment in 20 nonprofit organizations driven by a diverse group of exceptional emerging leaders who are focused on creating effective community-led solutions to the increasing economic disparities. The organizations are located in both rural and metro communities and are focused on support for entrepreneurs and small business owners, workforce development programs, and financial inclusion efforts for individuals and families as solutions to wealth building.
Members on the Move
A CSR leader from Weil, Gotshal & Manges LLP is the latest to sign up for our Virtual Accelerate Certificate Summit—being held from Oct 4-8, 2021. Join them and earn your Certificate in Corporate Citizenship Practice! Learn more.