2021 Conference Recap: Building inclusion into Business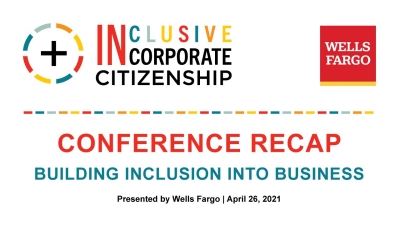 Today the virtual 2021 International Corporate Citizenship Conference kicked off as leaders from some of the nation's most important organizations advancing social justice joined convening sponsor Wells Fargo for a lively and dynamic discussion on how business can help promote diversity, equity, and inclusion.
---
The Conference is an annual event for corporate professionals to convene, network, and learn about how they can be more effective corporate citizens and improve their environmental, social, and governance (ESG) programs for a better business and a better world.
The Boston College Center for Corporate Citizenship's first virtual Conference hosted more than 750 professionals—the largest gathering in its history! Prior to the session, attendees got to know each other in virtual networking sessions sponsored by Gallagher, and participated in trivia questions in support of the conference-wide Freerice virtual volunteer project, benefiting the UN World Food Programme. It was all made possible by a robust virtual conference platform, brought to us by Vanguard.
Boston College Center for Corporate Citizenship's Executive Director Katherine V. Smith kicked off the event by welcoming the record-setting conference audience of more than 750 attendees. "The last 15 months have delivered interesting times with the pandemic, political discord, shutdowns, homeschooling, and widespread demonstrations and other civic engagement for racial injustice. Our member companies have been responding to all these disruptions in real time and without a roadmap," Smith opened. "Your important work will bring us closer to sustainability, equity, and inclusion."
Smith thanked the sponsors that make the event possible, firstly, convening sponsor Wells Fargo. Smith also reminded all that, thanks to Target, this year's Digital Carbon Footprint Offset Sponsor, BCCCC was able to mitigate the environmental impacts of our virtual event, the emissions that would have occurred at a physical conference, plus all operations for the BCCCC office for one year. Keeping with the event theme of inclusion, real-time captioning will be made available in live sessions throughout the event thanks to inclusion sponsor Toyota, which has also welcomed several inclusion fellows to participate in the event as emerging leaders. Finally, attendees were encouraged to follow along on Twitter and LinkedIn using the hashtag #BCConf21.
Participants were then introduced to the first session's speakers from some of the nation's most preeminent U.S. civil and human rights organizations by Gigi Dixon, head of diverse segments, representation and inclusion (DSRI) external engagement at Wells Fargo. Dixon served as moderator for a cross-sector panel featuring Wade Henderson, CEO of the Leadership Conference on Civil and Human Rights; Marc Morial, CEO of the National Urban League; Janet Murguía, president and CEO of UnidosUS; John Yang, CEO of Asian Americans Advancing Justice; and Jimmie Walton Paschall, executive vice president and head of diversity, equity, & inclusion, Wells Fargo.

The panel explored this year's conference theme of Inclusive Corporate Citizenship, and how the business sector can be more inclusive during a time of unprecedented need. "This is an emotional and challenging time for people of color and diverse communities," opened Dixon. "Corporate America's response to these challenging times has been overwhelmingly significant in funding, advocacy, and outreach."
Murguía also observed the impact of our current moment. "It will require investing and providing both resources and voices from leadership in the corporate sector to recognize that diversity is a strength for this country," said Murguía. "We need a racially inclusive economy, and there is no better time than now for corporate America to understand that they have a responsibility to be a part of that." Murguía, a former deputy assistant to President Clinton, said the coming years would bring big changes, opportunities, and risks.
Henderson, who led two civil rights organizations for more than 20 years, remarked on the recent evolution of the business community to consider a larger ecosystem of stakeholders in financial decisions. "Corporations respond to economic considerations and generally shareholder promise," said Henderson, who referenced the 2019 Business Roundtable letter redefining the purpose of the corporation. "That statement moved away from shareholder to a better definition of stakeholder. I encourage every representative of a corporation to understand what is motivating the interests of the organizations for which they work."
Yang added that corporations need to have accurate and clear data to ensure that people of color have a seat at the table, and zoom out when they do so. "Many corporations have to take a big picture view," said Yang, who previously served in the Obama Administration as senior advisor for trade and strategic initiatives. "We have seen corporations that are open with employee data and excel at setting milestones. Make sure that you understand what the data means as this will drive some of the initiatives you will want to undertake."
Morial, former mayor of New Orleans, had advice for business leaders who are unsure about whether to wade into controversial political issues. "There are some who may say, 'Stay out of politics,' but keep writing a check," said Morial. "When corporations stay out of issues of democracy, immigration, and police violence, they are missing the moment where we are in the nation. These issues go to the kind of America we want to live in, the communities we want to build, and the quality of life we want to enjoy."
Finally, Walton Paschall gave her perspective from the corporate side on what's next for diversity, equity, and inclusion for companies, including her own company, Wells Fargo. "I think that it is important that we bring the tough issues to light, that we own them, and fix them," said Walton Paschall, referencing comments made by her company's CEO about insufficient African-American and diverse talent in financial services. "We will look back at that as an inflection point for our company, and for the learning and productive conversation that has occurred because of it," she continued, remarking on the feedback that followed and elevation of people of color across the organization in terms of promotions, retention, and overall inclusion.
Feeling inspired by the first session of the Conference, attendees left the session with plenty to think about—and discuss with colleagues as they filed into the networking lounge to discuss the big ideas they just heard.
---
We're blogging throughout the 2021 International Corporate Citizenship Conference to give you daily recaps and deep dives into the event's unique content.
Participate in the conversation using #BCConf21.
Visit the Corporate Citizenship Perspectives Blog to read all the recaps and subscribe to receive blog updates.