2021 Conference Recap: Fostering Inclusion in STEM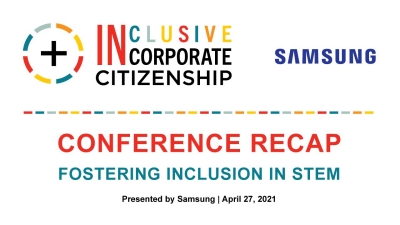 Before convening for Samsung's last session of the day on an inspiring STEM education initiative, CSR professionals at the International Corporate Citizenship Conference spent most of the day getting to know each other and their shared challenges as they attended back-to-back rounds of breakout and networking sessions.
---
Guided by topic-based learning tracks, attendees rolled up their sleeves and joined practical sessions—from strategy-focused discussions of making the business case to executives and how philanthropy has changed this past year, to environmental topics such as net-zero commitments and ESG reporting. Attendees also benefited from hands-on working sessions covering advanced ESG reporting and equity in grantmaking, thanks to workshop sponsor TJX. In a case study session sponsored by GM, attendees heard firsthand how the company links social impact measurement to corporate reputation.
In the session, "Reimagining philanthropy: the case for an open approach," practitioners from AT&T, Bank of America, Vanguard, and Wells Fargo explored the recent trend that has emerged in the pandemic of collaborating with partners and easing grant restrictions. As corporate givers think differently in a virtual world, the panelists agreed that they have had to change the way they communicate with and listen to nonprofit partners. Especially on diversity, equity, and inclusion, companies are encouraging our employees to donate skills and ideas, not just dollars. "We are leaning into the voice of the employees to help lead the conversation on racial equity," said Kerry Sullivan, Bank of America. "Companies are learning to listen to people who have lived experience."
Attendees then settled into the virtual auditorium to hear a general session sponsored by Samsung on the company's flagship citizenship initiative, Samsung Solve for Tomorrow, which works to bridge gaps and foster inclusivity in science, technology, education, and math (STEM) education. Ann Woo, senior director of corporate citizenship, Samsung Electronics America, gave an overview of the program and led a discussion with partners and participants: Charles Best, founder and CEO, DonorsChoose; M. Letitia Hubbard, PHD, instructor of engineering and mentorship, North Carolina School of Science and Math; and Justin Reinmuth, STEM and engineering teacher, Gering High School.
Solve for Tomorrow responds to the unfortunate reality that that U.S. students, especially girls and students of color, trail those in other countries in STEM—often due to lack of enthusiasm for related subjects. Now entering its eleventh year, the program is a national 6-12 public school program that uses a competition model to help students develop innovative solutions that address some of the most pressing societal issues. To date, more than 23,000 schools have entered, comprising more than 100,000 students.

Woo emphasized that equity and access to education are core tenets of the Solve for Tomorrow competition. The program has seen growth in diverse representation and Woo was proud to report that more than 80% of state finalists in the most recent competition had at least one girl on the team. "Our end goal is to match the desires of young people wanting to make a difference in the world with the educational opportunities and experience that they need to succeed," said Woo. "Pushing for equity and inclusion in STEM education helps address equities across the board."
As with most signature CSR programs, Solve For Tomorrow depends on symbiotic relationships with nonprofit partners. To inform this part of the discussion, Woo welcomed Best to the stage, who heads up a platform that provides teachers with the supplies their students need to participate in the competition. DonorsChoose allows individuals to donate directly to public school classroom projects, and since 2018, its partnership with Samsung has benefited approximately 4,000 teachers. "What Solve for Tomorrow represents is not just classroom dreams coming to life, but teachers and students being able to tap their own frontline expertise and identify exactly what they most need to be able to learn," said Best.

Woo brought on Hubbard and Reinmuth to represent the teacher side of the program. Hubbard's students came up with the idea to apply AI technology in an app to address recycling contamination at her school. "The Samsung Solve for Tomorrow competition put a framework around the project in a way that moved the project along more quickly than if we had just been on our own," said Hubbard. "It's not just about the competition, it's about being able to solve problems in a way that's very real and impactful for our school. "
Reinmuth's students, who live in a small farming community, identified an issue of drifting crop dust and set out to solve it with a drone system to map and spray only the necessary areas. "Samsung Solve for Tomorrow was a catalyst that grew my classroom from seven to 217," said Reinmuth. "It has brought a lot of interest in students going into STEM fields."
In a Q&A session, participants asked Woo about how Samsung gained traction in the long-term across schools, teachers, and students. "Fundamentally we believe that this is more than a contest, it is about the relationships that we've been able to foster at schools. We iterate, evolve, and create offshoot programs that fit the needs of school districts," said Woo. "We have been able to foster great relationships which, like any good relationship, creates new relationships."
Inspired by the story of this longstanding and evolving program making a profound difference on the lives of kids and the STEM field, attendees exited the virtual auditorium with much to consider. Closing out the second day of the conference, they look forward to what the final day will bring.
---
We're blogging throughout the 2021 International Corporate Citizenship Conference to give you daily recaps and deep dives into the event's unique content.
Participate in the conversation using #BCConf21.
Visit the Corporate Citizenship Perspectives Blog to read all the recaps and subscribe to receive blog updates.