2021 Conference Recap: Expanding Education Access By Bridging Digital Divides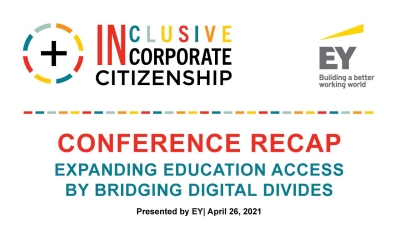 The afternoon session of the 2021 International Corporate Citizenship Conference began at the intersection of two critical issues that have come to the fore for CSR programs during the COVID-19 pandemic: racial equity and education.
Attendees entered the session primed to talk about these big topics, fresh from a first round of breakout sessions covering themes such as inclusive corporate citizenship and effective collaboration with partners. Thanks to workshop series sponsor TJX, attendees also received tips and tricks for nonverbal communication in a virtual setting.
In an engaging case study session sponsored by Ally, participants learned how cross-departmental collaboration helped the bank realize its new economic mobility and financial social inclusion strategies. Ally discussed how its "Let's Talk About It" sessions have opened up the doors to how more than 4,000 employees feel about social and racial justice issues. "When we show up, it's not just lip service—we are going to be intentional about how we impact the people that we can," said Reginald Willis, chief diversity officer, Ally Financial Inc.
Energized from meeting and learning from colleagues in the virtual networking lounge, sponsored by Gallagher, participants settled in to hear firsthand experience from a company that is tackling such a complex issue as systemic racism head-on. EY Americas' Corporate Responsibility Leader Erika Patterson; Assistant Director of Corporate Responsibility Carolina Dominguez; and Americas Lead of the Digital Divide Initiative Kevin Brown took the virtual stage to discuss how their company is using its unique capabilities to address what's known as the "digital divide" in education.
As stay-at-home orders to minimize the spread of COVID-19 have forced students into online education, strikingly, a key disparity has been made clear: More than one-third of low income-U.S. homes with children do not have high-speed internet. Regardless of income, students of color are less likely to have the technology resources for distance learning, because they tend to live in communities with underfunded schools and less advanced broadband infrastructure. "When COVID-19 hit, we saw these kids literally missing school for months because they could not connect to virtual classrooms. We saw a really severe crisis whereby the kids who most needed to be educated were out of the loop," said Brown.
In response to this crisis and the outcry for racial equity across the U.S., EY as a firm committed to anti-racism and EY US Chair and Managing Partner and Americas Managing Partner Kelly Grier commissioned seven anti-racist efforts for the firm to solve. One result was EY's Digital Divide Initiative, which helps to address systemic racism in education by providing internet connectivity, digital devices, and online mentoring to underserved students.

Brown emphasized that partnerships were essential for the work: from Grier as a galvanizing leader, to third-party funders such as the United Way, to EY's own employee base. "We couldn't do it without having more than 80 of our offices activated in unison. We're seeing multiple small teams across the country who are using their local contacts to understand the local needs, and then beginning to create customized solutions," said Brown. "I'm really inspired to see what we and the business world can do when we bring our best skills and talents toward solving society's problems."
The program also addresses the challenge of mentoring for underserved students, which was highlighted as Dominguez took the stage and shared that 1 in 3 young people do not have a mentor. "That's a crisis," Dominguez said. "That means that 1 in 3 young people go their entire life not hearing that they're good at something, that their voices matter. The private sector could do something about that. In fact, you could argue that it's a business imperative."

Dominguez further underlined that while the education system alone cannot manage every student—especially in under-resourced communities—mentors can play a role in helping youth build confidence and critical soft skills. They can also help students apply for college and complete a degree: Underserved students with mentors are 55% more likely to enroll in college than those without.
To address this side of the issue, EY professionals are encouraged to be volunteer mentors so underserved students can navigate the complexities of the education system. EY offers programs for employees to help mentees with issues ranging from college access to social etiquette and mindfulness. Over the past 11 years, 1,800 EY College MAP volunteers have mentored 2,000 students in 38 U.S. cities, and $3 million in scholarships have been raised and awarded.

Patterson also acknowledged the legacy of her predecessor, Deborah K. Holmes, who passed away earlier this year, whom she credited for building the Digital Divide and College MAP programs. "Deborah had a broader vision of corporate responsibility—to impact our communities, our people, and our business," said Patterson. "Our employee survey consistently shows that EY people who participate in skills-based volunteering are more engaged with the firm. This includes better relationships with their managers, longer tenure, and high performance ratings."
---
We're blogging throughout the 2021 International Corporate Citizenship Conference to give you daily recaps and deep dives into the event's unique content.
Participate in the conversation using #BCConf21.
Visit the Corporate Citizenship Perspectives Blog to read all the recaps and subscribe to receive blog updates.