2021 Conference Recap: Resilient CSR initiatives—planning for the unexpected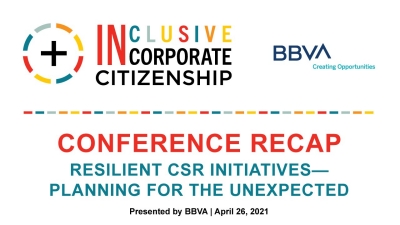 In this evening's session of the International Corporate Citizenship Conference, attendees explored building flexible and resilient corporate citizenship initiatives with session sponsor BBVA.
---
Attendees joined the last session of the day ready to learn about planning for resilience when facing the unexpected. To share lessons learned and best practices in growing and adapting the company's largestcorporate citizenship initiative, the Center for Financial Education
, BBVA USA's J. Reymundo Ocañas, director of communications and responsible business and CRA officer; Andrea Ronzani, director of corporate citizenship; and Tony Moraga, manager of social impact, engaged in conversation with partner Tom Davidson, founder and CEO EVERFI, Inc.
With 641 branches across seven states, BBVA is one of the largest commercial banks in the U.S. "Our purpose is to bring the age of opportunity to everyone," said Ronzani, "which is evident by our outsized performance as a leading small business lender, recognized by the Small Business Administration, and our commitment to our collective communities that netted us an outstanding Community Investment Act Rating by the Federal Reserve Bank of Atlanta."
In her opening remarks, Ronzani provided an overview of BBVA's community investments that contributed to these accolades. In 2015, BBVA announced a 5-year $11 billion community commitment in lending and investments to support low- and moderate-income communities, which they exceeded by more than $1 billion this year and extended to $15.5 billion over 6 years. Further exceeding expectations, in 2018, BBVA set an ambitious goal of reaching 20,000 adults with financial education over two years—a goal which the company has now surpassed by more than 10%. Ronzani credited BBVA's dedication to leveraging the strength of communities and partners to make a difference, a point that Ocañas underlined in his following remarks.
"In my 25 years in banking and economic development, I've seen firsthand how a bank branch can transform a community and how financial education plays a part in creating and protecting wealth over generations," said Ocañas. "That's why we partner with disruptors like EVERFI, because they thought about education a bit differently and challenged us to rethink our approach."

Davidson then took the stage to discuss EVERFI, the education tech company he founded to address education gaps in the U.S., and its longstanding partnership with BBVA that helped to scale a financial literacy program across thousands of schools. "BBVA was so early with this vision around creating ecosystems of learning. They helped us think about the entire lifecycle of financial learning," said Davidson. "One of the most powerful things was recognizing that intervening at the right moment could totally transform peoples' lives as they learned about the power of financial literacy."
Through surveys with community partners, BBVA learned that there was a need in financial literacy among adults as well. So the company expanded its EVERFI partnership to include more mature students, adding modules for personal finance and small business. The result was a first-of-its kind program and platform that brought much-needed technology to help adult learners, and has been scaled up and adapted to banks across the country.

Moraga detailed the on-the-ground work it took to roll out the program and meet the goal of educating 20,000 students—even amidst the pandemic. "Our idea was to build a program that would really leverage the strength of community organizations," said Moraga. With his team, Moraga developed a model to empower nonprofit partners to educate the populations they served. These financial education summits were taught by BBVA's experts and provided nonprofit partners with EVERFI's platform to adapt to their established programs.
This collaborative model allowed BBVA to deliver financial education to more than 12,000 participants between 2018 and 2019. Then, with the onset of COVID-19 stay-at-home orders, BBVA was able to train nonprofit partners virtually and provide the tools to train participants virtually as well. The result was an additional 10,000 participants trained in 2020, exceeding the program's social impact goal. Recently, the program has launched two new courses on financial education emergencies, held a financial education summit in March 2021, and plans to roll out new hybrid programs.
Feeling inspired by a successful program that was able to pivot through disruption, conference attendees watched attentively as the program pivoted to the much-anticipated Film Festival, when BCCCC and Film Festival sponsor BBVA would announce the winners of this year's awards.
---
We're blogging throughout the 2021 International Corporate Citizenship Conference to give you daily recaps and deep dives into the event's unique content.
Participate in the conversation using #BCConf21.
Visit the Corporate Citizenship Perspectives Blog to read all the recaps and subscribe to receive blog updates.