Long-term sustainability for resilience and results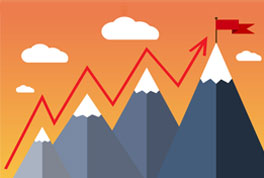 Long-term sustainability has taken a backseat to short-term profitability since the 1970s when the quarterly earnings report became standard operating procedure and the horizon of return was shortened to that period. Today, however, the global community is shouldering collectively the burden of looming and interconnected universal challenges, such as climate change, food security, humanitarian crises, and inequality. Because of their scale and complexity, these issues cannot be solved by one government or one company or even one industry or one sector. Instead, they demand a concerted effort that harnesses the best resources and talents of governments, NGOs, the private sector, and civil society.
For that reason, we have seen the birth of a new global movement to build long-term sustainability. Global initiatives such as the Paris Agreement and the Sustainable Development Goals (SDGs) are prominent examples of how unprecedented numbers of entities are committing to ambitious long-term action to create environmental and social impact. Nearly 200 countries agreed to take action under the Paris Agreement to mitigate climate change, and hundreds of companies pledged parallel investments in the effort. The SDGs, a United Nations‐produced strategy for improving communities and ecosystems around the world, is turning into a mammoth multi-sector collaboration. A study published by KPMG in December 2017 found that 43 percent of the largest 250 global companies by revenue currently align their corporate citizenship activity with the SDGs, and that number is expected to increase.
Today, a growing number of companies are setting ambitious goals that aim to increase long-term sustainability. The Dow Chemical Company is a veteran of this process, having set sustainability goals for the first time in 2006. In 2015, the specialty chemicals company debuted its most recent iteration, its 2025 Sustainability Goals. Goals such as "advance a circular economy," "value nature," and "engage employees for impact" epitomize long-term thinking. Dow cites pressing global issues as inspiration for the series of goals, including access to clean water, sanitation, and healthcare. By setting these goals, the company advances long term-thinking internally and externally.
DanoneWave is another example of a company building resiliency through ambitious long-term thinking. The recently-merged company is the largest public benefit corporation in the United States, a designation which means DanoneWave is legally obligated to balance the interests of shareholders with the interests of communities and the environment. DanoneWave is also aiming for certified B-Corp status by 2020. To pursue these efforts, DanoneWave views its business with a long-term perspective and works to address climate change, improve sustainable sourcing, and strengthen packaging recyclability, among other initiatives.
UPDATE: This webinar recording is now available for individuals from member companies (see Member List). Non-Members may purchase this webinar recording here for $99.