Announcing the 2021 Film Festival Winners!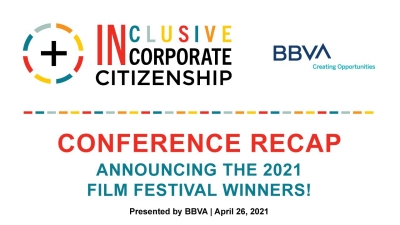 The Boston College Center for Corporate Citizenship Film Festival celebrates the work and impact of corporate citizenship programs—as well as the inspiring methods companies use to communicate their efforts.
Each year, the Film Festival brings dozens of submissions from corporate social responsibility professionals around the world who share their stories of impact. In this 13th annual Film Festival, sponsored by BBVA, finalists were present at the virtual International Corporate Citizenship Conference from all over the United States.
The awards were presented by BBVA USA's J. Reymundo Ocañas, director of communications and responsible business and CRA officer, and Katherine V. Smith, executive director of the Boston College Center for Corporate Citizenship, who announced winners in the following categories: Fan Favorite (largest number of public votes); by Company size: Small company (employee size 1-5,000), Medium company (employee size 5,000-30,000), and Large company (employee size 30,000+), and finally Best in Show (selected by a panel of experts).
Without further ado, here are the winners of the 2021 International Corporate Citizenship Film Festival!
---
Fan Favorite Winner
Thermo Fisher: The Just Project: COVID-19 Testing Program for HBCUs
---
Small Company Winner
Horizon Therapeutics: Forever Home
---
Medium Company Winner
UL: Shining Light on a Sustainable Future
---
Large Company Winner
How Honeywell Is Helping Charlotte Small Businesses Adapt to COVID-19
---
Best in Show Winner
UL: Shining Light on a Sustainable Future